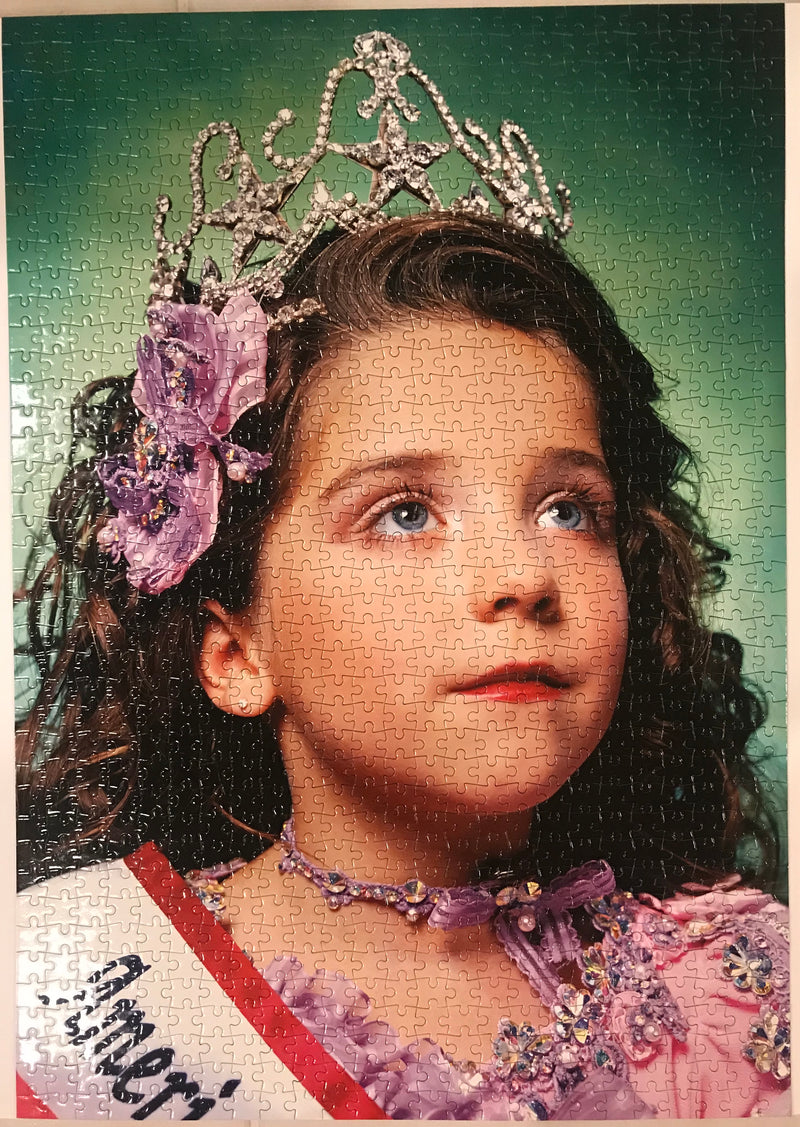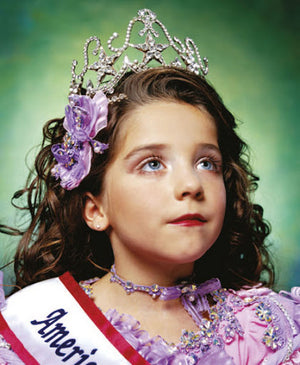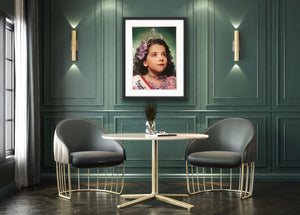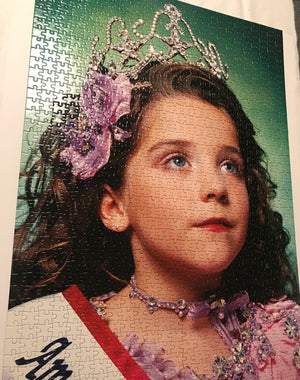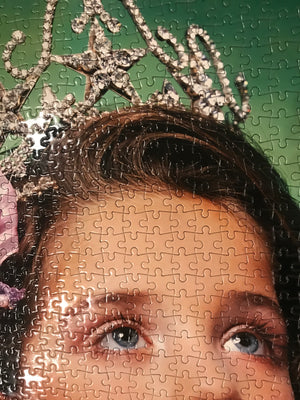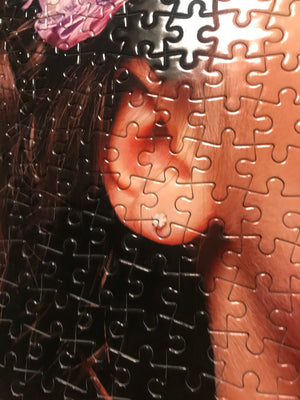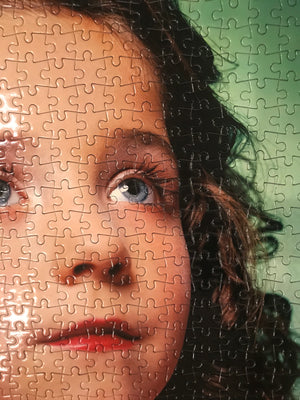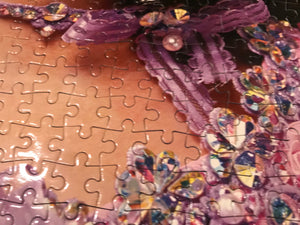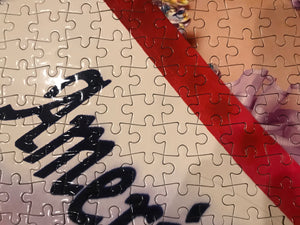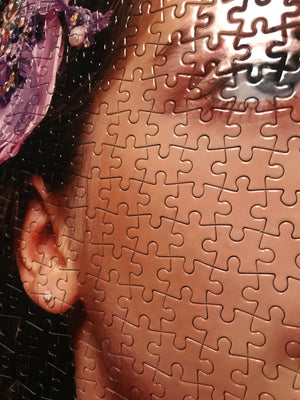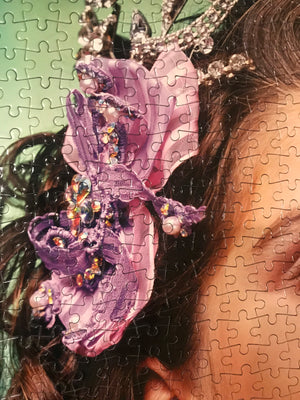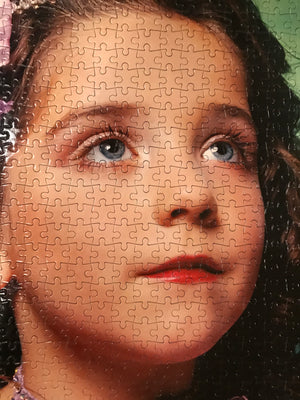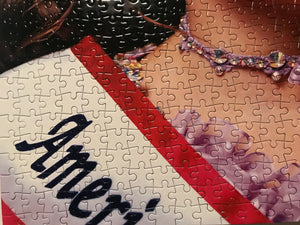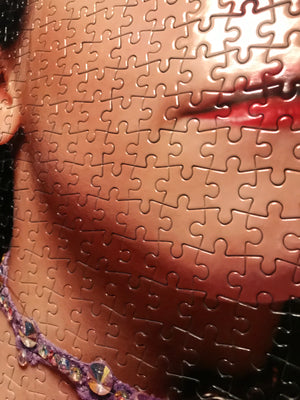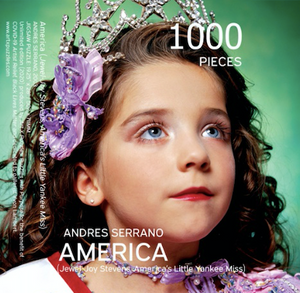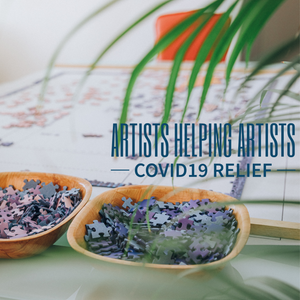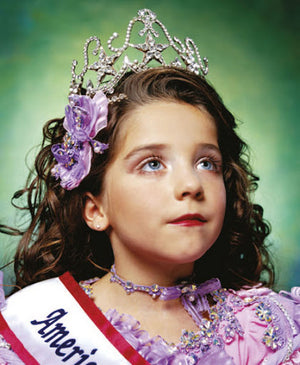 Artist Andres Serrano Puzzle: Unlimited Collector Edition Jigsaw Puzzle
b.1950, lives and works in New York City
Live Video of Jigsaw Puzzle: Click Here 
Title: America (Jewel-Joy Stevens, America's Little Yankee Miss), 2003
Jigsaw Puzzle Size: 19.75" x 28" (502mm x 711mm) 1000 Jigsaw Puzzle Pieces, ESKA Premium Board, Gloss Finish.
This Collector Edition arrives Pre-Assembled Option and separated onto 6 cardboard squares. The AXP Collector Editions comes ready to slide together for a complete instant puzzle and/or to be broken down for puzzling fun and/or framing! 
Unlimited Collector Edition (2020) produced by Art X Puzzles for the benefit of COVID-19 Artist Relief organizations and dedicated to gallerist Yvon Lambert. 
Level: Challenging
Signature Details: Original Artwork:  America (Jewel-Joy Stevens, America's Little Yankee Miss), 2003 Chromogenic print, 24 × 20 in (61 × 50.8 cm) Image: Courtesy of the artist and Nathalie Obadia Gallery.
Amid the clamor of protesting voices, distinguished artist Andres Serrano breathes new life into articulations of child pageants. In place of words, Serrano communicates to his audience through images. His 2003 piece titled, "Jewel-Joy Stevens, America's Little Yankee Miss" is a good illustration to that. This photograph depicts a young girl "done-up" for a beauty pageant, replete with makeup, dress, and curls. As she gazes upward into the light with a pensive expression, her mysterious aura invites viewer to look deeper, to ponder age-old issues of youth, innocence, and purity.  Serrano's masterful use of composition, lighting, color, and detail juxtapose the subject's inherent purity with a socially imposed impurity. Ultimately drawing a divide between the audience, this emotionally charged message separates the passive, who blindly accept the girl's situation as a societal norm, from those who recognize and respond to the exploitation of her young true innocence.
Yet, as Serrano asserts, true fulfillment lies within. Hopefully, the stirring purity of "America's Little Yankee Miss" will prompt viewers to recognize the dignity and wholeness inherent in each of us, despite the circumstantial differences of class, age or gender. Francesca Patti
In America series, for which this portrait, Jewel-Joy Stevens, America's Little Yankee Miss was taken in 2003, the costume, the subject's uniform of choice, means a lot. Depicted with saturated colors and ranging from the child beauty pageant winner to a postal worker, a pimp, a Holocaust survivor, and celebrities, each of Serrano's subjects in his America series wears his or her outfit as an archetypal figure, painting a curious typology of America. The Taschen 2004 monograph, Andres Serrano: America and Other Work, places these portraits in deliberate juxtapositions, setting up visual conversations between subjects who, in Serrano's words, "would not only not know each other but would be completely unable to relate to one another." MoCP | Museum of Contemporary Photography
Click Articles:
NEW YORK MAGAZINE, April 22, 2019, For Decades, We All Ate Trump Up. Artist Andres Serrano Asks, 'Why?' by Jerry Saltz
REUTERS, April 26, 2019, 'The Game: All Things Trump' exhibit opens in New York
THE NEW YORK TIMES, April 10, 2019, Andres Serrano Lets Objects Do the Talking by Siddhartha Mitter
Artist Certificate: Each puzzle comes with an artist certificate.
Biography:
Andres Serrano was born in 1950 in New York City. He attended the Brooklyn Museum Art School from 1967 to 1969, where he studied painting and sculpture. Andres Serrano is an internationally acclaimed American artist whose work has been shown in major institutions in the United States and abroad. His photographs are in numerous museums and public collections, including the Museum of Modern Art, New York, The Whitney Museum of American Art, New York; National Portrait Gallery (Smithsonian Institution), Washington, DC;  Institute of Contemporary Art, Amsterdam, Holland; Baltimore Museum of Art, Baltimore, MD; capc musée d'art contemporain, Bordeaux, France; Institute of Contemporary Art, Boston, MA; National Gallery of Australia, Canberra, Australia; Art Institute of Chicago, Chicago, IL; Museum of Contemporary Art Chicago, IL; Fonds Regional d'Art Contemporain, Cluny, France; Modern Art Museum of Fort Worth, TX; Israel Museum, Jerusalem, Israel; Spencer Museum of Art, Lawrence, KS; Museo Reina Sofia, Madrid Spain; Cintas Foundation, Miami, FL; Centro Cultural Arte Contemporaneo, Mexico City, Mexico; New Museum of Contemporary Art, New York, NY; Allen Art Museum, Oberlin, OH; Centro Andaluz de Arte Contemporáneo, Sevilla, Spain; Museo Nacional Centro de Arte Reina Sofia, Madrid, Spain; and the Museum of Contemporary Art, Zagreb, Croatia.