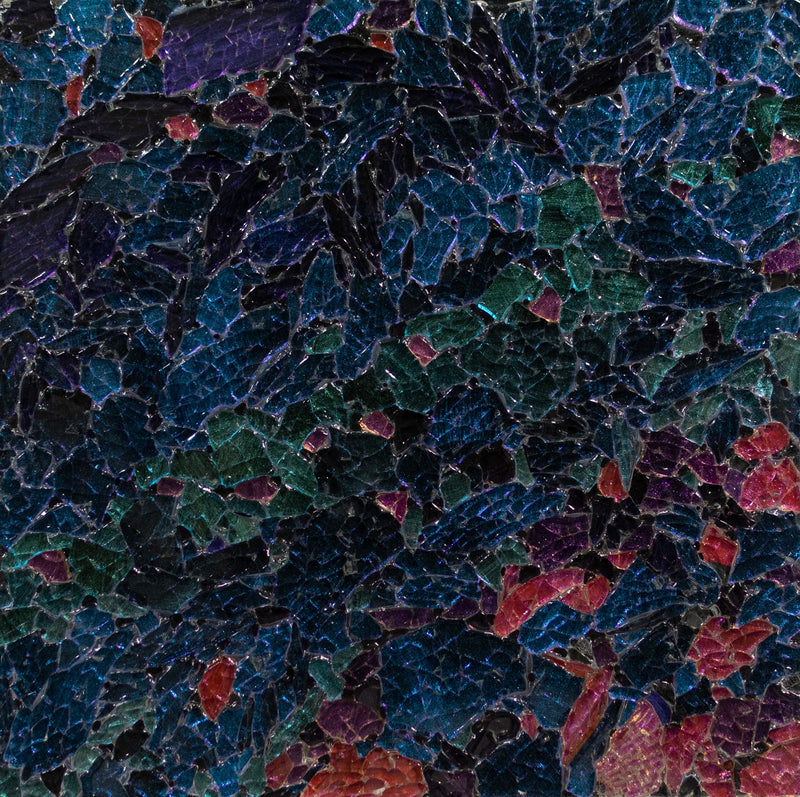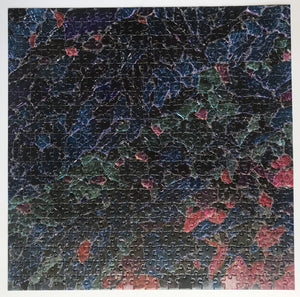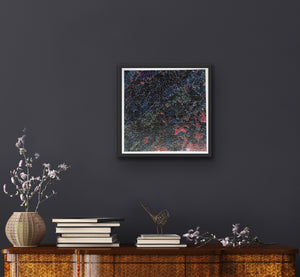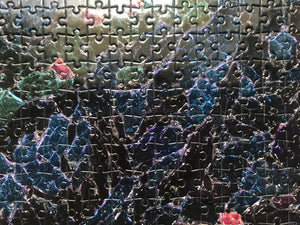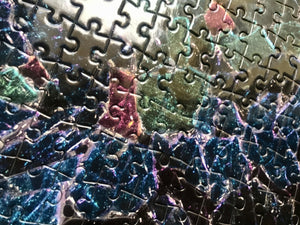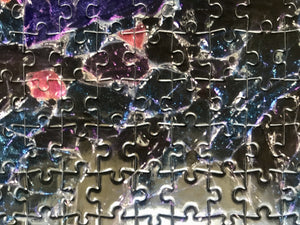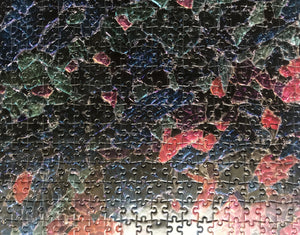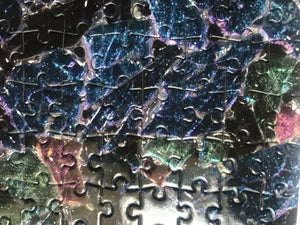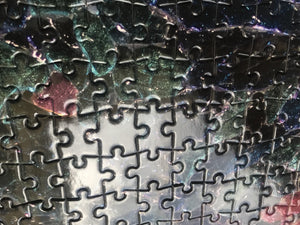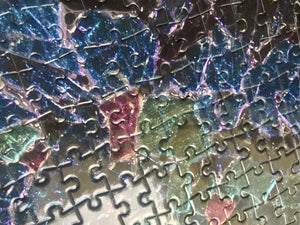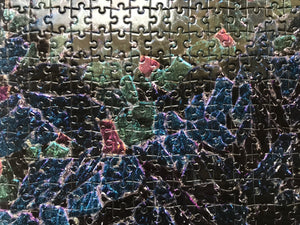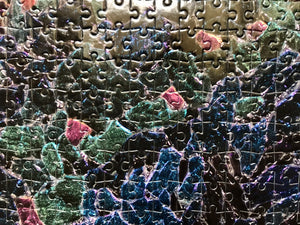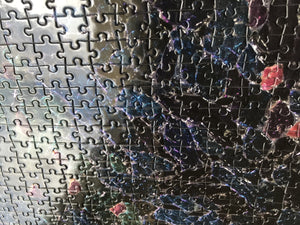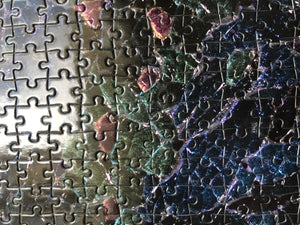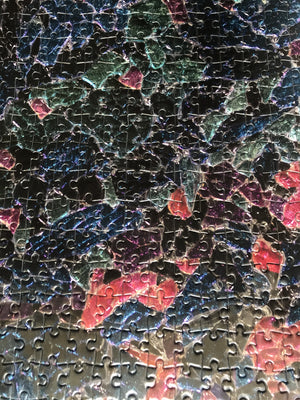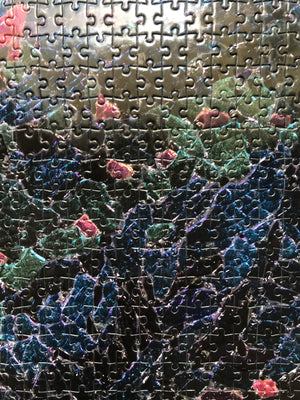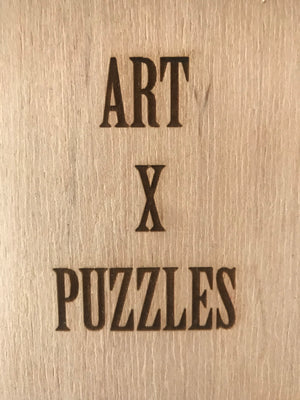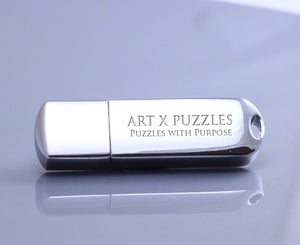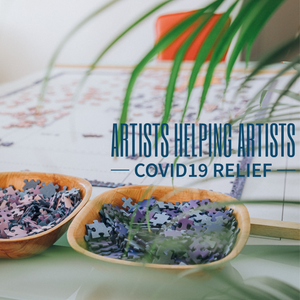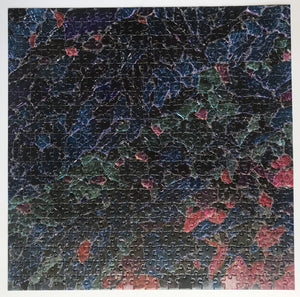 Artist Alteronce Gumby Collector Edition Jigsaw Puzzle
b. 1985 lives and works in Bronx, NYC.
Title: Callisto
Live Video of Jigsaw Puzzle: Click Here 
Jigsaw Puzzle Size: 19" x 19" (482.6mm x 482.6mm) 500 Jigsaw Puzzle Pieces, ESKA Premium Board.  FSC 100% Recycled Paper, Gloss Finish.
This Collector Edition arrives with a Pre-Assembled Option and separated onto 2 cardboard squares according to size. The AXP Collector Editions comes ready to slide together for a complete instant puzzle and/or to be broken down for puzzling fun and/or framing! 
Collector Edition of 20 + 2AP
Level: Challenging
Signature Details:  Original Artwork: Callisto, 2019 Glass on panel 12 × 12 in.
These abstract artworks transform fragments of colored glass into terrazzo panels that explore identity and how people rebuild their lives after traumatic events.
Curatorial Spotlight: Curator Alaina Simone's selection of contemporary artists for Art x Puzzles: Puzzle with Purpose.
Click here for ART X PUZZLES: Curator Choice  
Click Articles:
The Atomic, Cosmic Art of Alteronce Gumby by Ian Malone | Vogue Magazine
Alteronce Gumby Articles: BOMB Magazine
One: Pieces: There's a bright side somewhere by Alteronce Gumby \ BOMB Magazine
Oral History Project: Standy Whitney by Alteronce Gumby | BOMB Magazine
Artist Certificate: Each puzzle comes with an artist certificate.
Biography: 
Alteronce Gumby (b. Harrisburg, PA) received his BFA from Hunter College (New York, NY) in 2013 and his MFA from Yale College of Art (New Haven, CT) in Painting and Printmaking in 2016. He is an abstract artist working across multiple mediums and disciplines. In Gumby's process, he utilizes landscape as it relates to space and everyday life. Often painting with his hands, Gumby configures his glass works in a jigsaw pattern, reconstructing chromatic spectrums of color, line, experience and spatiality. His work abandons traditional formalistic techniques to push the spatial boundaries of color, light, darkness and form.
Gumby has received prestigious awards including the Austrian American Foundation/ Seebacher Prize for Fine Arts and the Robert Reed Memorial Scholarship among others. He has participated in international residency programs such as the Fondation des Etats-Unis (Paris, FR), London Summer Intensive, the Slade School of Fine Art and Camden Art Centre (London, UK), Dumfries House and Estate, The Royal Drawing Dimplex Artist Studios (Scotland, UK) the International Summer Academy of Fine Arts (Salzberg, AU) and the Robert Rauschenberg Foundation Residency (Captiva Island, FL). His work has been featured internationally, in Frieze New York (New York,NY) Independent Brussels (Brussels, BE), The Jean-Paul Najar Foundation (Dubai, UAE), Gladstone Gallery (New York, NY), Ltd (Los Angeles, CA) and the American University Museum (Washington, DC) among others. Gumby lives and works in New York City.