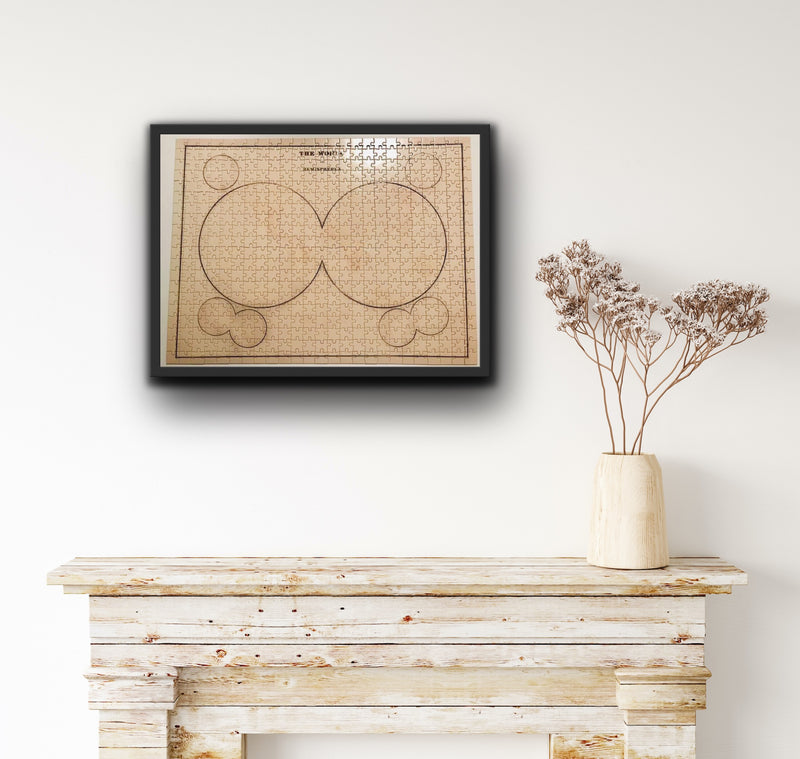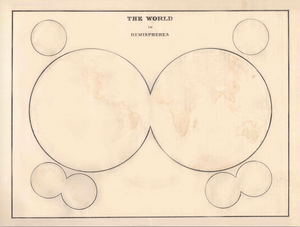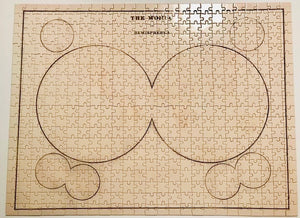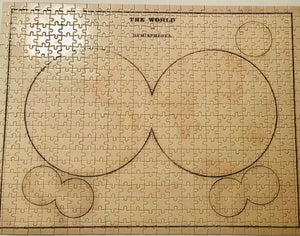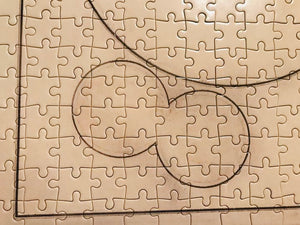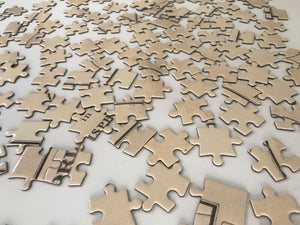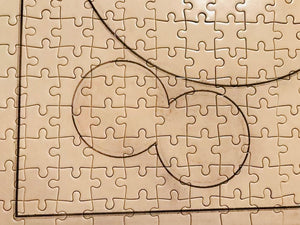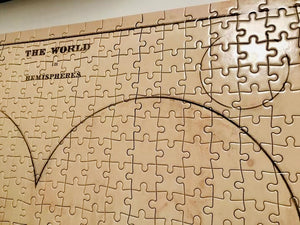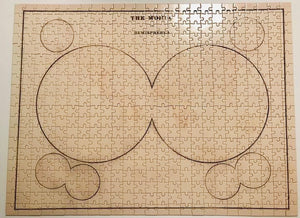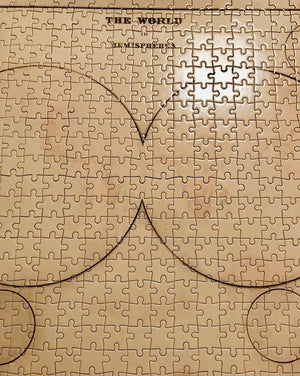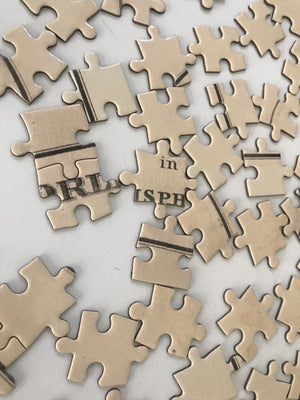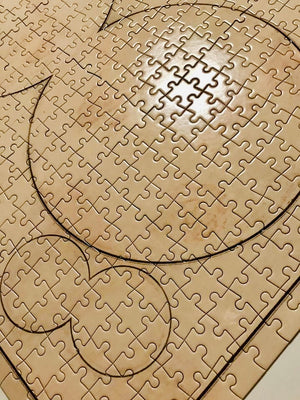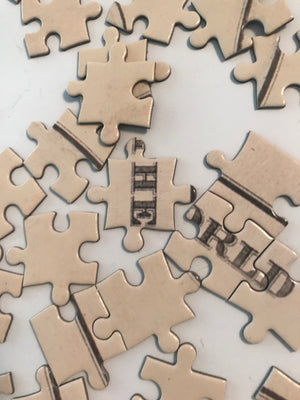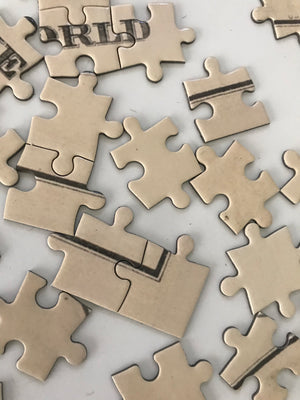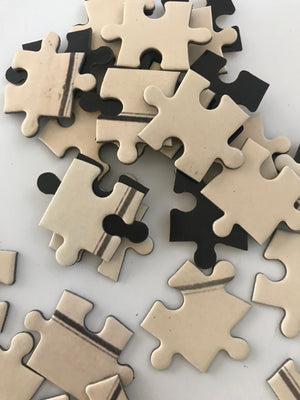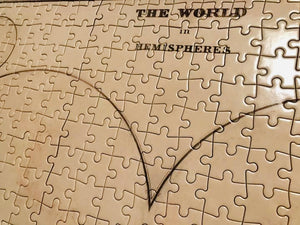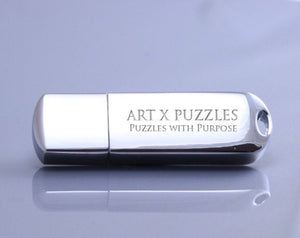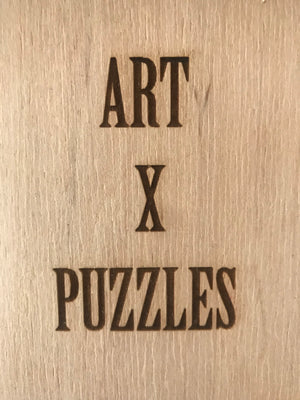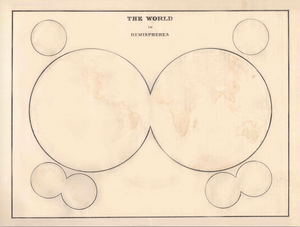 Artist Agustina Woodgate Collector Edition Jigsaw Puzzle
B.1981 Buenos Aires, Argentina. Lives and works in Amsterdam
Title: The World Hemispheres
Live Video of Jigsaw Puzzle: Click Here 
Jigsaw Puzzle Size: 18" x 24" (457mm × 610 mm) 500 Piece Puzzle, Eska Premium Board thickness (1.9mm) 100% Recycled Paper, Magnetic Layer.
This Collector Edition arrives with a Pre-Assembled Option and separated onto 2 cardboard squares. The AXP Collector Editions comes ready to slide together for a complete instant puzzle and/or to be broken down for puzzling fun and/or framing! 
Magnetic: These extremely well-made puzzles have cleverly incorporated a very thin layer of material with gentle magnetic properties underneath all the pieces, allowing the puzzle to be more stable and secure as the puzzler puts them together.
This engaging puzzle has one dreaming about the world. The premium laser-cut jigsaw puzzle pieces slip together in perfect form.  The Collector Edition arrives in a specially custom-made wood box engraved with Art X Puzzles.
Level: Complex
Collector Edition of 20 + 2 AP
Signature Details: Original Artwork | Given the accessibility of digital mapping media, the demand for printed maps will almost certainly continue to decrease, at least in relation to their use as a reference tool. Old cartographic techniques are disappearing as GPS systems advance. The hand loses its efficiency as perceptions of orientation and navigation are hinged on satellites rather than stars. Jurisdictions are blurred. Territory becomes an even more unstable entity. Sanding away the topographical and political markers on maps reveals an alien geography for resurfacing earth.
Click Articles:
Artist Agustina Woodgate Considers Everything by Monica Uszerowicz  | Culture Magazine
Are Dealers Replaceable in the Crypto Era? One Artist Is Selling Her Work Via ATM at Frieze New York" Agustina Woodgate is selling art via ATM. By Sarah Cascone ARTNET
Frieze New York, First Live Art Fair in a Year, Kicks Off at the Shed: Our critics toured more than 60 booths — a sight for art-starved eyes. Here are 16 highlights to catch, in person or virtually. By Will Heinrich and Martha Schwendener | NYTIMES
Artist Certificate: Each puzzle comes with an artist certificate. 

Biography: Agustina Woodgate's practice focuses on the politics of landscapes and infrastructures as a conceptual and public geography. She recombines, activates and repurposes available resources while setting alternative systems in motion. Woodgates' approach is speculative, practical, and site and context-responsive, presenting critical possibilities to concepts on social orders, resource management and information distribution bringing clarity, scale, and accessibility.
In 2011 she co-founded radioee.net a nomadic, translingual, online radio station, a radio streaming on mobility, movement and climate transformation themes.
Woodgate has exhibited internationally and has received numerous honors and awards. Her projects have been commissioned by the 2019 Whitney Biennial, 4th Istanbul Design Biennial; 9th Berlin Biennial; Haus der Kulturen der Welt, Berlin; Peabody Essex Museum, MA; Bienal de las Américas, CO; ArtPort, Tel Aviv; PlayPublik, Poland; DC Commission on the Arts and Humanities, Washington; The Bass Museum of Art, FL; Storefront for Art and Architecture, MN and KW Institute for Contemporary Art Berlin amongst others. She received her BFA in Visual Arts from the Universidad Nacional de Artes in Buenos Aires and completed a Masters in Design at Sandberg Instituut, Amsterdam.