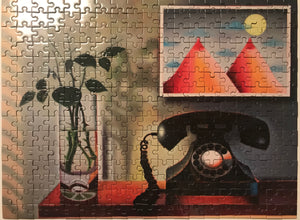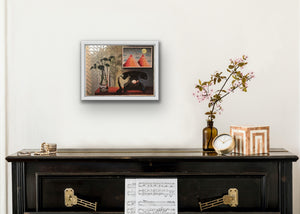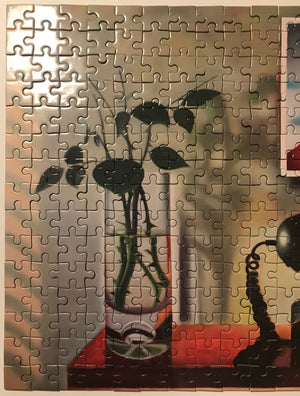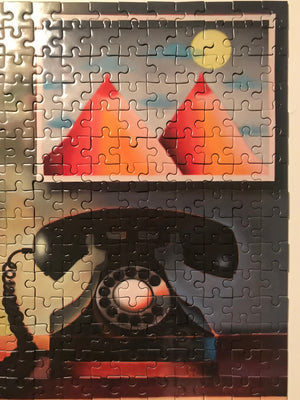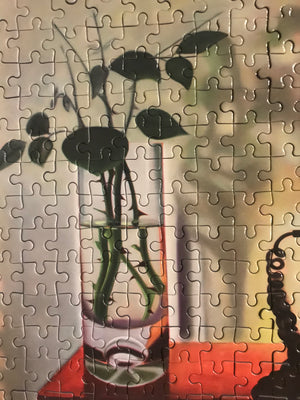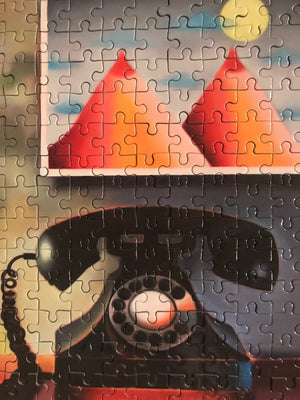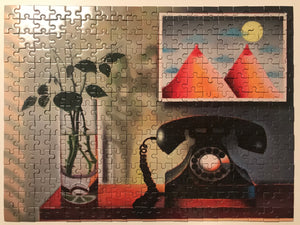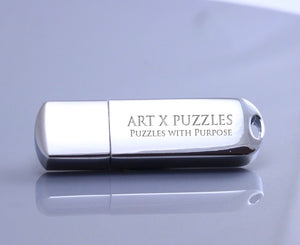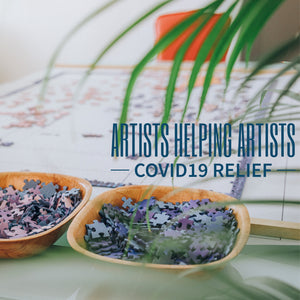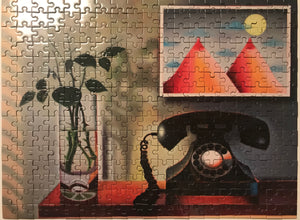 Artist Sally Kindberg Collector Edition Jigsaw Puzzle
b. Stockholm, Sweden. Lives and works in London.
Title: Twin Peaks
Live Video of Jigsaw Puzzle: Click Here 
Jigsaw Puzzle Size: 12"x 16.5" (310mm x 418mm) 285 Jigsaw Puzzle Pieces, ESKA Premium Board. Traditional Paper Jigsaw Puzzle. Magnetic. FSC 100% Recycled Paper. Gloss Finish.
This Collector Edition arrives with a Pre-Assembled Option and separated onto 2 cardboard squares. The AXP Collector Editions comes ready to slide together for a complete instant puzzle and/or to be broken down for puzzling fun and/or framing! 
Magnetic Puzzle: They have cleverly incorporated a very thin layer of material with gentle magnetic properties underneath all the pieces, allowing the puzzle to be more stable and secure as the puzzler puts them together.
Collector Edition of 20 + 2AP
Level: Challenging
Signature Details:
Original Artwork: Twin Peaks 2020, oil on canvas, 150 x 200 cm.
Interested in both high and low brow culture, Kindberg plays on the notion of the tragicomic in a society that is both civilized and ridiculous and she uses this humorous approach acting as a portal that enables us to explore other, more unsavoury emotions. Digging where she stands, it is often Kindberg's nearby surroundings that take centre stage. Kindberg's paintings stay predominantly figurative but where the figurative, which is the starting point, moves towards abstraction. Kindberg is particularly interested in the contrast between flatness verses the illusion of three-dimensionality. Different forms of language, such as, stylized form, photorealism, or mark making resolves the picture planes. Kindberg is looking for a composition which is often a two-sided double take. 
Twin Peaks is based on three ideas morphed together into one interior. A telephone from a hotel in London, dead roses belonging to the landlady and a painting within the painting based on a series of drawings done during lockdown.
Click Articles: 
What inspires Sally Kindberg? | Writers & Artists, The Insider Guide to Media
Artist Certificate: Each puzzle comes with an artist certificate.
Biography: Sally Kindberg, born in Sweden (1970), MFA in fine art at Goldsmiths, University of London. Kindberg lives and works in London. Recent and notable exhibitions include: Melancolympics, The Wunderwall, curated by Sasha Bogojev, Antwerp, Belgium, (2020), LONDON NOW 2020, Space K, South Korea (2020), House of Togetherness, curated by Daria Borisova, Harlesden High Street, London (2020), /'Meikup/, curated by Sally Kindberg, MOCA, London, (2019) Happy Hour, curated by Roberto Ekholm at Kristin Hjellegjerde Melior Place, London (2019), SOFT BITE, solo exhibition, curated by Maria Stenfors, 12 Star Gallery, London (2018), The touring exhibition Nature Morte Contemporary Artists Reinvigorate the Still Life, curated by Michael Petry and Roberto Ekholm, Sweden, Poland, UK. (2017), Mugshots, Sally Kindberg + Philadelphia PD, solo exhibition, Peter von Kant, London (2014)