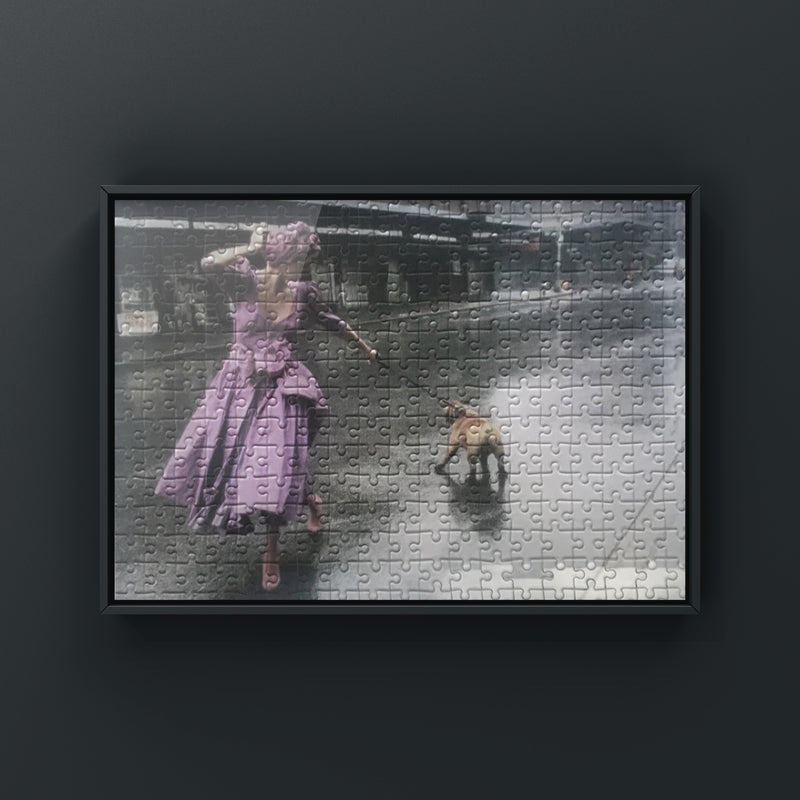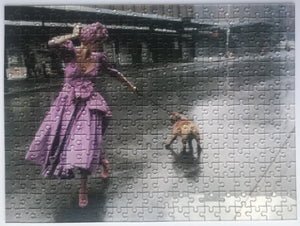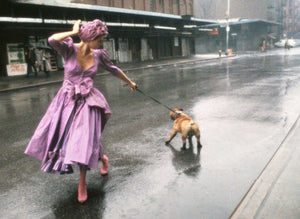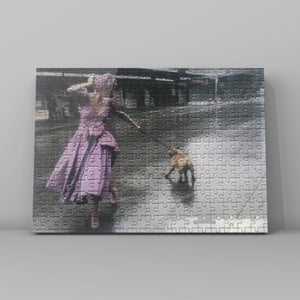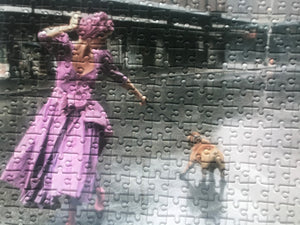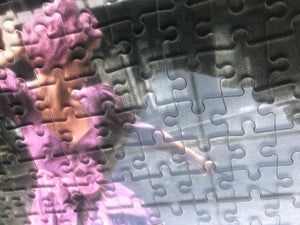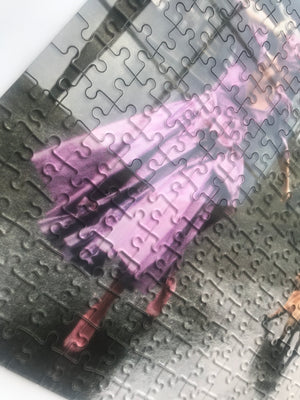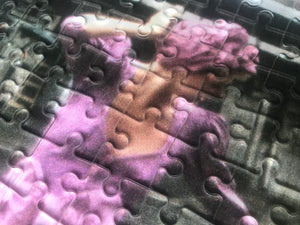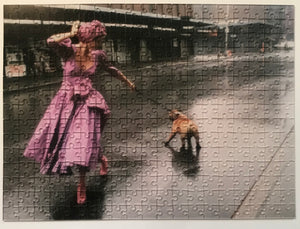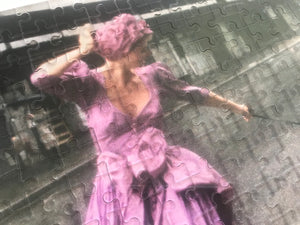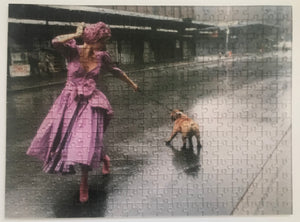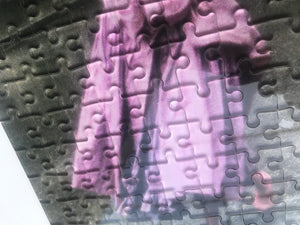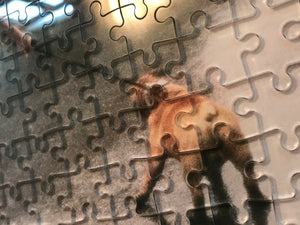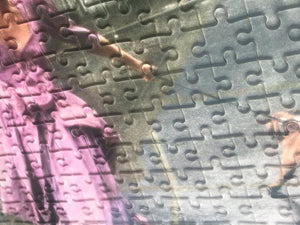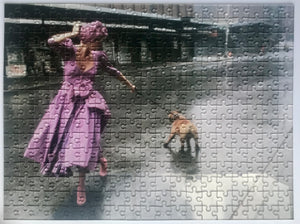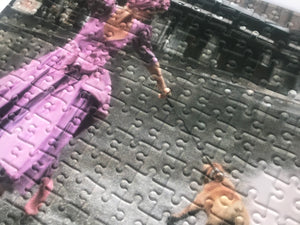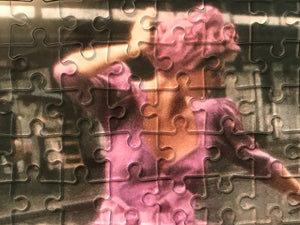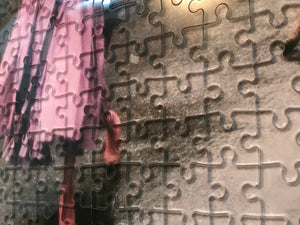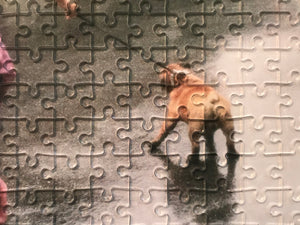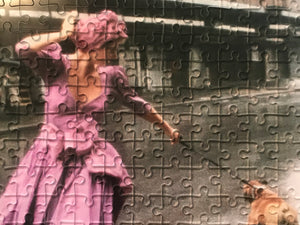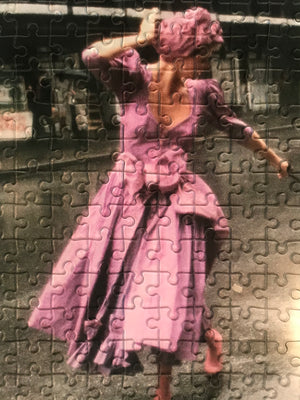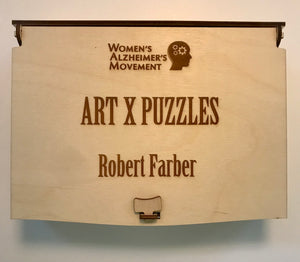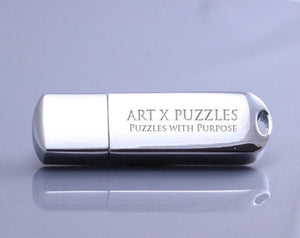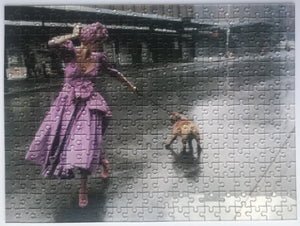 Artist Robert Farber Collector Edition Jigsaw Puzzle X Women's Alzheimer's Movement
Title: Walking the Dog 
Live Video of Jigsaw Puzzle: Click Here 
Jigsaw Puzzle Size:  12" x 16.5" (418mm x 310mm) 285 Jigsaw Puzzle Pieces, FSC 100% Recycled Material. Special Acrylic Jigsaw Puzzle. Timed Edition.
Robert Farber X Women's Alzheimer's Movement X ARTXPUZZLES: Volume II
This Collector Edition arrives with a Pre-Assembled Option and separated onto 2 cardboard squares. The AXP Collector Editions comes ready to slide together for a complete instant puzzle and/or to be broken down for puzzling fun and/or framing! 
The Collector Edition arrives in a specially custom-made wood box engraved with Art X Puzzles and the Artist's Name. The transparent beauty of this special edition will surprise and delight!

Collector Edition of 100

Level: Challenging
Signature Details: 
Original Artwork: Walking the Dog - 1989
"I shot this in the Meatpacking District of New York City in 1989. It was part of the campaign for a high-end fashion client from Germany who wanted an editorial campaign of New York City "on the edge." So the juxtaposition of a high fashion girl walking her bulldog in what was it in a very open area of the city." Robert Farber 
Click Articles: Robert Farber Collections
Artist Certificate: Each puzzle comes with an artist certificate.
Biography: Robert Farber's style has influenced generations of photographers. His painterly, impressionistic style captures the essence of composition in every genre, including nudes, still life, landscapes and architecture. His ten photo art books have sold over half a million copies.
Jacqueline Kennedy Onassis brought Farber into Doubleday for the publication of his book "By The Sea," which won the Art Director's Award for color photography. Aside from numerous creative awards, Robert Farber also received the Photographer of the Year from PMA (Photographic Manufacturers Association), ASP International Award from the PPA (Professional Photographers of America) and The American Society of Photographers. This award was given to those who've made a significant contribution to the science and art of photography. Some previous recipients of this award include Dr. Edwin Land (inventor of the Polaroid), George Hurrell, and National Geographic.
Farber's work with nudes in fine art as well as in the commercial realm is known and respected. He has lectured for Ogilvy & Mather on the "Nude in Advertising." ASMP requested to use Farber's nudes as an examples of the artistic application in support of the National Endowment of Arts, after its backing of the controversial Mapplethorpe/Serrano exhibit. His book, "Farber Nudes," was also included the Jacqueline Kennedy Onassis estate collection.
Farber's fine-art photographs have been published in virtually every form. Farber has exhibited in galleries and museums world-wide. He's lectured at the Smithsonian Institute, The George Eastman House, as well as Universities and professional groups throughout the United States, Japan, Australia and Europe. Aside from his fine art photography, Robert Farber's work encompasses major campaigns for fashion, beauty and advertising, as well as directing for TV and film. A documentary highlighting Farber's life and career, is in development for PBS.
ARTIST CHARITY CHOICE: The Women's Alzheimer's Movement