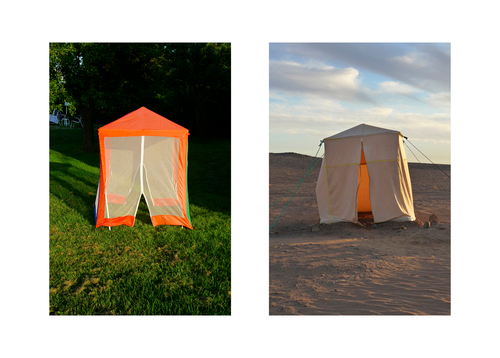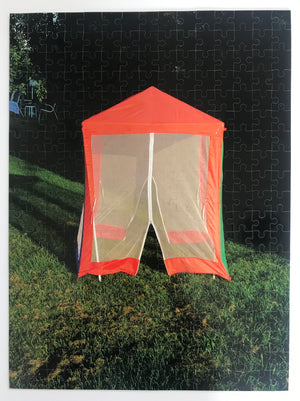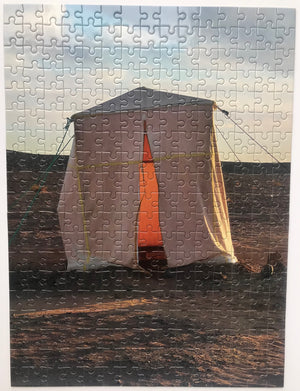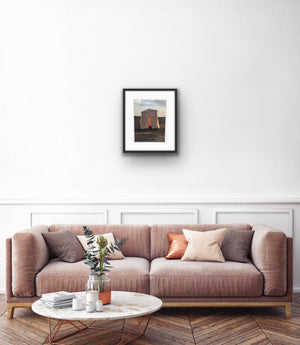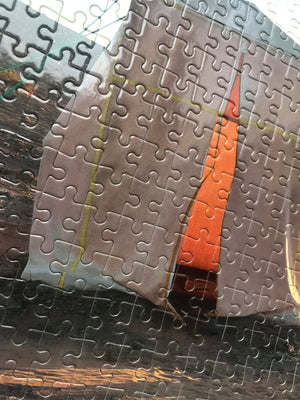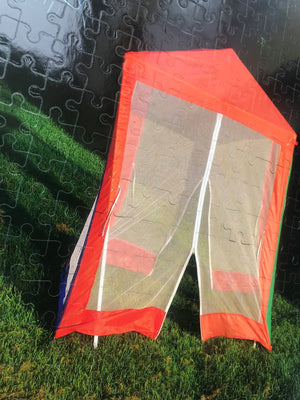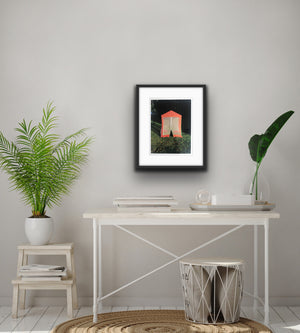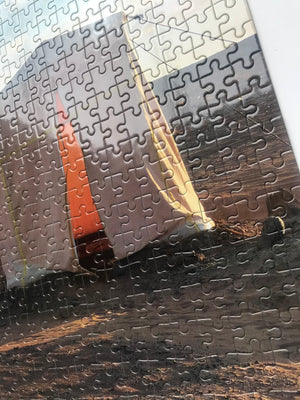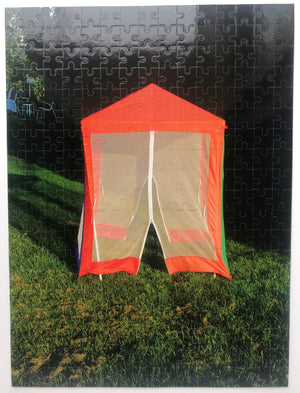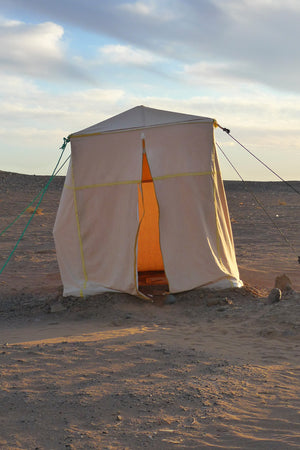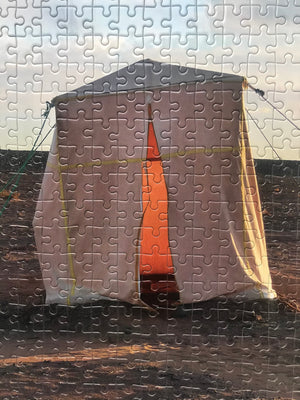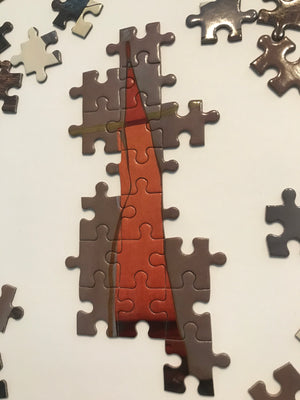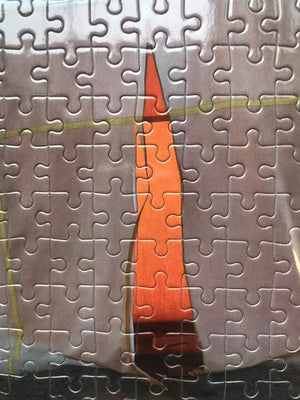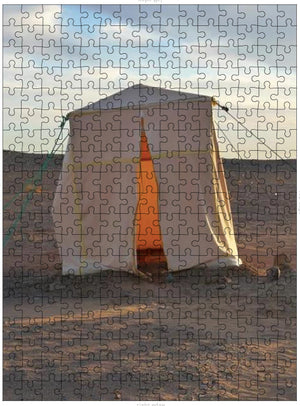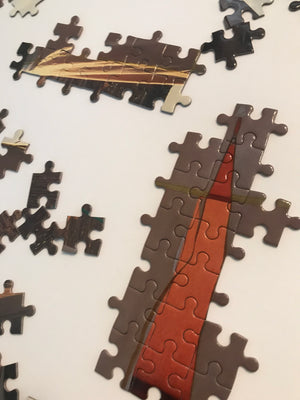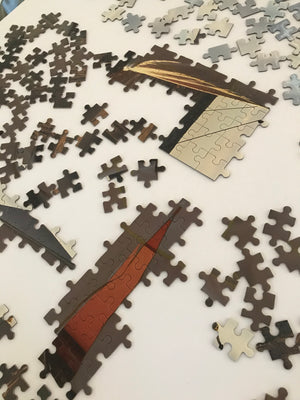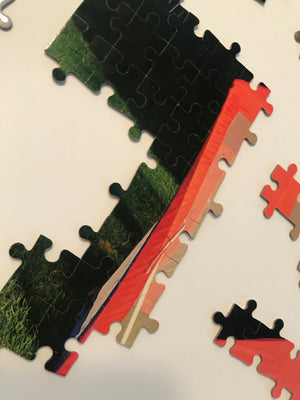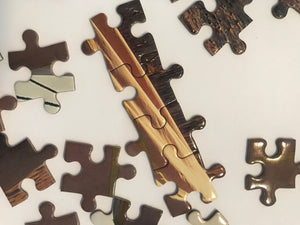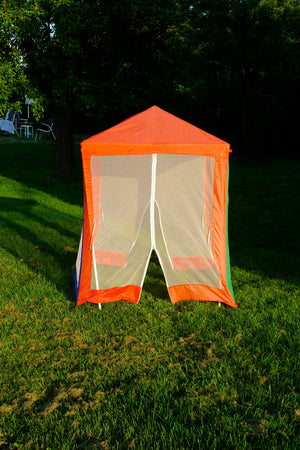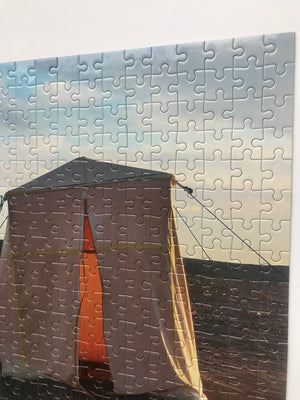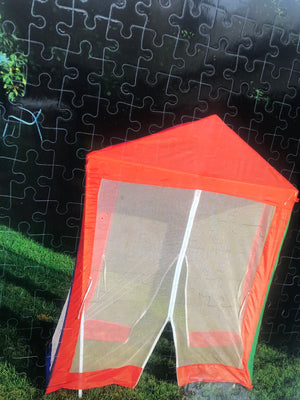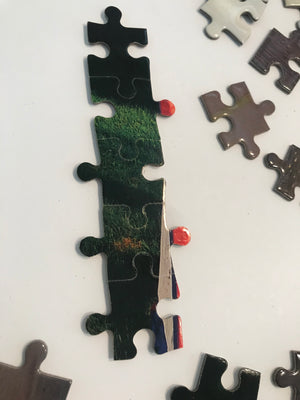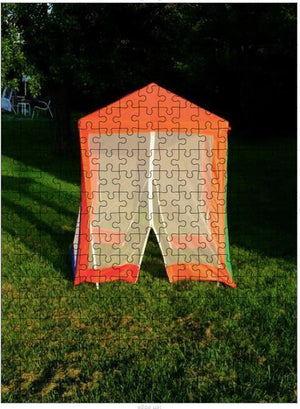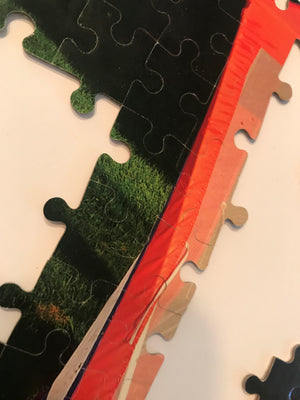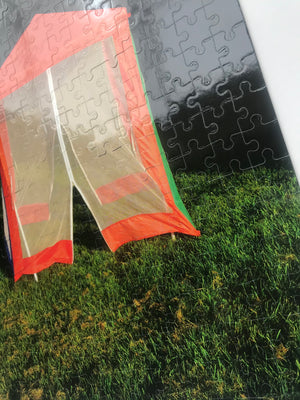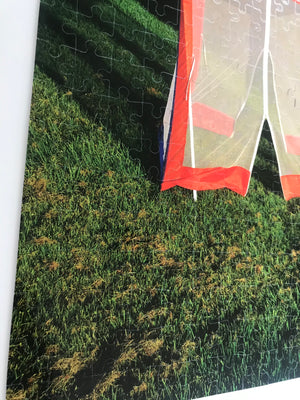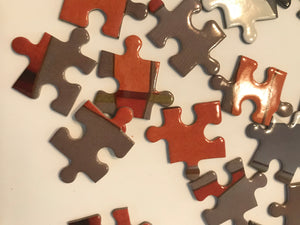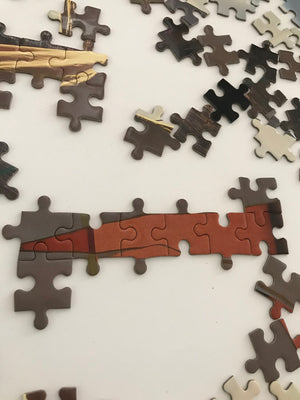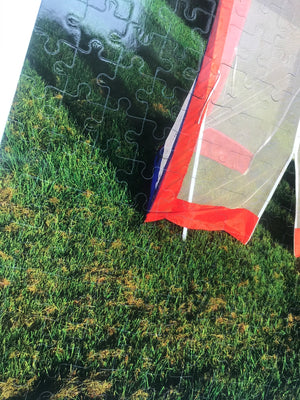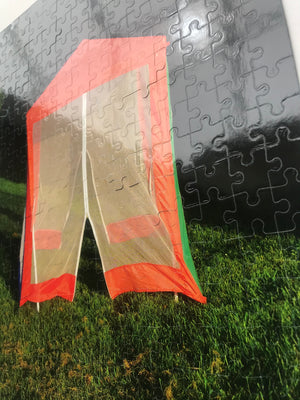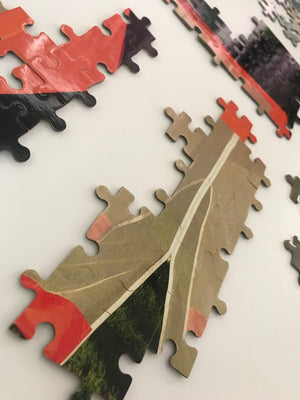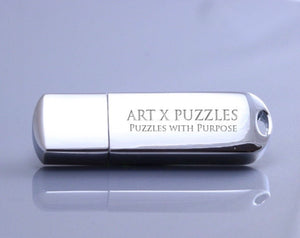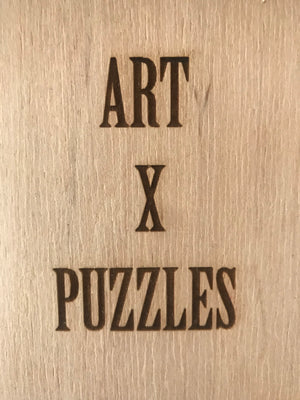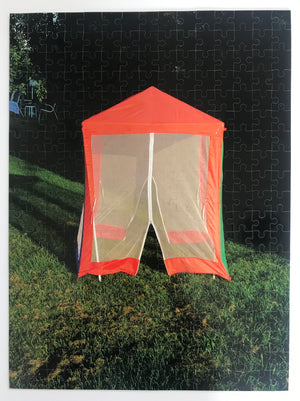 Artist Stephen Posen Collector Edition Jigsaw Puzzle
b. 1939 lives and works in Bucks County, Pennsylvania and New York City, United States
Title: Gimme Shelter
Live Video of Jigsaw Puzzle: Click Here 
Jigsaw Puzzle Size: (Horizontal) 12"x 16.5" (310mm×418mm) 285 Jigsaw Puzzle Pieces, ESKA Premium Board. Double-Sided Puzzle, Gloss Finish.
Double-Sided Jigsaw Puzzle 
This special puzzle is a double-sided puzzle with complex and engaging imagery and brilliant colors. This Collector Edition arrives Pre-Assembled Option and separated onto 2 cardboard squares according to size. The AXP Collector Editions comes ready to slide together for a complete instant puzzle and/or to be broken down for puzzling fun and/or framing! 
The Collector Edition arrives in a special custom-made wood box engraved with Art X Puzzles.
Collector Edition of 20 + 2AP
Level: Challenging
Signature Details: Each photograph appearing on opposite sides of the "Gimme Shelter" puzzle were taken years apart and in very different circumstances: one on my farm in Bucks County and the other, many thousands of miles away, in the desert of Morocco.  I chose to pair these photographs together as they contain similar form and light and convey related senses of universality and comfort.
Selection: Paired Photographic Images 2008-2013 | Stephen Posen is both a painter and photographer. He has explored photography with a painter's eye and has revolved his painting process around the ontology of photography for forty years. In his first monograph, ELLIPSIS: DUAL VISION (published by Glitterati), the artist came full circle with a series of 174 paired photographs, of which "Gimme Shelter" was one pair. 
Blurring the lines between realism and abstraction, Posen uses the photograph as a poet uses the word, each image acting as both the symbol and subject of a larger idea. Teasing elusive connections with his provocative pairs, Posen invites us to participate in the expression of his work and offers a new way of seeing the world, without any preconceived context.
Click Press:
The New York TImes:
review
by Ted Loos
T Magazine
review 
by 
Susan Kirschbaum
Wallpaper* magazine
review 
by Stephanie Murg
Artist Certificate: Each puzzle comes with an artist certificate.
Biography:
Returning to the States, Stephen and Susan moved to New York City, becoming an integral part of the Soho art scene in the Seventies. In 1972, Posen's photorealist paintings of cloth-covered boxes appeared at  Documenta V with the blessing of Swiss curator Harald Szeemann, inaugurating a key figure of American realism.  Posen's works were exhibited at OK Harris and Robert Miller and featured on the cover of Arts Magazine. Dali and Warhol were a few of the many supporters of Posen's early work.
Posen's quest reached beyond the Realist movement however and in the Eighties he ventured into other stylistic approaches. Famously private about his work and process, Posen has cloistered himself in his studio and fortressed a rigorously adventurous space for creation. Within his 50 year career, Posen has built a prolific oeuvre of remarkable depth and agility. He has continuously dedicated himself to exploring the line between the physicality of paint and pictorial illusion. Unrelenting in questioning the tension between our interior perceptions and exterior realities, his path has traced through trompe-l'oeil compositions, to photographic mixed media and even pop, with the use of iconographic cartoon characters like Krazy Kat. In recent years Posen has exhibited at the Drawing Center and delved deeply into photography as an additional tool in his visual and analytic palette.
Posen's work is recognized in museum collections such as the MoMA and the Guggenheim. "Ellipsis: Dual Vision"  a book of Stephen's paired photographs with writings by Alexandra Posen, Scott Indrisek, Colin Cheney and Zac Posen has recently been published by Glitterati Incorporated (March 2015).