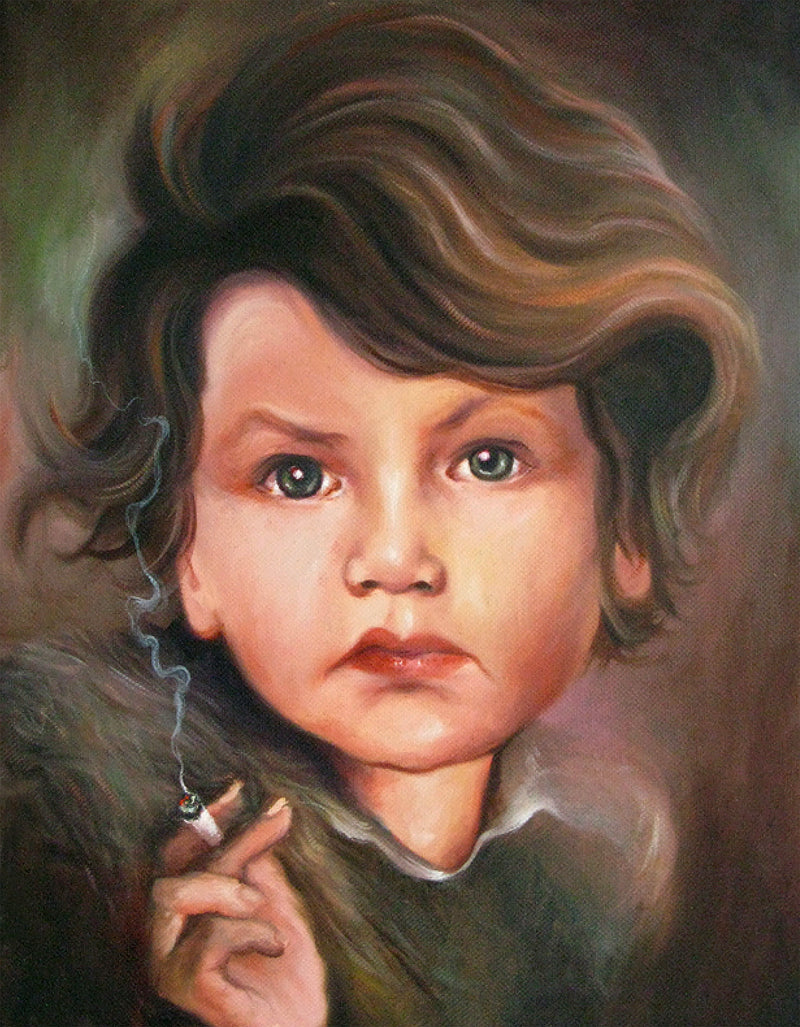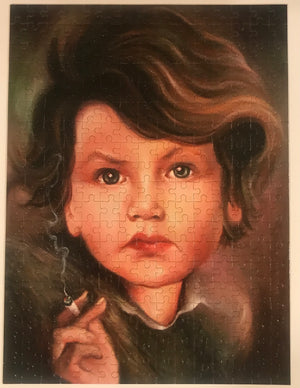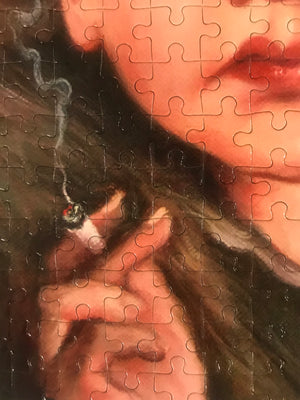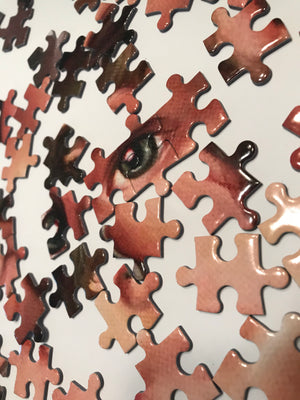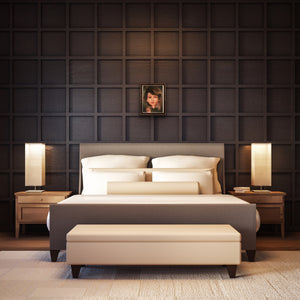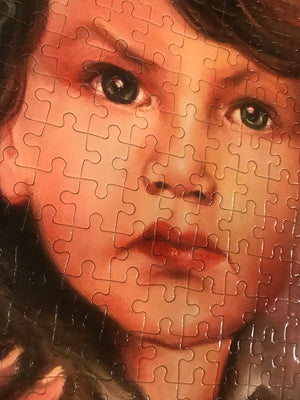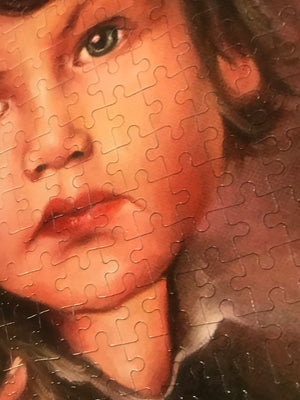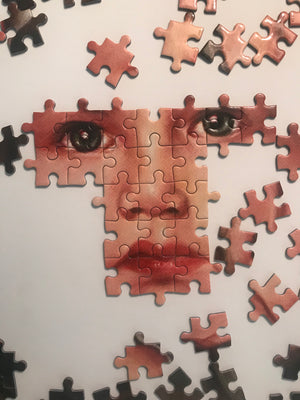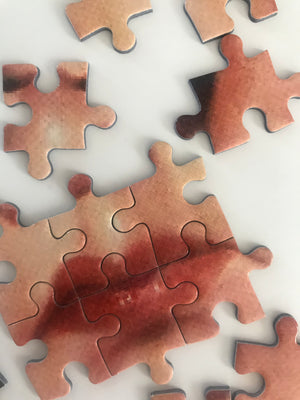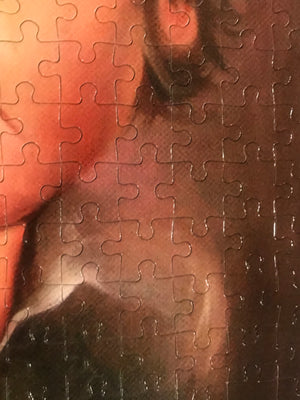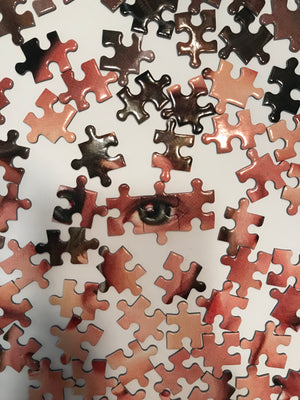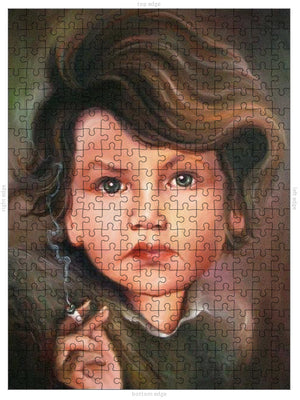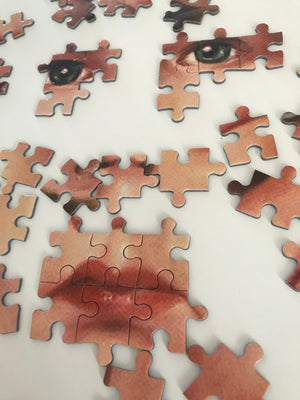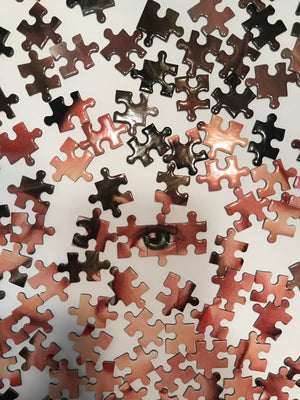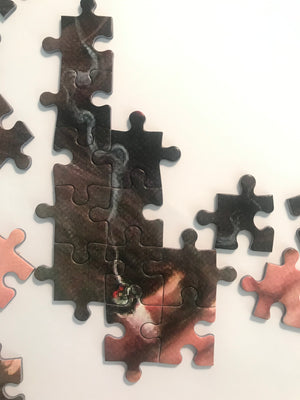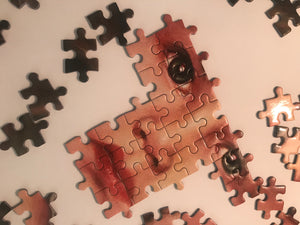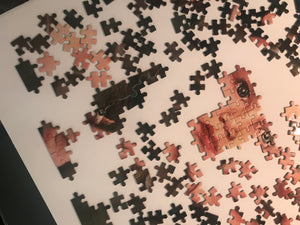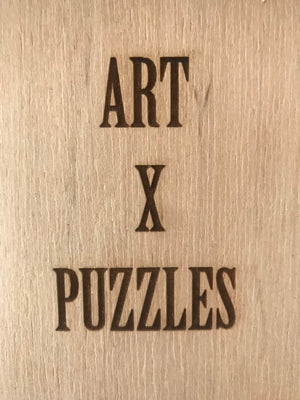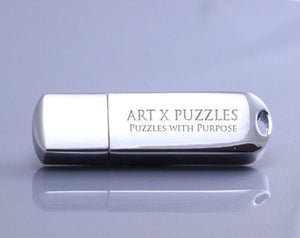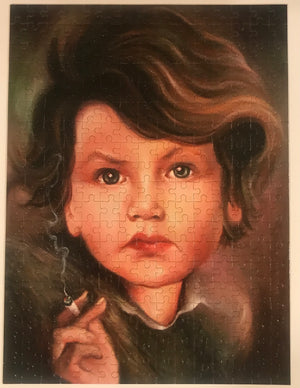 Artist Nir Hod Collector Edition Jigsaw Puzzle
b.1970 | Lives and works in New York, NY, United States
Title: Genius
Live Video of Jigsaw Puzzle: Click Here
Jigsaw Puzzle Size:  (Horizontal) 12"x 16.5" (310mm×418mm) 285 Jigsaw Puzzle Pieces. ESKA Premium Board. FSC 100% Recycled Paper. 
The Collector Edition arrives in a specially custom-made wood box engraved with Art X Puzzles and the artist's name.
Collector Edition of 20 + 2AP
Level: Challenging
Signature Details:
Continuing the artist's longtime fascination with beauty and loneliness, glamour and death, Hod's aristocratic young Geniuses inhabit a world of paradox, where their cherubic cheeks contrast with their scornful expressions and lit cigarettes. Philosopher Roy Brand describes them as "…little demons without disguises. But they are also yearning, beautiful, and charming, and their narcissism is more a sign of internal happiness than of vanity." Like sculptures in a wax museum that aim to dramatically freeze time, these paintings explore art's power to capture life while simultaneously elevating it to depict an unattainable ideal.
Entitled 'Genius', new paintings and sculpture from Hod's series of precocious and melancholic young men and women. 
Hod's bronze "Genius" sculpture accentuates the vulnerability of these child prodigies by pairing the knowing expressions and eerie self-possession of the painted Geniuses with the sculpture's diminutive body. His ashtray sculpture—in which a cigarette smolders alongside the music wafting from an abandoned telephone receiver— furthers the exhibition's aura of decadent fantasy. In the nearly life-sized "Father and Son" sculpture, a father kneels before his domineering son, embracing him with a gesture that seems equally affectionate and fearful. For Hod, this work illustrates a less literal usage of the word "Genius," wherein extravagant behavior creates a cult of personality, like the ones surrounding dictators, celebrity eccentrics or Mafioso.
As Richard Vine wrote in the catalogue for Hod's survey exhibition at the Tel Aviv Museum of Art, "From the beginning of his career, Nir Hod has opposed the ideology that labels sumptuousness an esthetic sin. His work openly substitutes the pleasure principle and a fluid multiplicity of selves for the old notions of high seriousness and personal authenticity. " For more on Genius Series:  Click here  
Artist Certificate: Each puzzle comes with an artist certificate.
Biography:

There is a thin line — and sometimes numerous (white) lines — that marks the division between terror and glamour. A step too far in one direction and you're down a rabbit hole of narcissistic hedonism; edge just beyond the brink in another and you're in a world of autocratic atrocities. This paradox between surface and substance, polish and patina, capitalists and despots is what drives — and has always driven — the work of Nir Hod. A painter at his core, Hod has long been obsessed with honoring the technical mastery of his idols only to subvert them in polemical and political narratives that suggest a new world order that is just slightly askew: be it oil renderings of cocaine on obsidian mirrors referencing loss over lust; portraits of toddlers rendered with Old Master virtuosity disrupted by the addition of smoldering cigarettes in their hands; Dutch Golden Age style still-life paintings of tumescent orchids engulfed in Richteresque flames; or a haloed woman carrying a handbag — part Warhol "Shadow Painting"; part luxury glamazon — isolated from the terrified "Warsaw Ghetto Boy" in the iconic image of a Nazi roundup by SS photographer Franz Konrad.