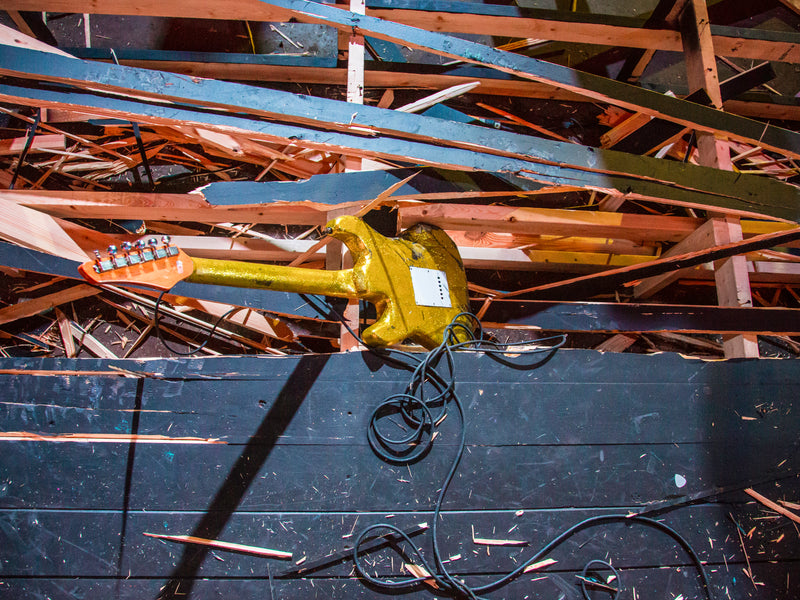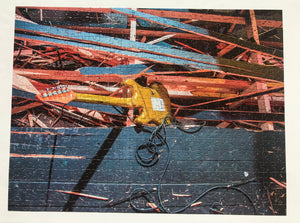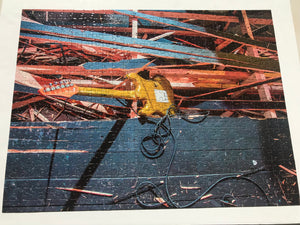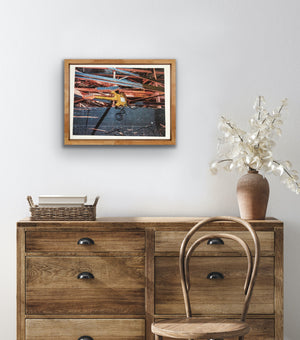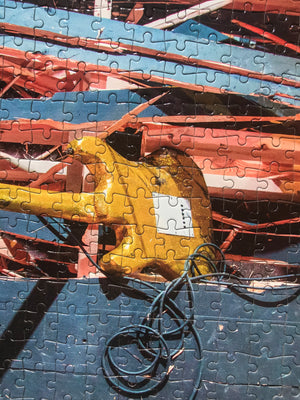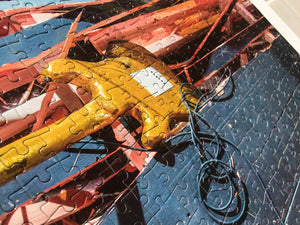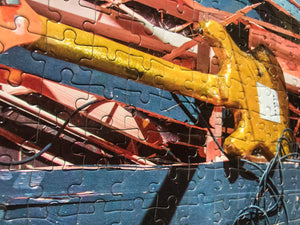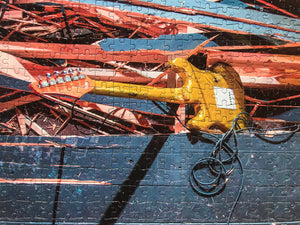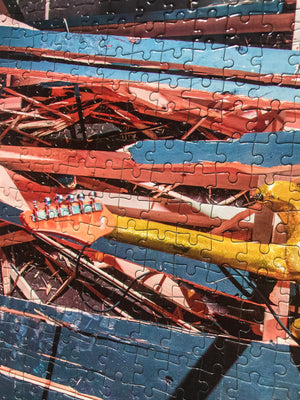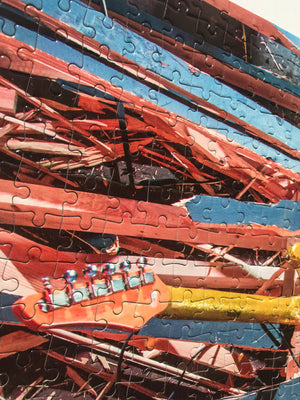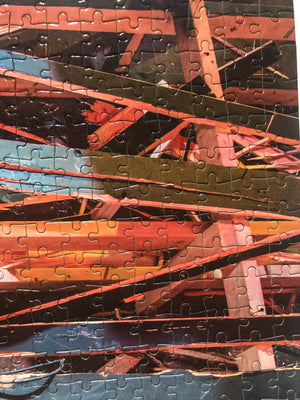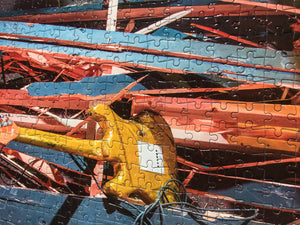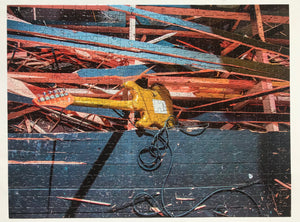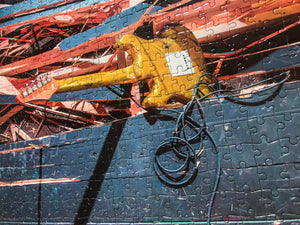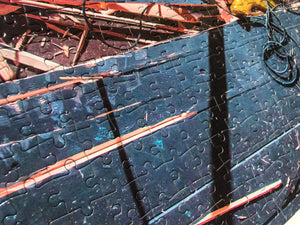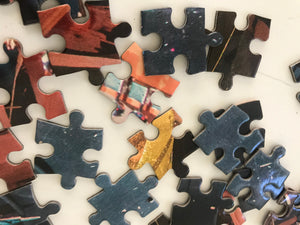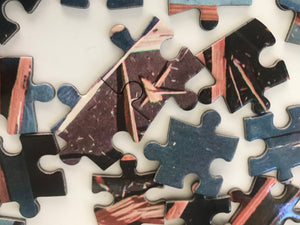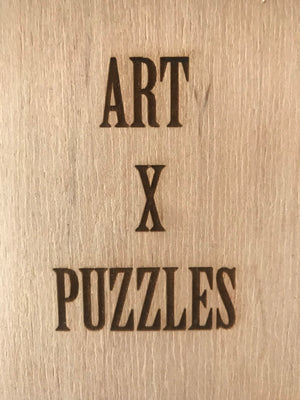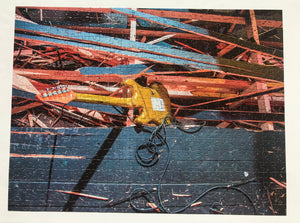 Artist Naama Tsabar Collector Edition Jigsaw Puzzle
b.1982 Israel | Currently lives and works in New York City
Title: "Dismantled", 2014
Live Video of Jigsaw Puzzle: Click Here 
Jigsaw Puzzle Size:  24" x 18 ( 609.6mm x 457.mm)  500 Jigsaw Puzzle Pieces, ESKA Premium Board  FSC 100% Recycled Paper, Magnetic Layer.
This Collector Edition arrives Pre-Assembled Option and separated onto 2 cardboard squares. The AXP Collector Editions comes ready to slide together for a complete instant puzzle and/or to be broken down for puzzling fun and/or framing! 
Magnetic Quality: This extremely well-made puzzle has cleverly incorporated a very thin layer of material with gentle magnetic properties underneath all the pieces, allowing the puzzles to be more stable and secure as the puzzler puts them together.
The Collector Edition arrives in an especially custom-made wood box engraved with Art X Puzzles.
Collector Edition of 20 + 2AP
Level: Challenging
Signature Details:  Image taken from the performance "Untitled (Babies), 2014, Courtesy of Spinello Projects, Kasmin Gallery and the Artist. Photo by Monica McGivern.
"The image I choose is from the end of my performance - "Untitled (Babies)". A performance in which I attempt to break a guitar at the peak of a song, and the guitar does not break, instead, the stage itself comes apart." Naama Tsabar
Click Article: Naama Tsabar on taking control of your process by Brandon Stosuy \ The Creative Independent
Multimedia Artist Naama Tsabar Subverts Space, in Time by Trina Calderon \ LA Weekly
Subversive and Immersive Art With Naama Tsbar | Experiential, Faena Art
Artist Certificate: Each puzzle comes with an artist certificate.
Biography:
Naama Tsabar employs sculpture, photography, and performance to subvert the gender roles historically associated with musicianship.  Appropriating and subverting the aggressive gestures of rock and roll and their associations with virility and power, Tsabar upends the implicit gender roles and coded behavior of music and nightlife.
Her most recent works and sonic installations weave together iconic actions and objects from rock music (the guitar, the amplifier, the microphone) with a more intimate portrayal of the artist's body and its movement through, within, and into the surrounding architecture.  The motifs of femininity, gender, disruption, destruction and reconstruction recur throughout her work and performances.
Tsabar has most recently performed at The Nasher Museum of Art in North Carolina, in September 2019,  ELEVATION 1049 in Gstaad, Switzerland, in February 2019, and exhibited at the Schirn Kunsthalle Frankfurt in 2019 and Center for Contemporary Art in Tel Aviv in 2018, Kunsthaus Baselland in 2018, and Prospect New Orleans in 2017 with the commissioned piece Composition 21. Upcoming exhibitions include "Fantasy America" at the Warhol Museum, Pittsburg in 2021 and a public sculpture commission for Highline Art, NYC in 2021.
Selected exhibitions and performances of Tsabar include Faena Art Center, Buenos Aires, (2018); SoundKraft at the Museum of Arts and Design, New York (2017-18); The Skin of Sound, Hessel Museum of Art / CCS Bard, New York (2018); Palais de Tokyo, Paris (2017); High Line Art, New York (2016); Guggenheim Museum, New York (2014); Tel Aviv Museum of Art, Tel Aviv (2013, 2010); Frieze Projects, New York (2014); Zacheta National Gallery of Art, Warsaw (2014); MARTE-C, San Salvador (2015); MoMA PS1, New York (2010); The Herzliya Museum for Contemporary Art, Herzliya (2006). Tsabar received her MFA from Columbia University, New York in 2010 and BFA from Hamidrasha School of Arts, Belt-Berl, Israel, in 2004. Her work is held in the permanent collections of the Solomon R. Guggenheim Museum, New York; San Francisco Museum of Modern Art, San Francisco; Tel Aviv Museum, Tel Aviv; Israel Museum, Jerusalem. Tsabar currently lives and works in New York.