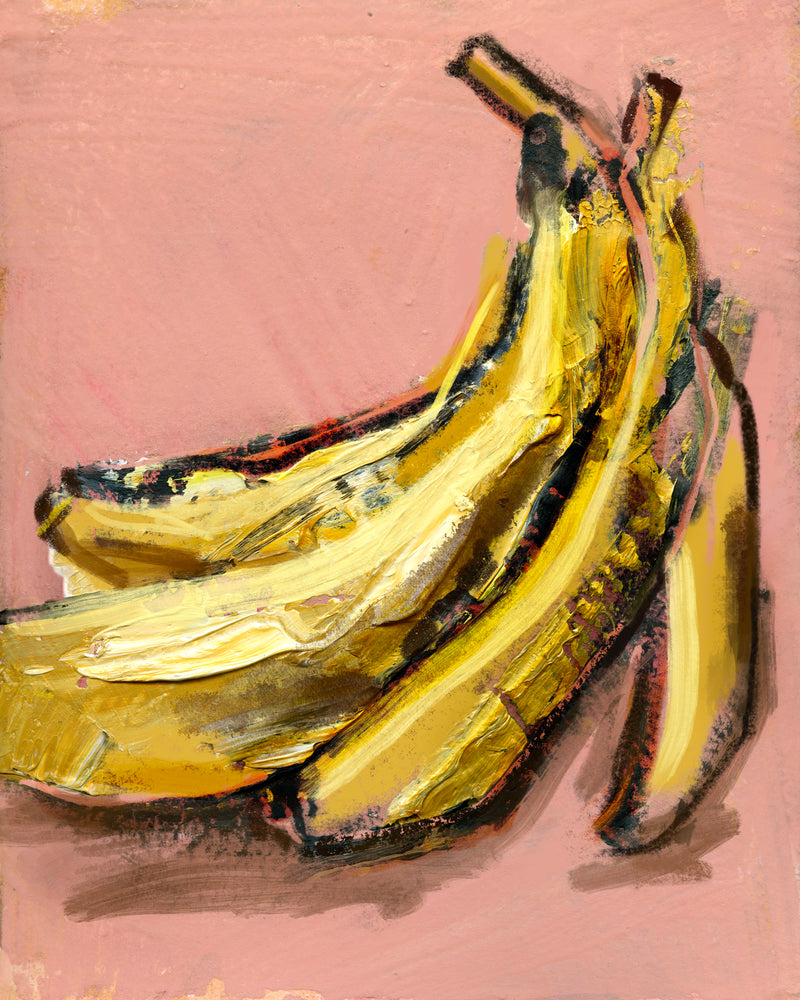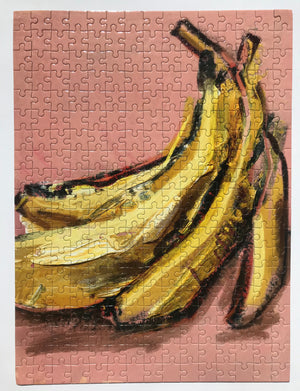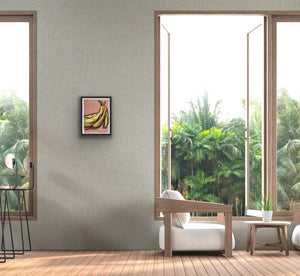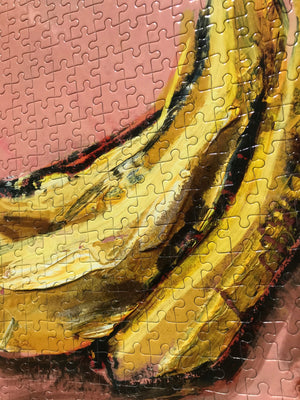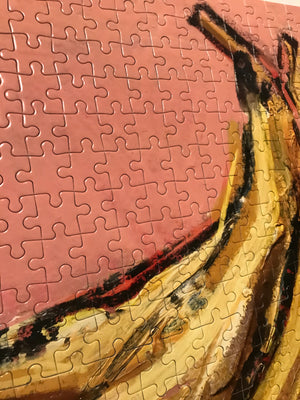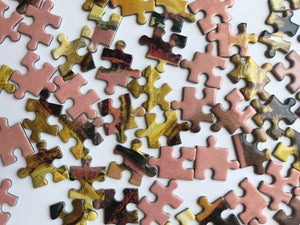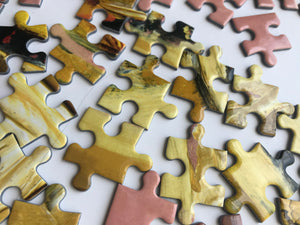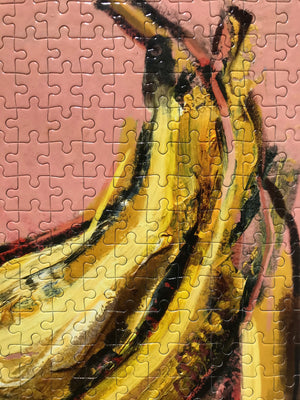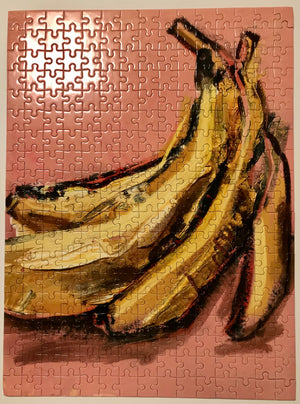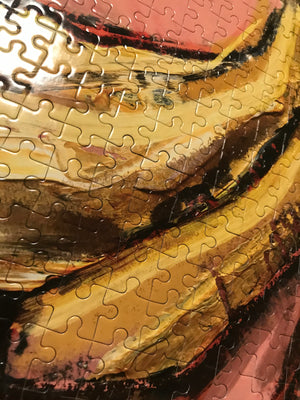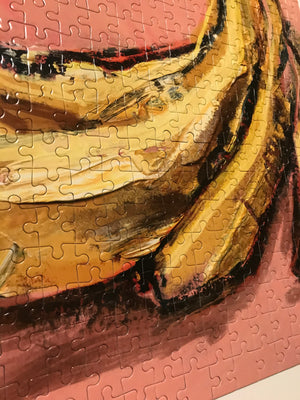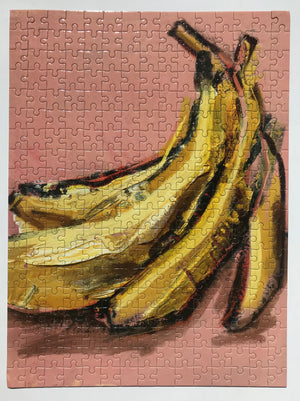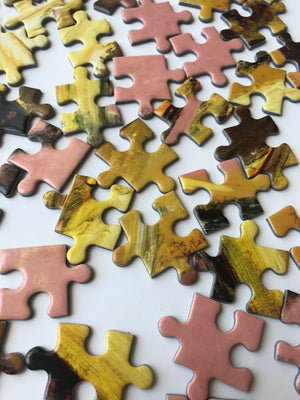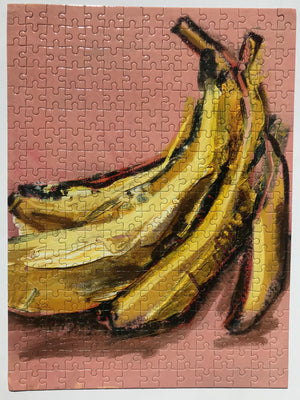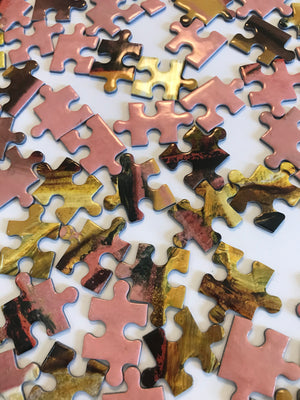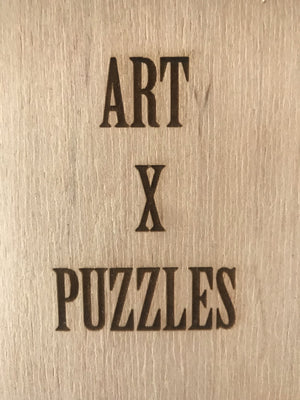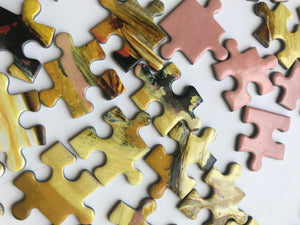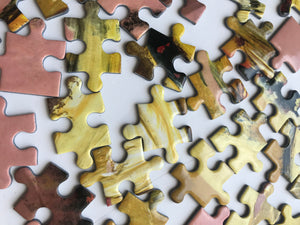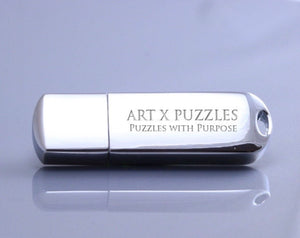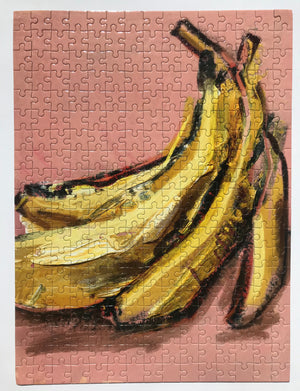 Artist Maria Kozak Collector Edition Jigsaw Puzzle
b. 1981 in Krakow, Poland. Lived and works in Brooklyn, NY | United States
Title: BANANAS!
Live Video of Jigsaw Puzzle: Click Here 
Jigsaw Puzzle Size: (Horizontal) 16.5" x 12" (310mm x 418mm) 285 Jigsaw Puzzle Pieces, ESKA Premium Board.FSC 100% Recycled Paper, Gloss Finish. 
This Collector Edition arrives Pre-Assembled Option and separated onto 2-5 cardboard squares. The AXP Collector Editions comes ready to slide together for a complete instant puzzle and/or to be broken down for puzzling fun and/or framing! 
The Collector Edition arrives in a specially custom-made wood box engraved with Art X Puzzles.
Collector Edition of 20 + 2AP
Level:  Challenging
Signature Details:
Bananas!, 2020 ,Oil on paper, 9.5 x 7.5 inches. 
"The bananas appeared at the beginning of the year. I had always loved yellow on pink. Who knew then that it would be a premonition about how things would go this year " Maria Kozak
The banana throughout art history. The banana was a part of an exhibit and gallery booth by renowned Italian artist Maurizio Cattelan's at ArtBasel Miami Beach in 2019 and sold for $120,000 USD. The piece was titled "Comedian." The artist is also known for his $6 million 18-karat-gold toilet which was stolen from the Blenheim Palace earlier this year, and the banana now has influenced other artists throughout the world. noted Metropoltian Magazine

Click Articles:
The $120,000 Banana Explained by Elise Taylor | Vogue Magazine   
Artist Certificate: Each puzzle comes with artist certificate
Biography: Maria Kozak is a painter and new media artist living and working in Brooklyn, NY. Her drawings and paintings are spur-of-the-moment, intuitive expressions of her inner world. Her virtual reality work while, more pre-meditated, is also about presence. She has strong interest in the process and the manipulation of materials. Her work is found in collections nationally and abroad and has been mentioned in Artsy, the Wall Street Journal, The Art Newspaper and Paper magazine. She has shown most recently at The Detroit Public Library, The SPRING/BREAK Art Show and Massey Lyuben. Last summer she was awarded a Schusterman Foundation Fellowship for her work in emerging technology. She has a Master's degree in painting from the New York Academy of Art and is currently a member of NEW INC, the New Museum incubator for art and technology.