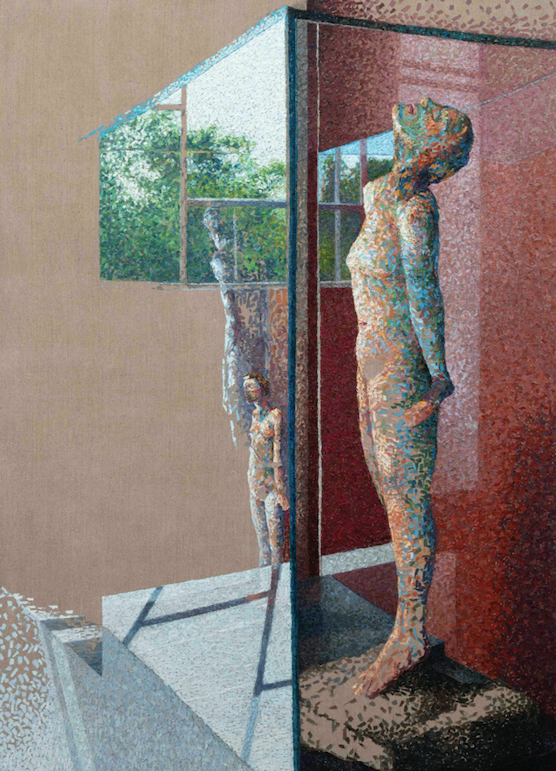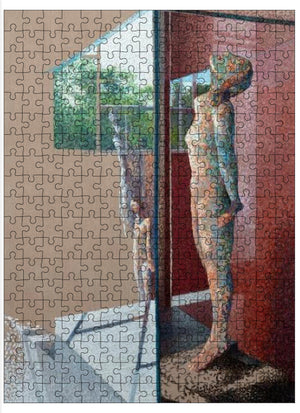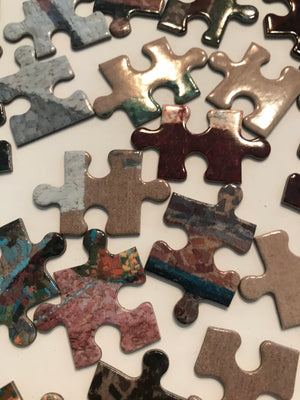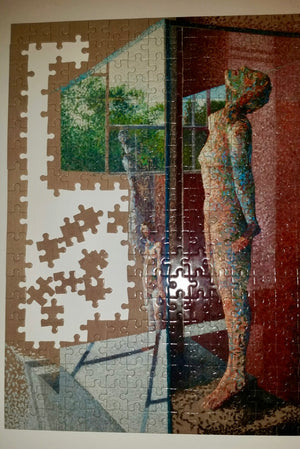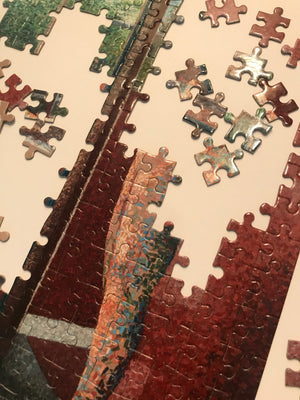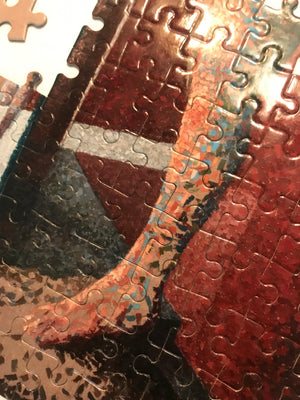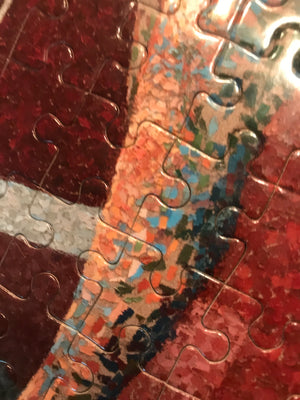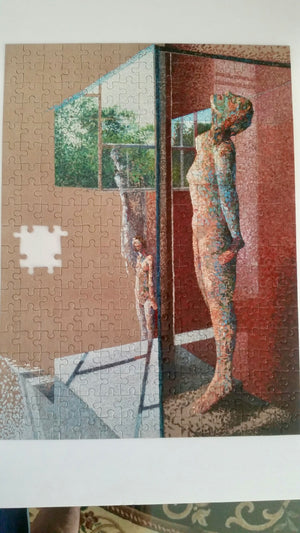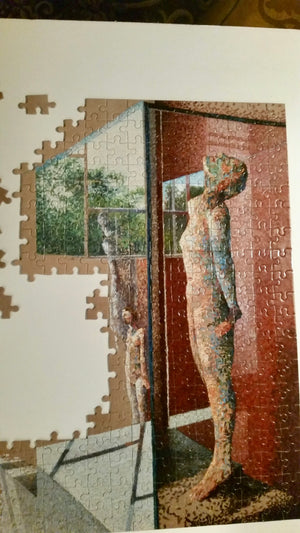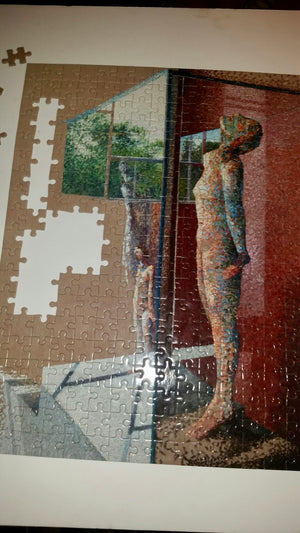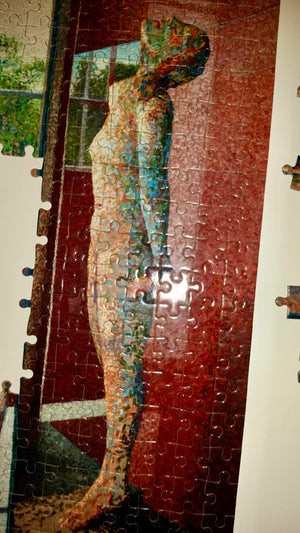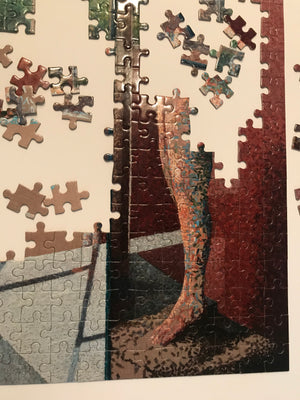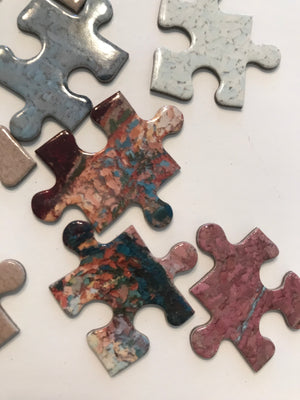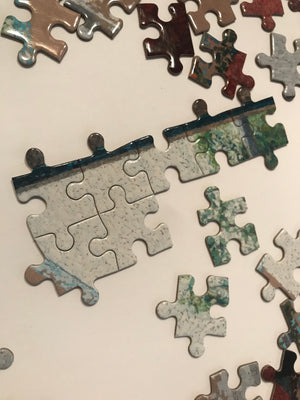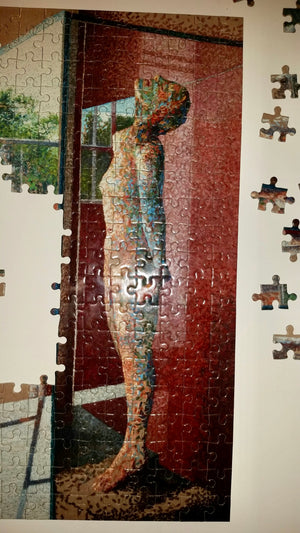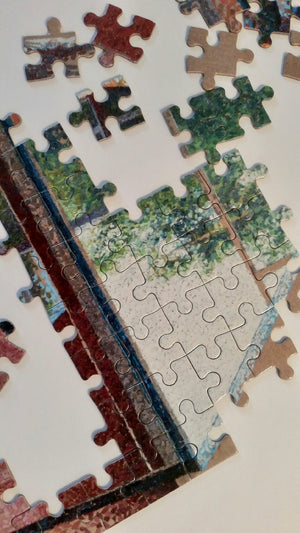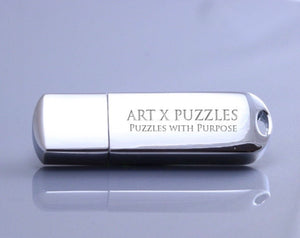 Artist Kiley Ames Collector Edition Jigsaw Puzzle
b. 1976 lives and works in Los Angeles | United States
Title: Sky with No Ceiling
Live Video of Jigsaw Puzzle: Click Here 
Jigsaw Puzzle Size: (Horizontal) 
12"x16.5" (310mm x 418mm) 285 Jigsaw Puzzle Pieces, ESKA Premium Board. FSC 100% Recycled Paper, Magnetic Layer.
This Collector Edition arrives with a Pre-Assembled Option and separated onto 2 cardboard squares. The AXP Collector Editions comes ready to slide together for a complete instant puzzle and/or to be broken down for puzzling fun and/or framing! 
This unique puzzle with complex and engaging imagery and brilliant colors, brings a dynamic challenge for the puzzler in you! 
Collector Edition of 20 + 2AP
Level: Challenging
Signature Details:
Sky with No Ceiling focuses on the societally imposed challenges that women have historically experienced and continue to experience today. Social change does not progress without challenges, struggle, and conflict. The dense flecks of color populating the surface, light against dark, muted against vivid, come together to ultimately create an image simultaneously unified and disparate, often reflecting the alienation of the subject itself. If we as a society can acknowledge various differences are obstacles, increase people's awareness and understanding, that we can work effectively to improve the situation and have no boundaries, like a sky with no ceiling.  
Sky with No Ceiling, 2017, oil on linen, 50 x 70 inches
"In her textured paintings on burlap, Ames renders the human form into a countless series of pointillist-style splotches that alternately combine and separate to represent the multitude of moments, experiences and memories that make up our identities. Expanding her range of possible mediums, Ames also constructs sculptures, converting the tactile bodies in her paintings into tangible three-dimensional objects." Emily Colucci in Frontrunner Magazine
Article Links:  Kiley Ames: Fragmenting the Figure by Emily Colucci  | Frontrunner Magazine
Artist Certificate: Each puzzle comes with an artist certificate. 
Biography:
Kiley Ames is a Los Angeles and Oakland based artist who earned a BA in History from the University of California at Los Angeles, a BFA in Illustration from the Art Center College of Design and an MFA in Painting from the New York Academy of Art.


ARTIST CHARITY CHOICE