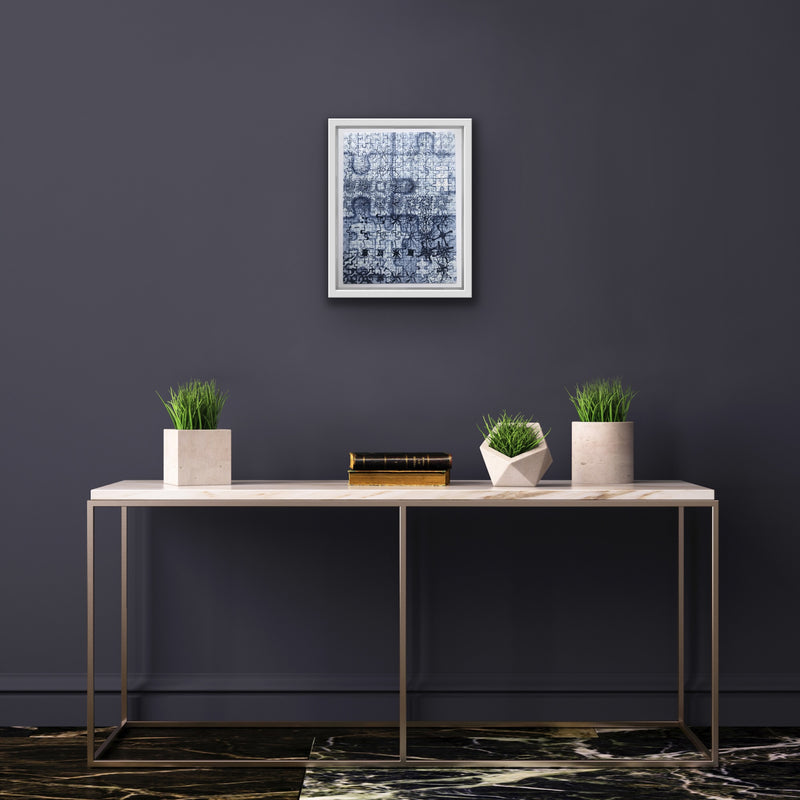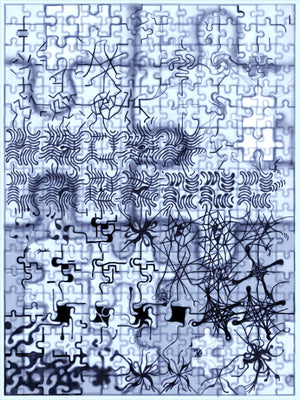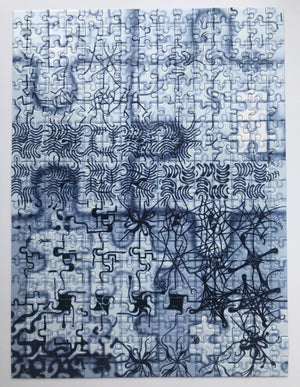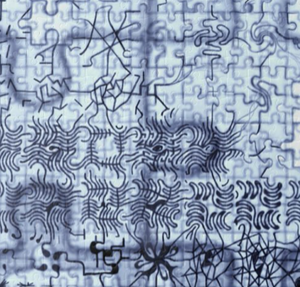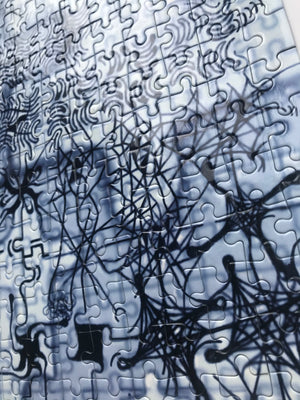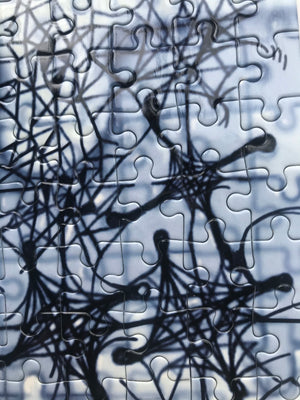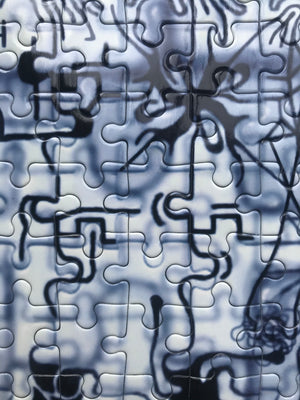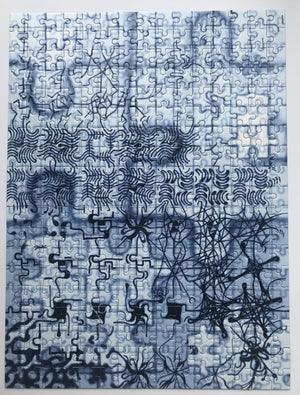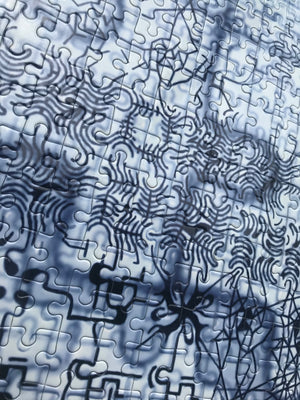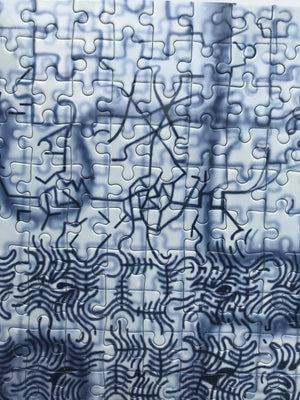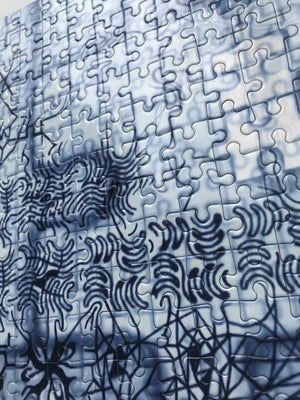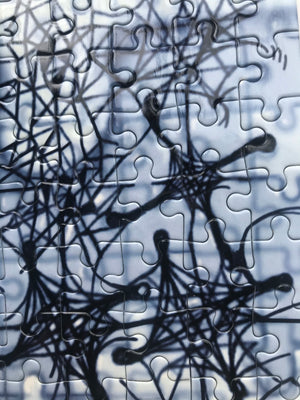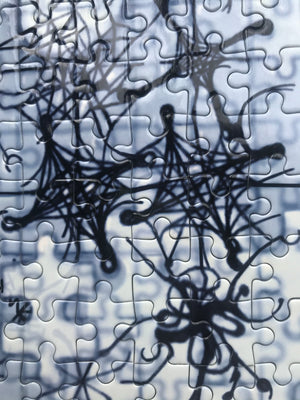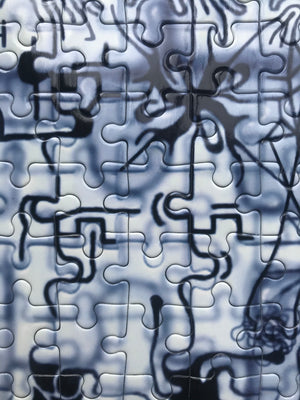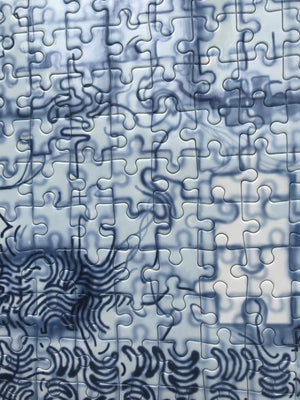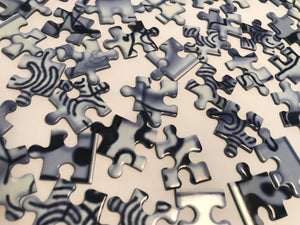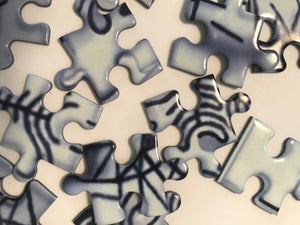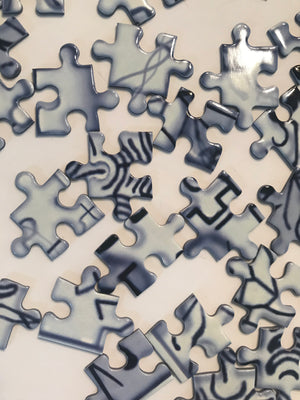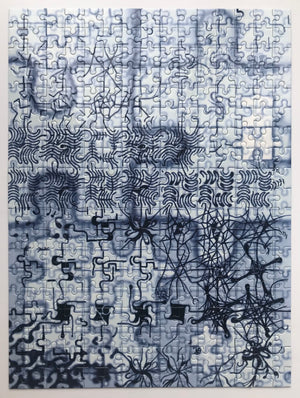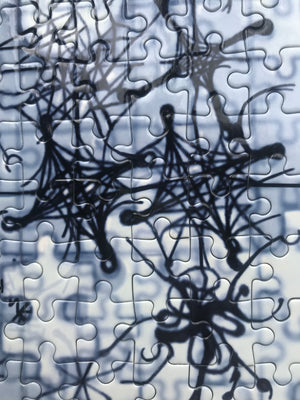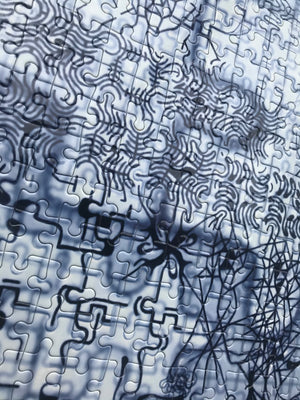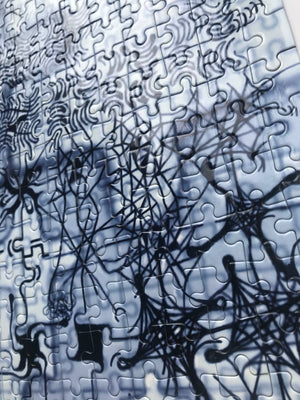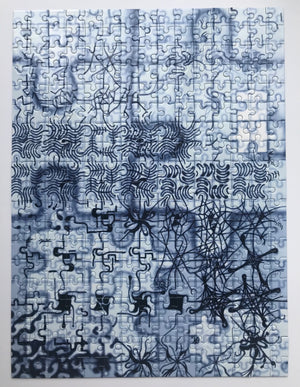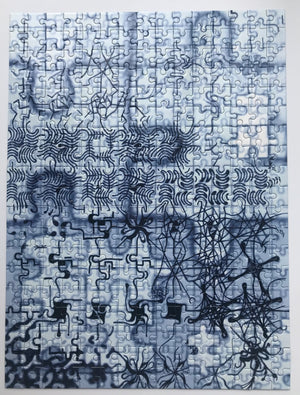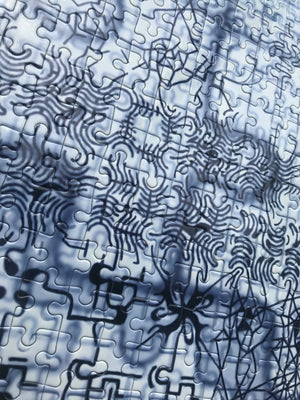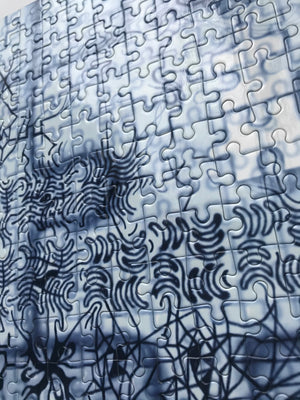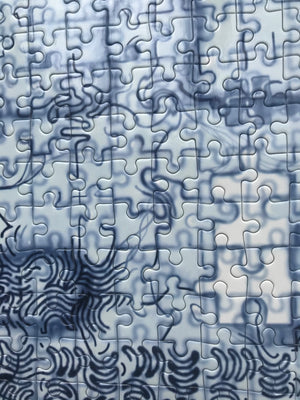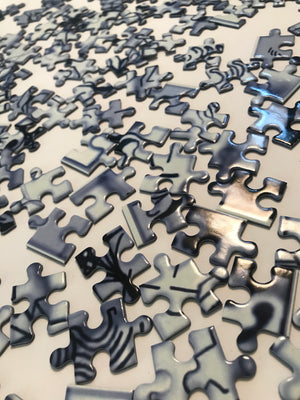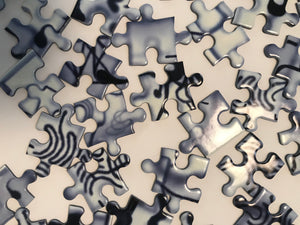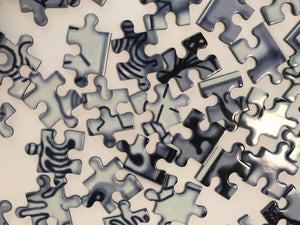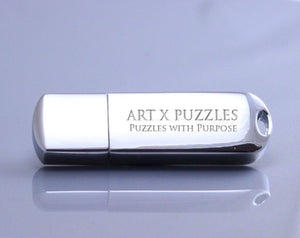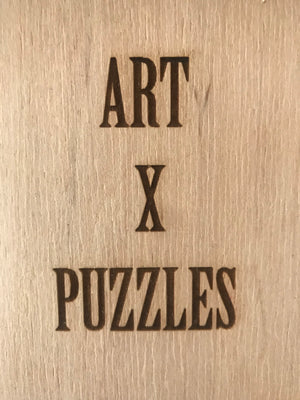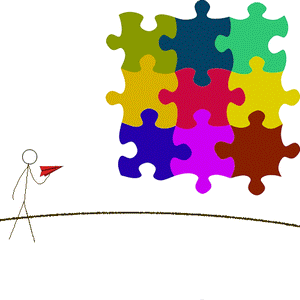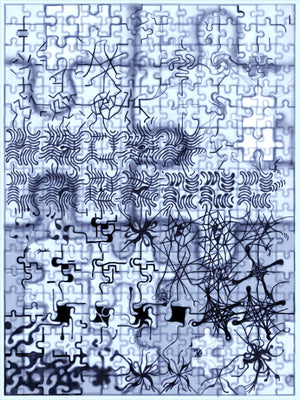 Artist Fabian Marcaccio Collector Edition Jigaw Puzzle
b.1963 Rosario, Santa Fe, Argentina.
 Lives and works in New York City. 
Title: Pozzelesness, 2020
Live Video of Jigsaw Puzzle: Click Here 
Jigsaw Puzzle Size: 16.5" x 12" (418mm x 310mm) 258 Jigsaw Puzzle Pieces, cardboard thickness (1.9mm) Eska Premium Board. FSC 100% Recycled Paper, Gloss Finish.
This Collector Edition arrives with a Pre-Assembled Option and separated onto 2 cardboard squares. The AXP Collector Editions comes ready to slide together for a complete instant puzzle and/or to be broken down for puzzling fun and/or framing! 
This puzzle with its dynamic design specially created for A&P by the artist, the dynamic complexity of imagery overlaid with the traditional jigsaw pattern (which holds a certain number of designed puzzle shapes) creates a mind-challenging puzzle for a beginner to expert puzzler! With the precise die-cut puzzle pieces, this makes this particular puzzle an impressively challenging and enjoyable jigsaw puzzle for hours or days of entertainment. The beautiful ESKA premium blue board makes the design a for sure winner!  This is for a collector edition jigsaw puzzle will last a lifetime! 

The Collector Edition arrives in a specially custom-made wood box engraved with Art X Puzzles.
Collector Edition of 20 + 2 APS 
Level: Fun/Complex
Signature Details:
"Almost all painters observe, inspect and analyze paintings all our life.
A puzzle gives everybody this prolonged view of an image and the interaction to build it piece by piece. I want it to make the piece of the puzzle in itself, the subject of the puzzle. The border lines, the scale the shadows and even the mood of the cognitive structures involved in the thinking process."  Fabian Marcaccio  
 "I care more about the plot of painting as dynamic archaeology, rather than thinking about formalism, modernism or post whatever. Formalism, to me, is just an obsession. I'm interested in informalism but not as negation of form like the Europeans, instead, I see forms as pleated, being there as mental cartography, you know, pleated as speed of thoughts. I see my work as "painting in spite of itself," instead of "painting itself" which is what the dogmatic formalists saw." Fabian Marcaccio BOMB MAGAZINE
Click Articles: 
Combining the now generic languages of abstract painting, Argentinean painter, Fabian Marcaccio constructs a bricolage of diverse cultural and historical approaches :Fabian Marcaccio by Shirly Kaneda | BOMB MAGAZINE
Artist Certificate: Each puzzle comes with an artist certificate.
Biography:
Fabian Marcaccio's work investigates whether the traditional medium of painting can survive in the digital age. He has used printmaking and transfer techniques to make paintings and became well known in the 1990s for his sculptural manipulations of the two-dimensional surface of canvas. More recently, he has infused his painting process with digital and industrial techniques. The results are environmental works, animations, and "Paintants" that combine digitally manipulated imagery, sculptural forms, and three-dimensionally painted surfaces.
Fabian Marcaccio was born in Rosario, Argentina in 1963. He lives and works in New York City. He has exhibited widely throughout the United States, Europe and South America. Major solo exhibitions include "Paintant Stories" Casa Daros, Rio de Janeiro (2014), "Some USA Stories" Krefeld Kunstmuseen, Krefeld Germany (2012), "The Structural Canvas Paintants," Lehmbruk Museum, Duisburg Germany (2012) and "From Altered Paintings to Paintants," Kunstmuseum Liechtenstein, Vaduz, Liechtenstein (2004). Major group exhibitions include "Summer Projects," PS1 Contemporary Art Center, New York (2002), Documenta 11, Kassel, Germany (2002) and the 44th Biennial of Contemporary American painting at the Corcoran Gallery of Art, Washington DC (1995). Works are in the collections of the Whitney Museum of Art, MOMA, Blanton Museum of Art, Miami Museum of Art (MAM), and the Museum für Moderne Kunst (MMK), among others.