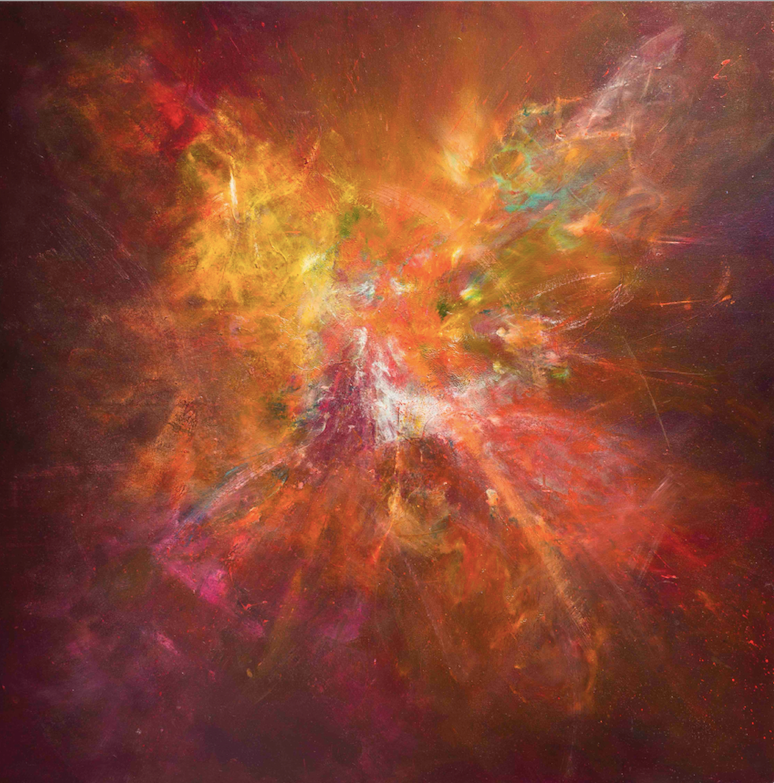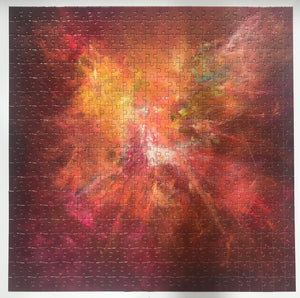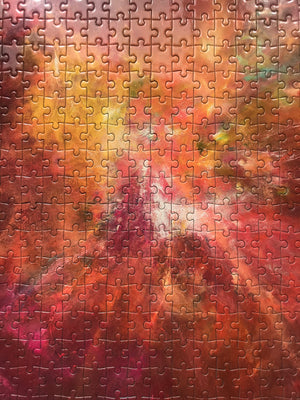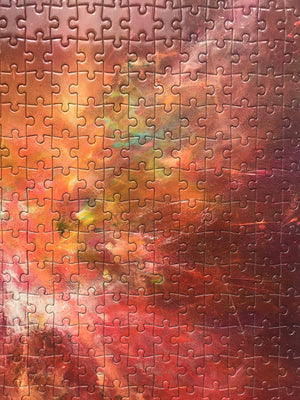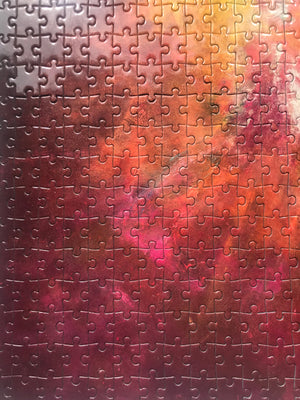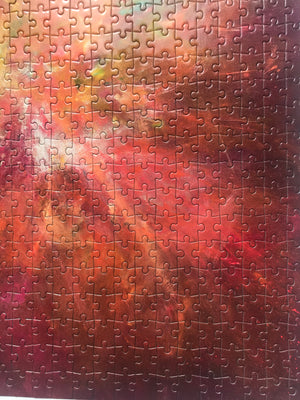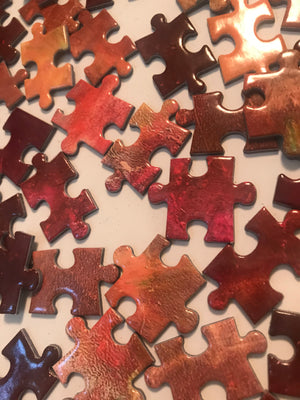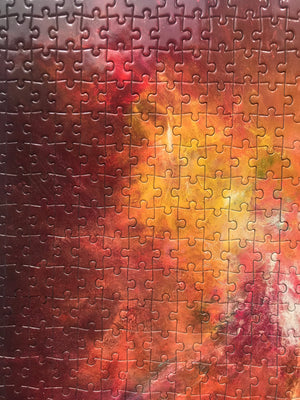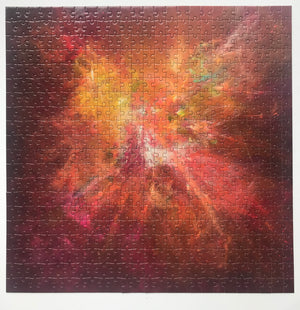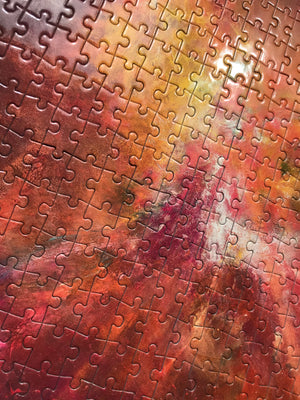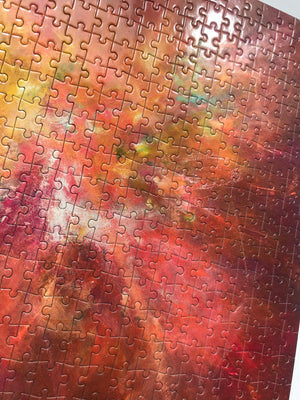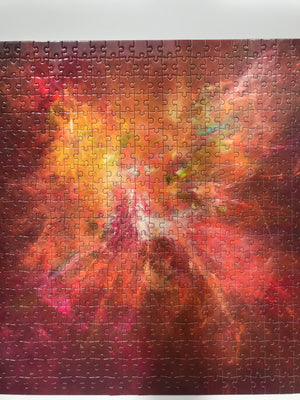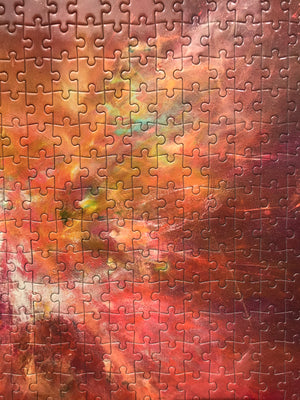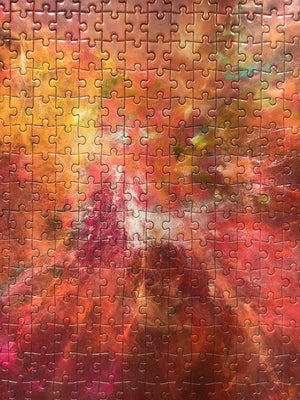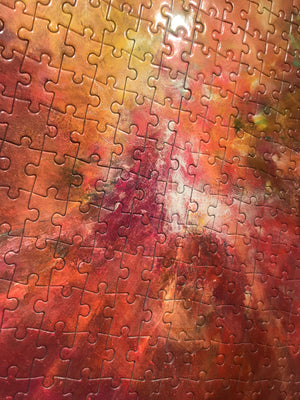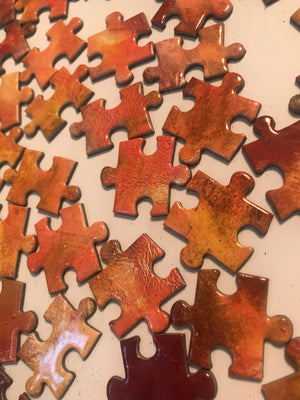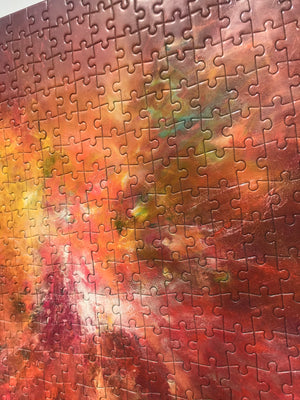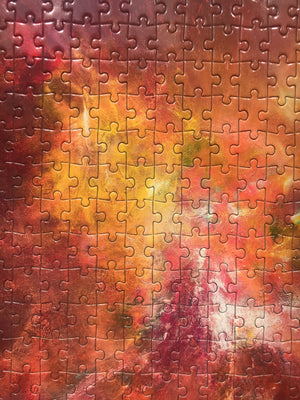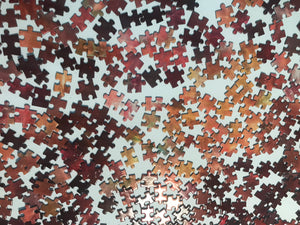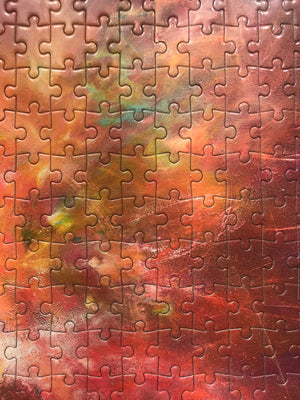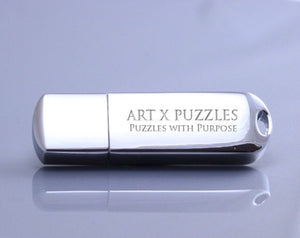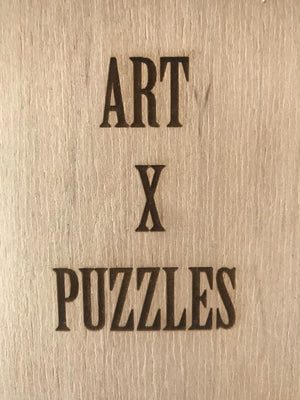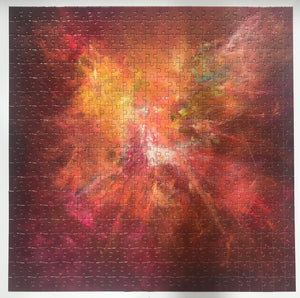 Artist Charlie Barton Collector Edition Jigsaw Puzzle
b. lives & works in Tisbury, Wiltshire, United Kingdom
Title: The Flaming Star
Live Video of Jigsaw Puzzle: Click Here 
Jigsaw Puzzle Size: 19" x 19" (482.6mm x 482.6mm) 500 Jigsaw Puzzle Pieces, ESKA Premium Board. Traditional Paper Jigsaw Puzzle.
The Collector Edition arrives in a special custom-made wood box engraved with Art X Puzzles.
Collector Edition of 20 + 2AP
Level: Challenging
Signature Details: The Flaming Star, oil & pigment on canvas, 225 cm x 225 cm
"I love the idea that every atom in our bodies comes from supernova explosions; that human beings are made of stardust," Charlie explains.  "That all matter is a composite of particles held together by electromagnetic energy so nothing is truly solid and everything is vibrant energy filled with life force.  Thus everything is interlinked; we are connected to each other biologically, to the earth chemically and to the rest of the universe atomically". Charlie Barton
Articles: Capturing the cosmo with Sydmonton artist Charlie Barton \ Hampshire Life
Charlie Barton, The Osborne Studio Gallery, London | Wall Street International Magazine
In the Studio with Charlie Barton | Artists & Illustrators Magazine
Artist Certificate: Each puzzle comes with an artist certificate.
Biography: Artist Charlie Barton explores the significance of the Moon since the dawn of man, from pagan worship to the first lunar landing and beyond, through the prism of art. Charlie studied at KingstonUniversity, School of Fine Art. Since graduating, she has exhibited extensively in group shows and multiple solo exhibitions across the UK & internationally.
An on-going theme throughout Charlie's work is the cosmos, serving as a constant inspiration since she began her journey in art school, where her enthusiasm for exploring the moon and space first developed. "I've been looking at the moon all my life, but always as a scientist. Charlie shows the moon in a new perspective, she makes the lure of the moon even more irresistible."  Sir Patrick Moore. Now creating large paintings with an almost sculptural feel to them, you can sense how she's manipulated the paint and added layer upon layer, drawing you deeper into the cosmos and exploring the outer world.  Focusing on science not only allows Charlie to explore outer space but also to create a connection with the natural world in general, allowing her to feel more at one with the universe; finding new discoveries and portraying them through a painterly form.