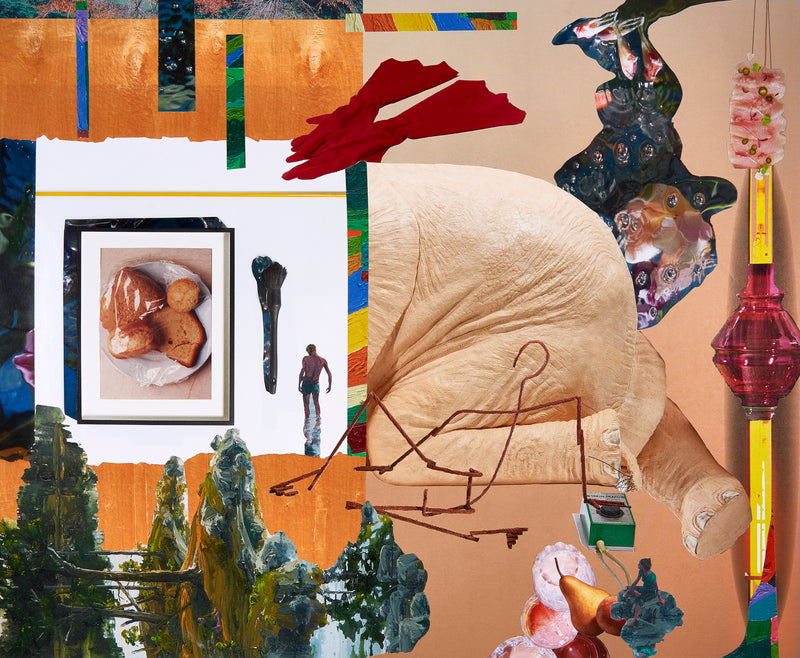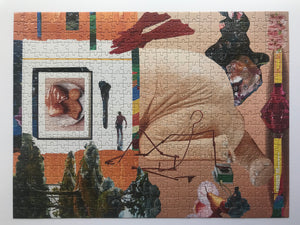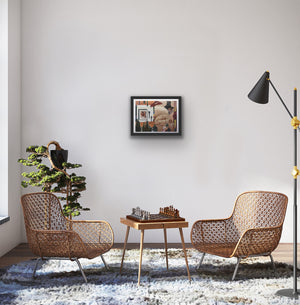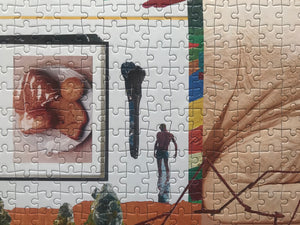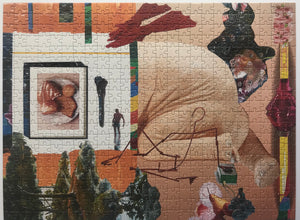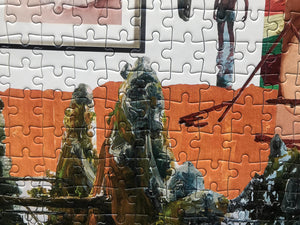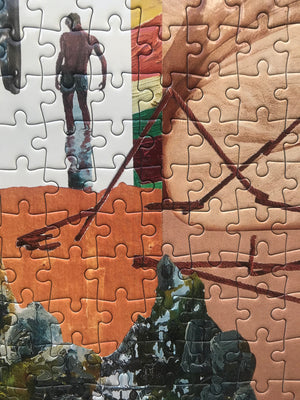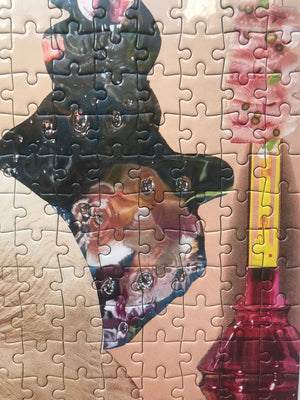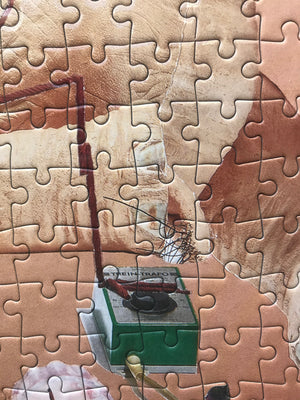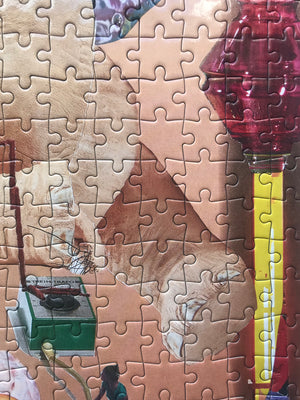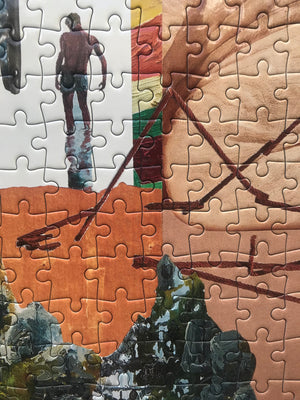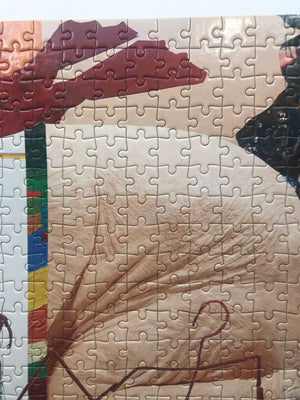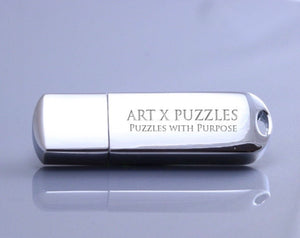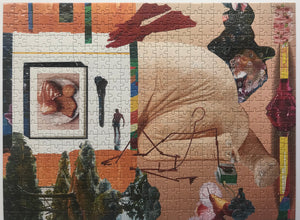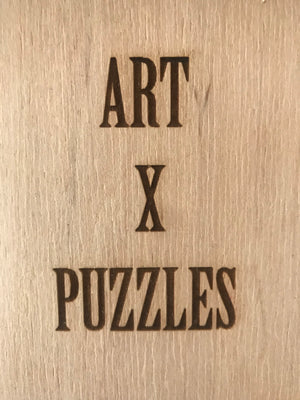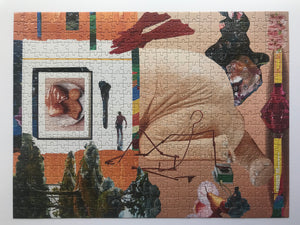 Artist Asha Fuller Collector Edition Jigsaw Puzzle
b. 1978, Tennessee, currently working and living in New York City

Title: White Elephant
Live Video of Jigsaw Puzzle: Click Here 
Jigsaw Puzzle Size: 18" x 24" (457mm x 418mm) 500 Jigsaw Puzzle Pieces, ESKA Premium Board. FSC 100% Recycled Paper. Gloss Finish.
This Collector Edition arrives Pre-Assembled Option and separated onto 4 cardboard squares according to size. The AXP Collector Editions comes ready to slide together for a complete instant puzzle and/or to be broken down for puzzling fun and/or framing!  The Collector Edition arrives in a specially custom-made wood box engraved with Art X Puzzles.
Level: Challenging
Collector Edition of 20 + 2 AP
Signature Details:  White Elephant (​ ​Collage 12)​ ,​ 14" x 17"​,​ Collage on paper, 2020
This work is part of​ the artist's​ visual and intellectual examination ​of the concept of​ paradox. His study reflects the symbiotic relationship between creation and destruction, relating to the nature of change itself. Creating a collage requires seeking, studying, dismantling, and reassembling in order to realize ​one's​ ​vision and find new meanings in the whole, extracted from its component parts. This process becomes vital to the end result. By assembling photographs of existing art from auction catalogs, Fuller is reimagining the nature, relationships​,​ and value of the works from their original context. In​ title, subject matter​,​ and process, ​White Elephant​ reference​s​ Western and E​a​stern colloquial definitions. ​In Western culture, the icon of the white elephant​ symbolizes​ a​ possession that is useless or troublesome, especially one that is expensive to maintain or difficult to dispose. In contrast,​ in Buddhist symbolism, a​ white elephant is rare and given special significance. It is often considered sacred and symbolizes royalty in Thailand and Burma, where it is also ​revered as​ a​ symbol of good luck. The ​significance​ of White Elephant​ lies in the paradox between the two​ cultures it represents.​
Artist Certificate: Each puzzle comes with an artist certificate.
Biography: Asha Fuller is a multidisciplinary artist based in New York City. Much of Fuller's work is informed by his international heritage and atypical upbringing. Expanding upon his diverse background, h​e states​, "My life is a fusion of disparate cultures, influences, ideas,​ ​and experiences​, that​ I am constantly exploring and reconciling." These efforts are exemplified by the artist's use of diverse​ techniques and subject matter ​to explore​ deeply personal ideas in his attempt to​ encounter the universal. His 15-year career as a photographer and director has given him ​a​ profound understanding of the power of imagery and a sophisticated understanding of technique. In recent work, Fuller has begun to stretch the limits and "best practices" of these tools to expand the narrative of his visual study. Previously, ​he​ explored the complexities of identity by​ challenging cultural stereotypes in No Place Like Home,​ ​where he combined​ photographic​ ​portraits of residents of his​ ​small southern home​town with personal interviews of the subjects, ​thereby​ creating a dynamic contrast between the imagery and the stories. In ​Recovery to Renaissance,​ a photographic essay of the post​-Hurricane Sandy destruction and subsequent recovery of New York City'S Rockaway Beach community, we see Fuller's first examination of creation amidst great destruction.