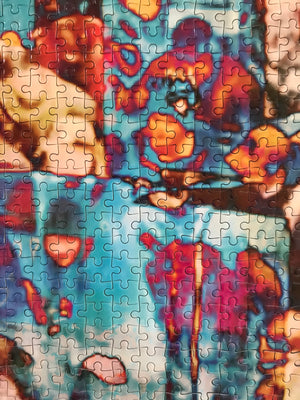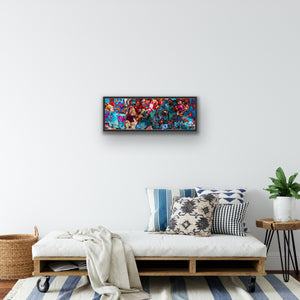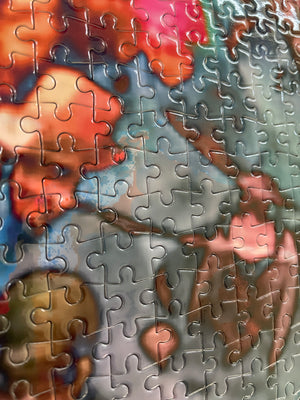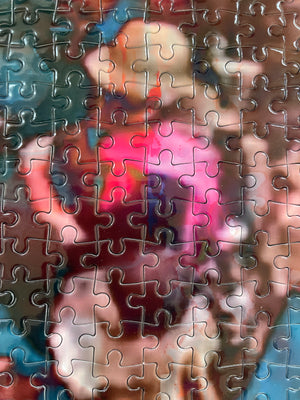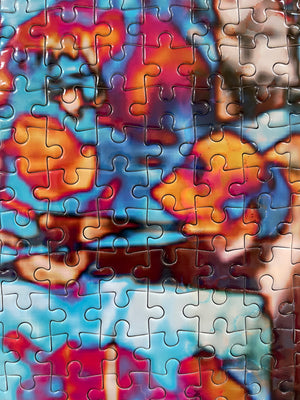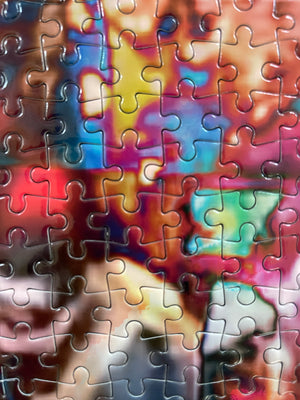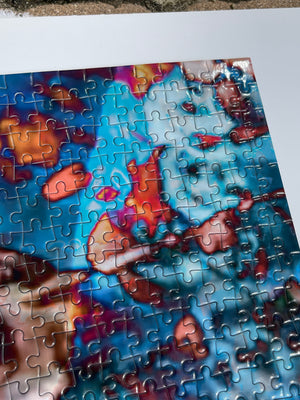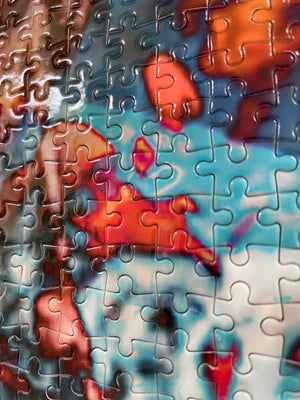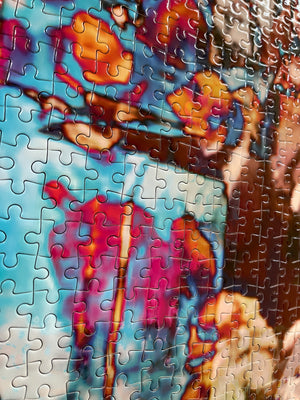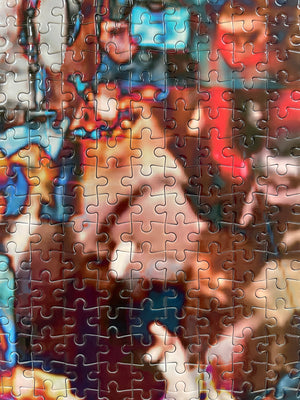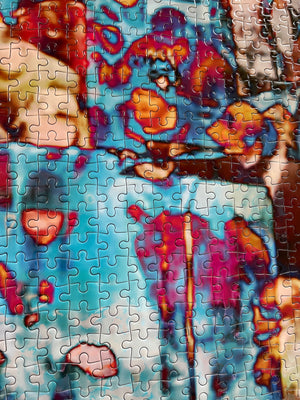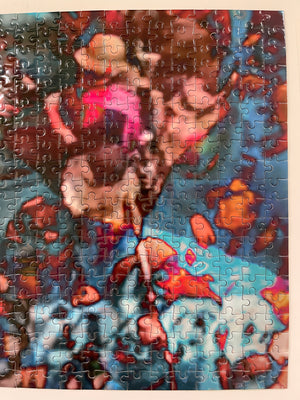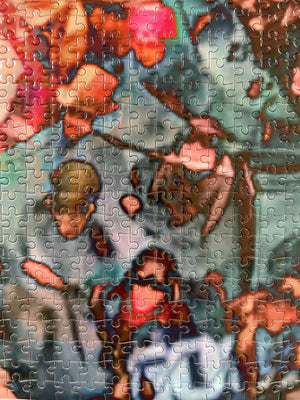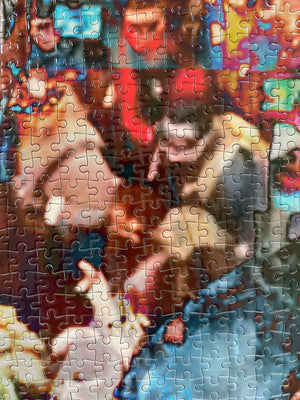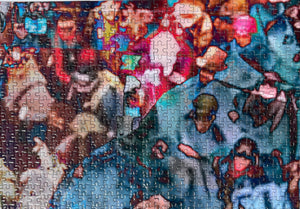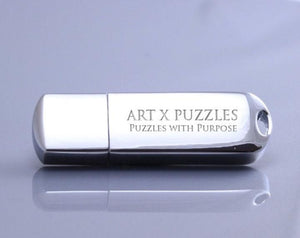 Artists Fragmentin & Lauren Huret Collector Edition Jigsaw Puzzle x Verbier 3-D Foundation: Panoramic Puzzle
B: Fragmentin : Laura Perrenoud (*1991, Lausanne), David Colombini (*1989, Lausanne) and Marc Dubois (*1985, Basel). Lauren Huret (*1984, Paris) Live and works: (Lausanne, Switzerland)
Title: burningcollection.tv - 2020_05_12_22.png, 2020 Keyword: apocalypse Videos ids: gCDE8bMiwBQ, r_PfE9LwV_w ,Cb5rlVXQGP0, IAHvqozgoBo, d3ndNTjBSgU
Live Video of Jigsaw Puzzle: Coming Soon!
Jigsaw Puzzle Size: Panoramic Puzzle 36" x 12" (914mm x 310mm), 1000 Jigsaw Puzzles Piece,  FSC 100% Recycled Paper. Gloss Finish.
Panoramic Puzzle
This Collector Edition arrives with a Pre-Assembled Option and separated onto 2-5 cardboard squares. The AXP Collector Editions comes ready to slide together for a complete instant puzzle and/or to be broken down for puzzling fun and/or framing! 
Collector Edition of 10 + 2AP
Level: Fun
Signature Details:  Original Artwork: burningcollection.tv - 2020_05_12_22.png, 2020 Keyword: apocalypse Videos ids: gCDE8bMiwBQ, r_PfE9LwV_w ,Cb5rlVXQGP0, IAHvqozgoBo, d3ndNTjBSgU | Credits: The artwork was originally commissioned for the virtual space of Jeu De Paume with artist Lauren Huret. 
The title of original artwork is made from : the URLs of the 5 source videos making up the image, the common theme of these 5 videos, the date of generation of the image.

burningcollection.tv is an online generative artwork created in collaboration with artist Lauren Huret.  burningcollection.tv is a digital work that selects in real time the five most-watched videos on a famous online content sharing platform. This selection is carried out according to a precise semantic field that the artists defined in advance. The programme then takes these five sources, modifies them using random filters and aggregates them into a single video, which, in the process, becomes more complex and harder to decipher.
Click Articles: 
Andy Meets Warhol: The renowned Swiss art blog was founded in 2016 by Andy Hermann. The non-​profit platform is part of the exchange and debate about art in Switzerland |FRAGMENTIN LAUSANNE: INTERVIEW & BURNINGCOLLECTION.TV Andy Meets Warhol
Les musées face aux défis du virtuel: Le confinement des équipes et des visiteurs met le monde de l'art devant une urgence: proposer des programmations numériques attractives. Mais les institutions ont du retard à rattrape | Le Temp
Technologies of Control. Interview with Fragmentin:  In conversation with David Colombini, Laura Perrenoud and Marc Dubois of artist collectif Fragmentin.

Verbier 3-D Foundation Capsule Collection: Click Here
Artist Certificate: Each puzzle comes with an artist certificate. 
Biography: Fragmentin is an artist collective based in Lausanne, Switzerland, founded in 2014 and composed of Laura Perrenoud, David Colombini and Marc Dubois. At the crossroads of art and engineering, Fragmentin's work questions the impact of the digital on everyday life by investigating these technologies' disposition towards control and opacity. Fragmentin's works are often conceived as spaces for discussion on crucial contemporary themes and issues such as climate change.
Fragmentin's work has been exhibited in Switzerland at the Haus der elektronischen Künste HeK (Basel, CH), Kunsthalle Zurich (Zurich, CH), The Mapping Festival (Geneva, CH), The Landart Biennale Art Safiental (Tenna, CH), NOV gallery (Geneva, CH) and la Becque (La Tour-de-Peilz, CH). The trio's installations have also travelled to The ZKM (Karlsruhe, DE), Jeu de Paume (Paris, FR), The Kunstraum (Vienna, AU), the Centre Culturel Suisse (Paris, France), the Prague Quadrennial of Performance Art and Space (Prague, CZ), The Mirage Festival (Lyon, FR), the Getxophoto festival in Bilbao (Spain), Cairotronica (Egypt), The Shenzhen media art festival (China), The Cello Factory Gallery (London, UK), The National Theatre (London, UK) and to the York Art Gallery (York, UK).  Several institutions have acquired Fragmentin's works for their permanent collection. These include: HeK Basel (Displuvium, 2019) and the Art Foundation PAX (The Weather Followers, 2018).
Lauren Huret was born in Paris in 1984 and moved to Switzerland after her studies at the Geneva School of Art and Design (HEAD). Her work, mainly composed of videos, installations, performances and collages, is based on an ongoing examination of the influence of belief systems and mystical ideas on media and tech culture.