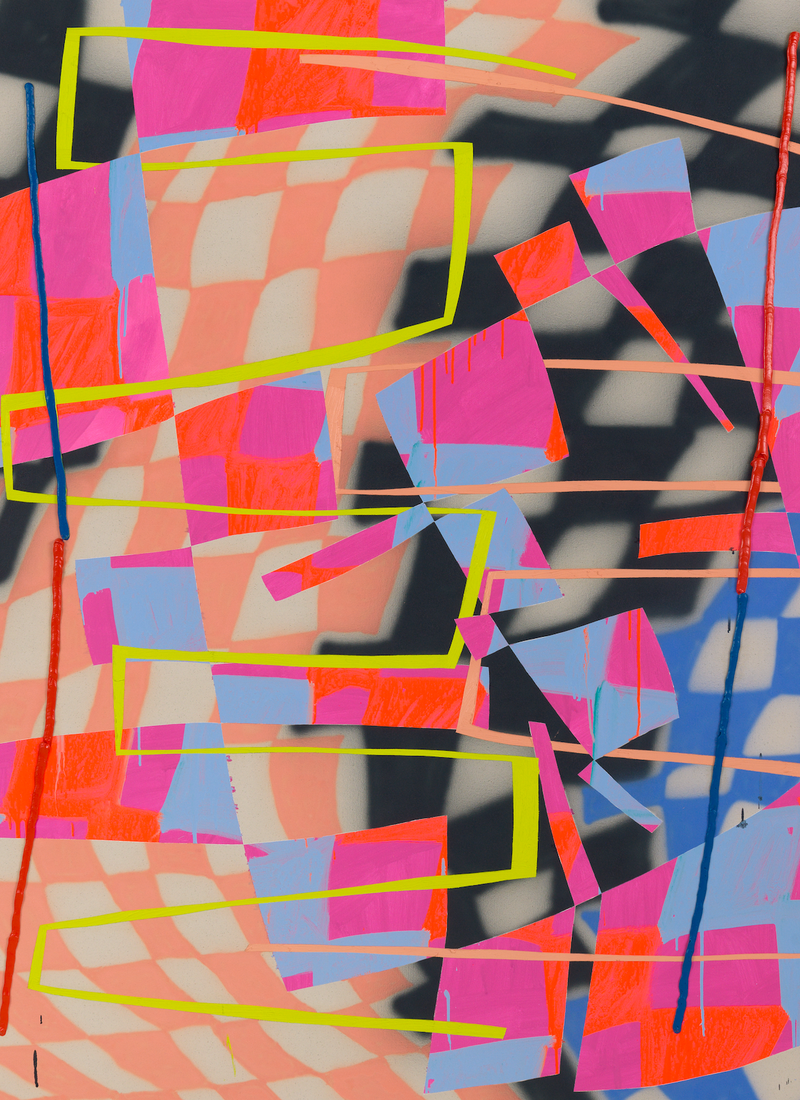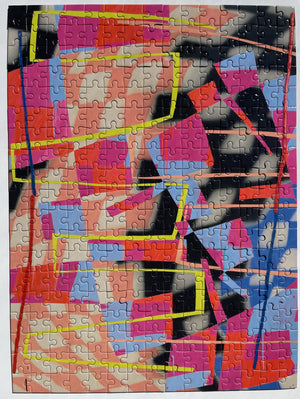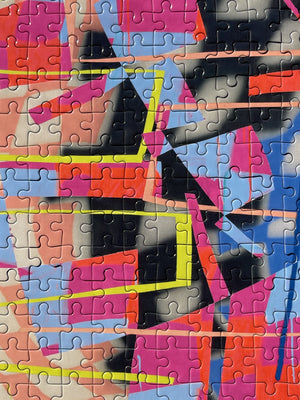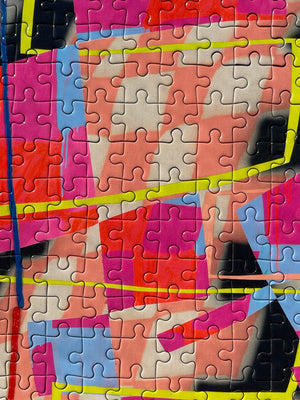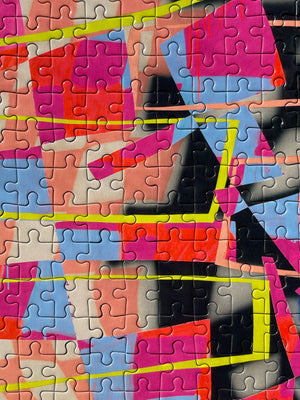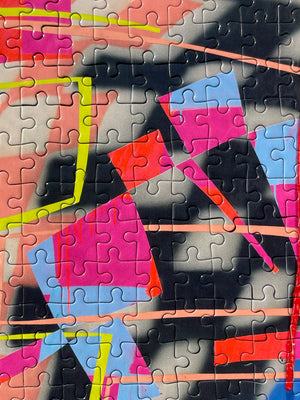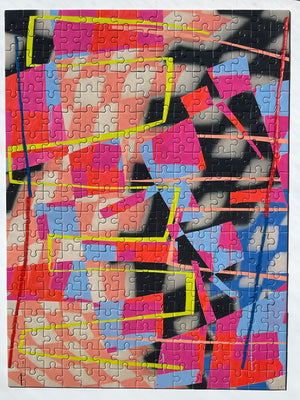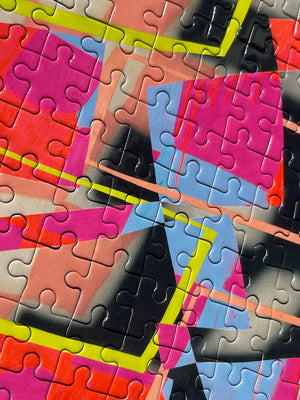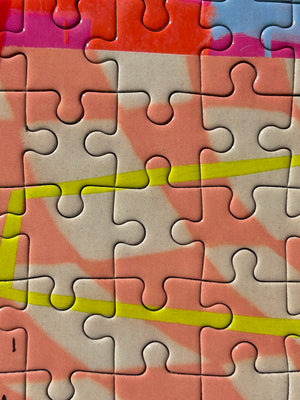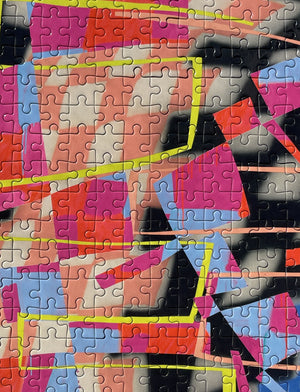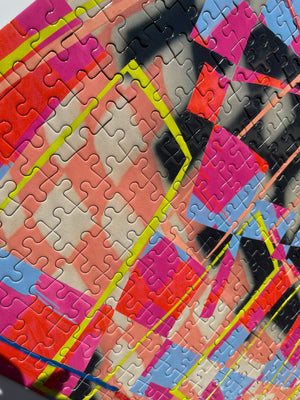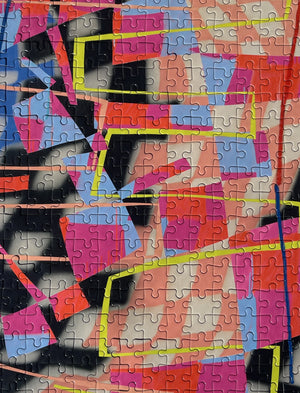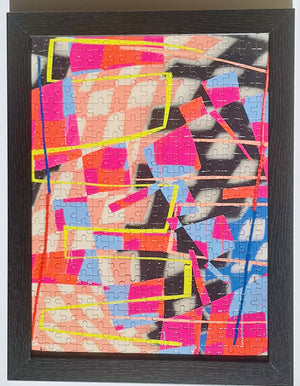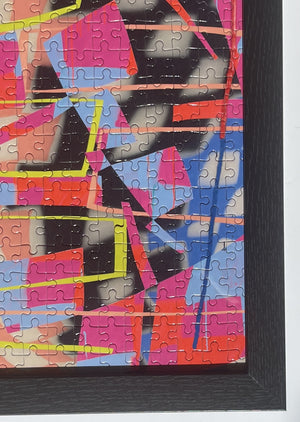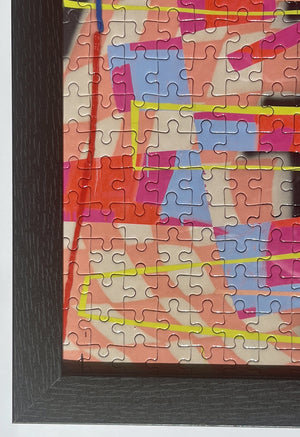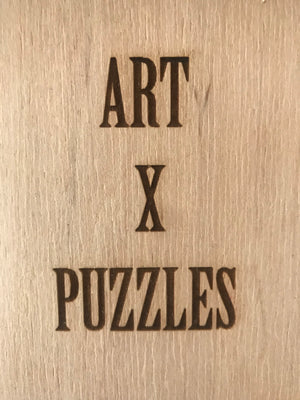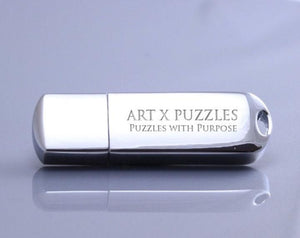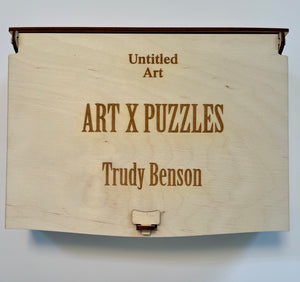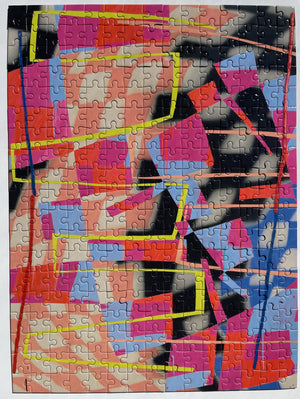 Artist Trudy Benson Collector Edition Jigsaw Puzzle X UNTITLED ART FAIR X NEST
b. 1985 Richmond, VA | Lives and works in Brooklyn, NY.
Live Video of Jigsaw Puzzle: Click Here
Title: Pull Away
Jigsaw Puzzle Size: (Vertical) 12" x 16.5" (310mm x 418mm) 285 Jigsaw Puzzle Pieces, ESKA Premium Board. FSC 100% Recycled Paper, Magnetic Layer.
This Collector Edition arrives with a Pre-Assembled Option and separated onto 2 cardboard squares. The AXP Collector Editions comes ready to slide together for a complete instant puzzle and/or to be broken down for puzzling fun and/or framing! 
Magnetic Quality: This extremely well-made puzzle has cleverly incorporated a very thin layer of material with gentle magnetic properties underneath all the pieces, allowing the puzzles to be more stable and secure as the puzzler puts them together.
Collector Edition of 10 + 2AP
Level: Complex
Signature Details: Original Artwork: Pull Away, 66 × 61 inches, acrylic and oil on canvas, 66 × 61 inches, 2021 Credits: Artist Studio and SUNNY NY Gallery. 
Inspired by digital aesthetics and imaging software, Trudy Benson paints bright, kaleidoscopic canvases full of hazy, gestural linework and dizzying grids. The artist builds her compositions by hand, applying layers of enamel, acrylic, oil, and spray paint to her surfaces. She allows her competing colors, textures, styles, and shapes to overlap and interact in surprising, dynamic ways. Her canvases conjure ideas about human interactions with technology and about the boundaries between our digital and analog selves. 
Click Article: 
Artist To Watch: Trudy Benson | MercerContemporary
Trudy Benson | ARTFORUM
Dash, Fragment, Bracket by Andrianna Campbell | EvenMagazine
Artist Certificate: Each puzzle comes with an artist certificate.
Biography: Trudy Benson received her BFA from Virginia Commonwealth University before pursuing an MFA at Pratt Institute. She has exhibited in New York, Los Angeles, Paris, Stockholm, and Geneva. Benson's work belongs in the collections of the Portland Museum of Art, the Aïshti Foundation, Saatchi Gallery and the Hudson Valley Museum of Contemporary Art, among other institutions. Recent solo exhibitions include "Waves," SUNNY,NewYork,NY (forthcoming);"Hard Color HeatWave," Massif Central,Brussels,Belgium (forthcoming); Miles McEnery Gallery, New York, NY (forthcoming); "/ Z / Z /," Ceysson & Bénétière, Saint-Étienne, France; "Cuts, Paints," team(bungalow), Los Angeles, CA; "Closer Than They Appear," Lyles & King, New York, NY; "Infinite Spiral," Dio Horia, Mykonos, Greece; Ribordy Contemporary, Geneva Switzerland and "Garden in Motion," Galerie Bernard Ceysson, Paris, France.