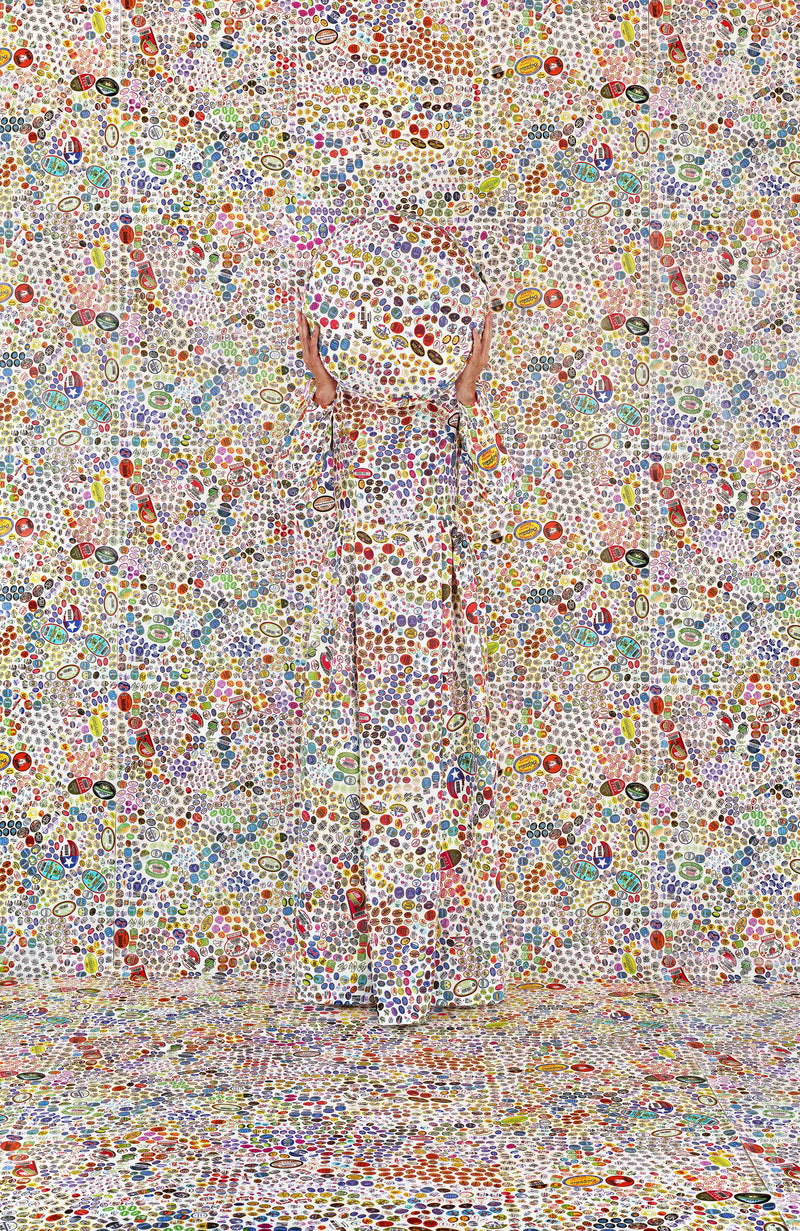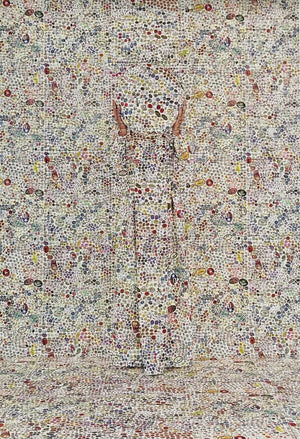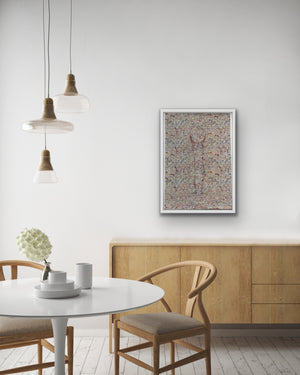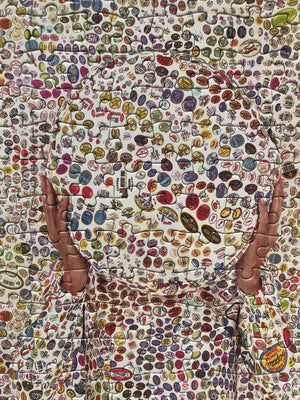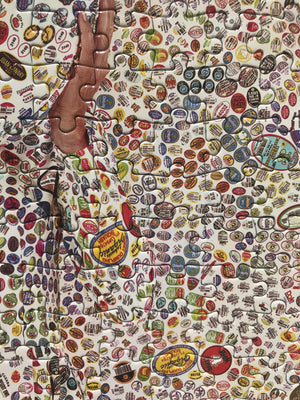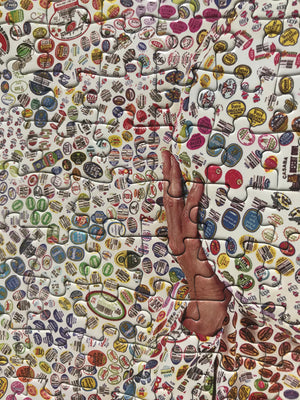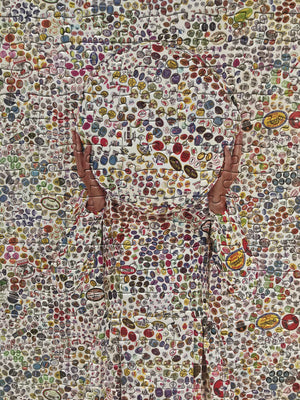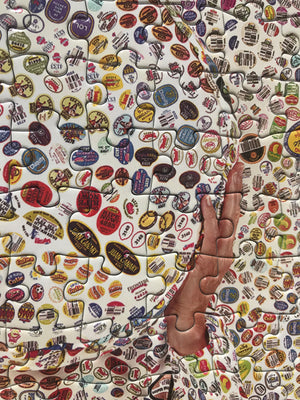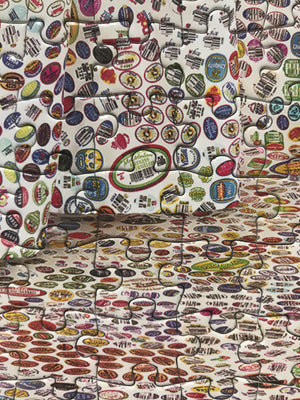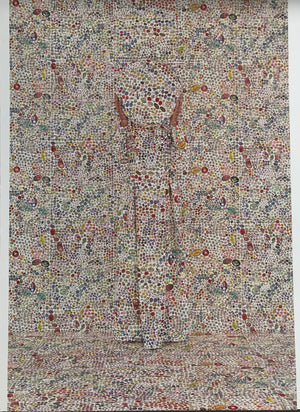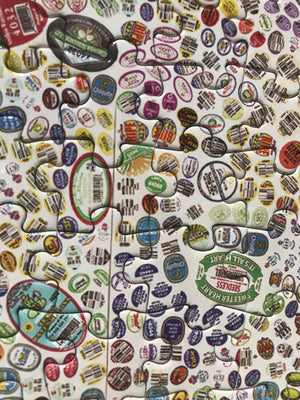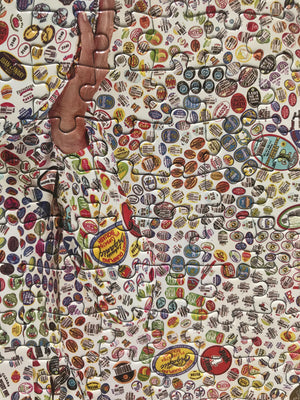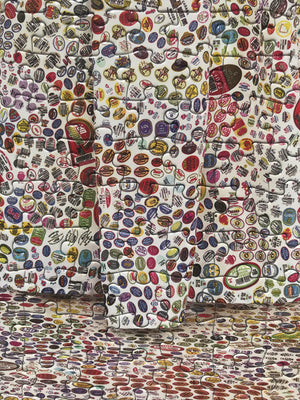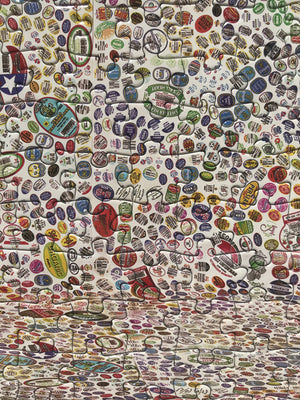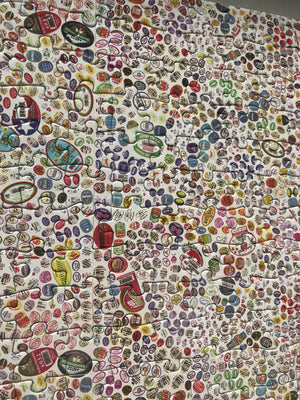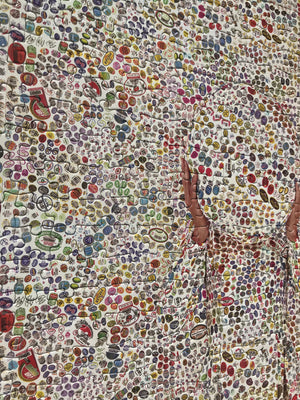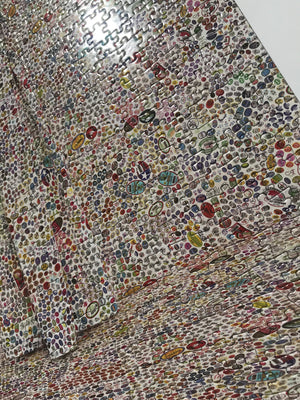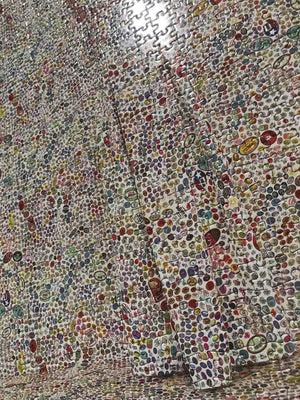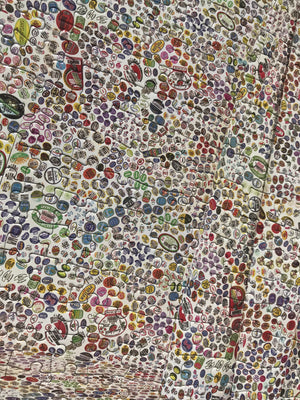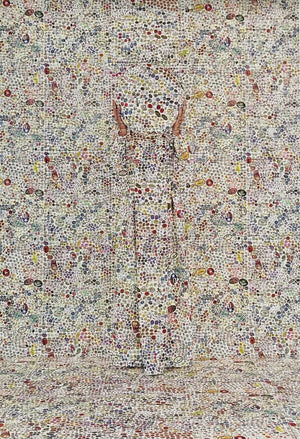 Artist Rachel Perry Collector Edition Jigsaw Puzzle
b.1962 Tokyo Japan lives and works New York and Boston. 
Title: Lost in My Life

Live Video of Jigsaw Puzzle: Click Here
Jigsaw Puzzle Size: 19.75" x 28" (502mm x 711mm) 1000 Jigsaw Puzzle Pieces, ESKA Premium Board. Traditional Paper Jigsaw Puzzle. FSC 100% Recycled Paper. Gloss Finish.
Collector Edition of 1000
Level:  Complex
Signature Details: Lost in My Life (Fruit Stickers Standing with Round), 2018 archival pigment print, 91.25 x 60 inches, Edition of 3
Fruit stickers, bread tags, tin foil, and answering machine messages. These leftovers are part of the language of modern life. Through ritual and repetition,
Rachel
Perry
collects and re-presents these forgotten remainders of consumption.
The hidden potentials of what we don't notice are present in all her work: the Karaoke Wrong Number videos, the Soundtrack collages, Chiral Lines, and Fruit Sticker drawings, and especially in the Lost in My Life series. In this series, the performances are set up in the studio where she photographs herself—always only partially visible—lost in the materials and objects that come into her life unbidden.
The backdrop in the photograph is a wallpaper made from a collage of hundreds of used produce stickers. From this original work, she also created the fabric for the dress—a copy of her mother's wedding dress—and for the pillow she is holding. The stickers, harvested from fruits and vegetables purchased at the grocery store, have been collected over many years by the artist, and by scores of people who have contributed to her project. The humble fruit sticker is a visual remnant rich with information: economic, political, geographic, and social.
Click Articles:

Episode 8 Connecticut College: Rachel Perry '84 Celebrated conceptual artist Rachel Perry '84 discusses her creative process, the importance of making art in challenging political times, and the groundbreaking projects she's done for the New York Times, Vogue Magazine and more.  
At the Gardner Museum, seven favorites from 25 years of artists-in-residence by Murray Whyte | BOSTON GLOBE
Museum & Gallery Listing writer Roberta Smith | New York Times
Biography:  Born in Tokyo, Japan, Rachel Perry's work is held in numerous museums and private collections around the world, including the Museum of Fine Arts and the Institute of Contemporary Art in Boston, the Baltimore Museum of Art, and the List Visual Arts Center at MIT. 
Perry has received four Fellowships from the MacDowell Colony, has been to Yaddo and ArtOmi, and was Artist-in-Residence at the Isabella Stewart Gardner Museum in October of 2014, beginning an affiliation that continues today. She is a three-time recipient of the Massachusetts Cultural Council Award for Excellence, the only artist in its history to win in three separate disciplines: Photography, Drawing, and Sculpture. Perry was a Finalist for the Foster Prize at the Institute of Contemporary Art, Boston, in 2006.
Her solo exhibitions include What Do You Really Want? at the Isabella Stewart Gardner Museum, Boston; Chiral Lines and Lost in My Life at Yancey Richardson Gallery, New York; Same Difference at Barbara Krakow Gallery, Boston; and her first solo museum show, 24/7, at deCordova Sculpture Park and Museum, Lincoln, Massachusetts, which subsequently traveled to the Zimmerli Art Museum at Rutgers University in New Brunswick, New Jersey. Since 2006 Rachel Perry has been represented by Yancey Richardson Gallery in New York City where in 2018 she had her seventh solo exhibition.
Rachel Perry been reviewed in many national and online publications, including Art in America, The New Yorker, The New York Times, Chicago Tribune, Huffington Post, Art on Paper, Art:21, Sculpture, and Harvard Business Review, with cover stories in Boston Common, CC:Magazine, and Art New England. She has twice been commissioned by The New York Times Magazine to create art for feature stories, most recently for coverage of the "Me Too" movement. In 2011, Perry created a four-page pictorial essay for the December issue of Vogue.
Perry is currently touring In Your Mouth, a theatrical song cycle composed by Ted Hearne with poetry by Dorothea Lasky, directed by Daniel Fish, in which she creates a real time art installation during the performance, with video by Josh Higgason. In Your Mouth had its world premiere at the Walker Art Center in 2019 and will play at Carnegie Hall in 2021 among other venues.