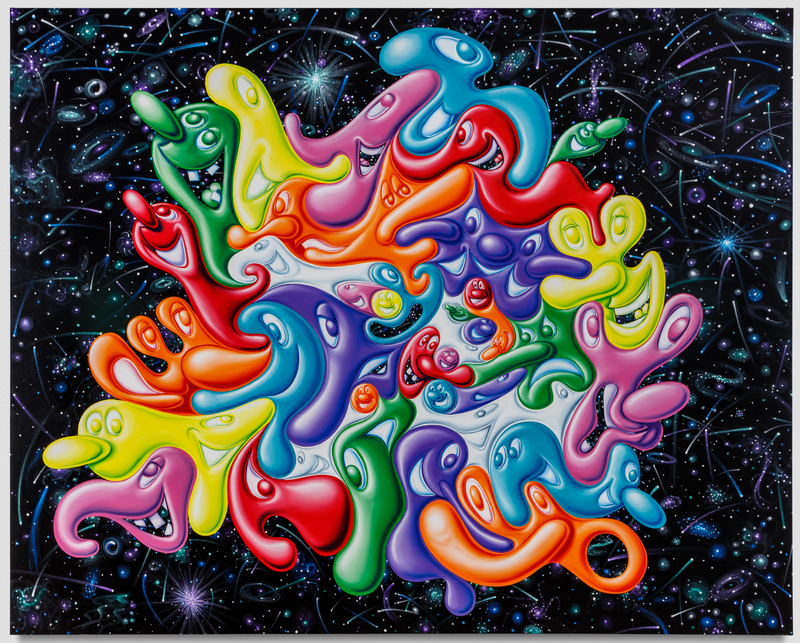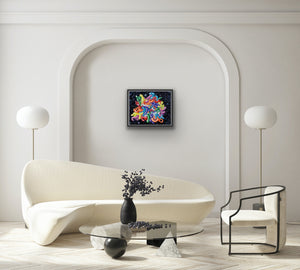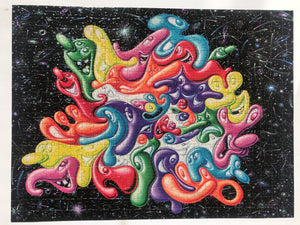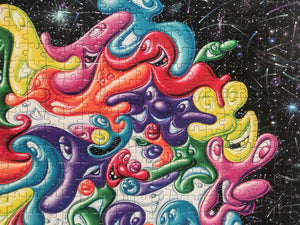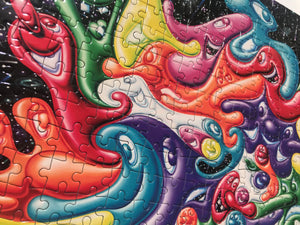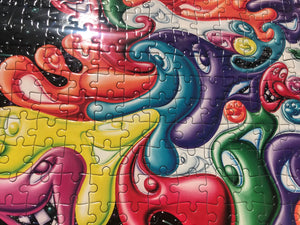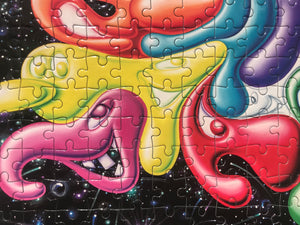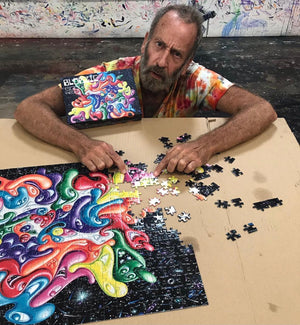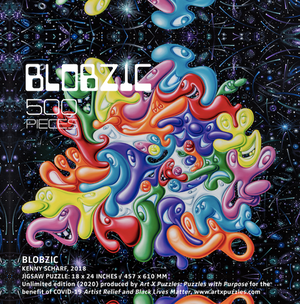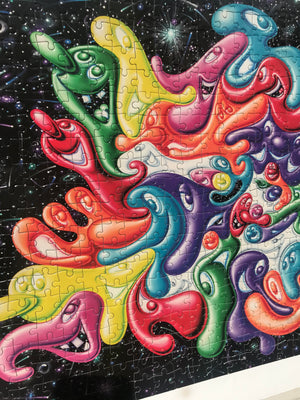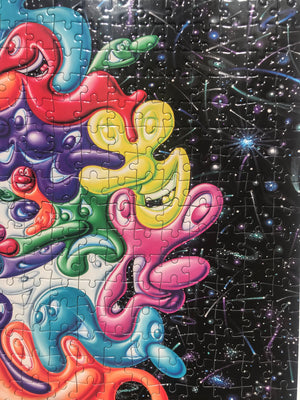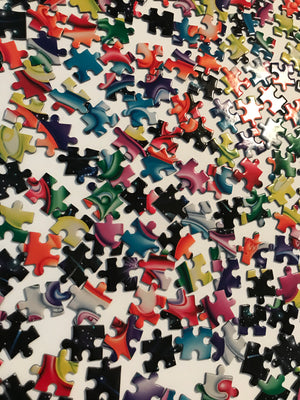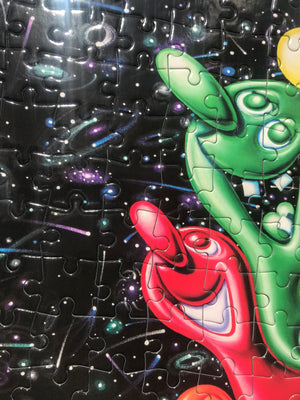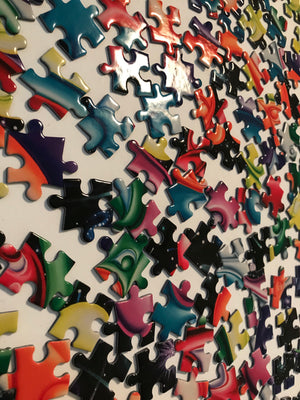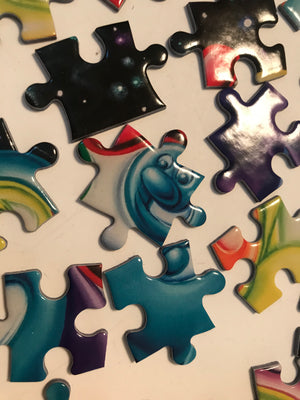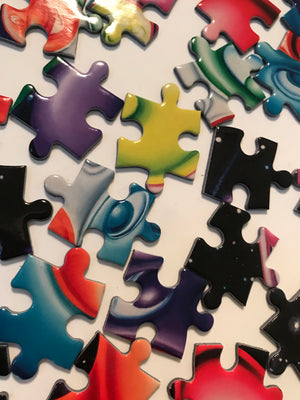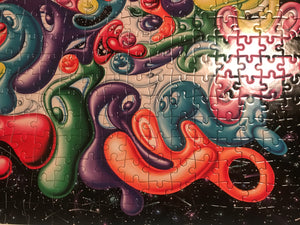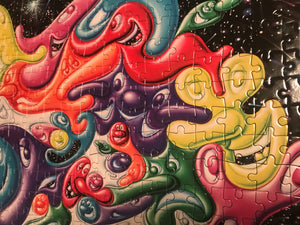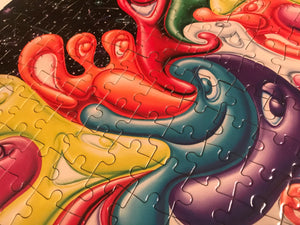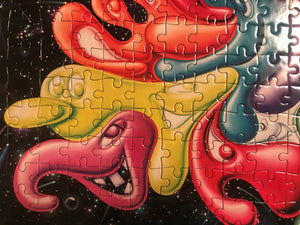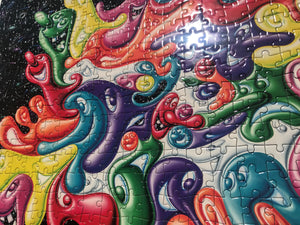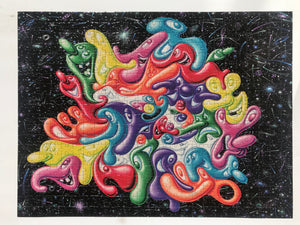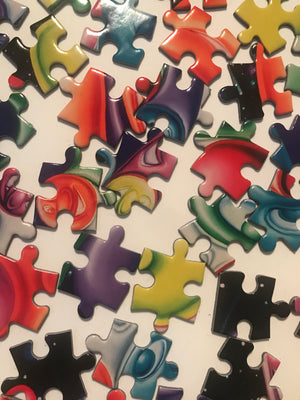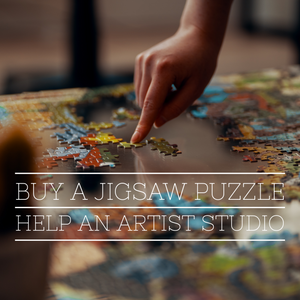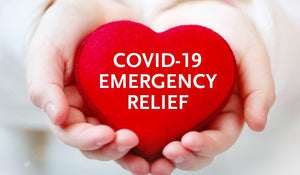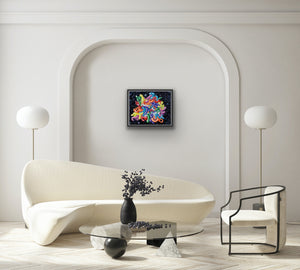 Artist Kenny Scharf Puzzle: Unlimited Collector Edition Jigsaw Puzzle
B. 1958, lived and works in Los Angeles, California
Title: Blobzic, 2018
Live Video of Jigsaw Puzzle: Click Here 
Jigsaw Puzzle Size: (Horizontal) 18"x 24" (457mm×610mm) 500 Jigsaw Puzzle Pieces, ESKA Premium Board. FSC 100% Recycled Paper. Precision Laser-Cut Unique Puzzle Pieces. Traditional Paper Jigsaw Puzzle.
Check our AXP Instagram for the latest videos on Kenny Scharf and his global art projects. Click here @artxpuzzles
Unlimited Collector Edition (2020) produced by Art X Puzzles: Puzzle with Puzzle for the benefit of COVID-19 Artist Relief organizations. 
Level: Challenging
Signature Details: Blobzic, 2018
"Part of what I do and what I want to do is I want to bring art into the everyday life. If you can take ordinary just walking in the street and you're confronted by something, that might change your day - it might inspire you." Kenny Scharf
Kenny Scharf has remained a key and prolific figure in the art world since his early participation as a key proponent in the NYC East Village Art scene in the early 1980s, where he worked alongside artist peers such as Keith Haring and Jean-Michel Basquiat.
His works have been exhibited widely ever since. When we look at a work by Kenny Scharf, we see a dynamic and joyous burst of color, form and energy radiating from the canvas. However, these saturated, seemingly playful shapes have sharp teeth that lurk beneath, reflecting the dual nature of our modern society. Kenny Scharf's paintings are always reflective of the artist's unique, self generated, visual universe, drawing from ideas and experiences extracted from the surrounding world.
Click Articles:
Kenny Scharf on Creating a Jigsaw Puzzle with ARTXPUZZLES: Puzzles with Purpose for Covid-19 Relief and Artist Relief by Noah Becker  | Whitehot Magazine
Spray Paint and 3-D: Kenny Scharf Interviewed by Marilyn Minter: The relationship of color on and off canvas | BOMB Magazine
Kenny Scharf Switches Between Styles, Like Changing the Channel on a TV by Sarah Rose Sharp HYPERALLERGIC

KENNY SCHARF LOOKS BACK ON LIFE OF MAKING BORING OBJECTS BRILLANT by Harry Brant | INTERVIEW MAGAZINE
Artist Certificate: Each puzzle comes with an artist certificate.
Biography: Kenny Scharf (American, b.1958) is a painter and installation artist associated with the Lowbrow movement, and best known for work inspired by comic books and pop culture. Born in Los Angeles, CA, he studied at the School of Visual Arts in New York City, and became part of the East Village art scene during the 1980s. His early work, such as Judy on the Beach (1962) and The Flintstones (1962), was strongly influenced by Hanna Barbera cartoons, but he gradually began to transition to biomorphic imagery. In 1985, the Whitney Biennial featured Scharf's black light installations, such as his Closet #7, and the painting When Worlds Collide (1984). At the end of the 1980s, he began a series of Glob paintings, which were inspired by Abstract Expressionism and Surrealism. Scharf's most recent series of paintings, titled Naturafutura (2010), depicts abstract swirls of black paint, inspired by his studio in coastal Brazil and the BP oil spill. He has held solo exhibitions at the Museo de Arte Contemporaneo de Monterrey in Mexico, MoMA PS1 in New York, and the Pasadena Museum of Contemporary Art. He lives and works in Los Angeles.