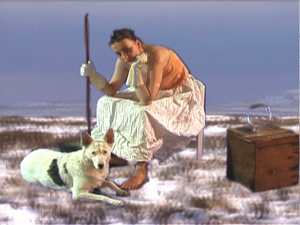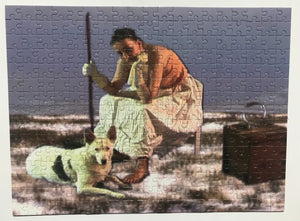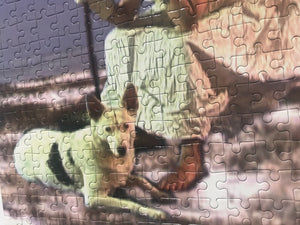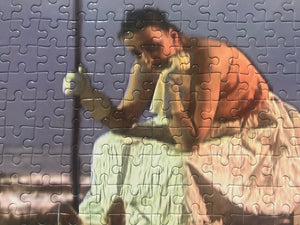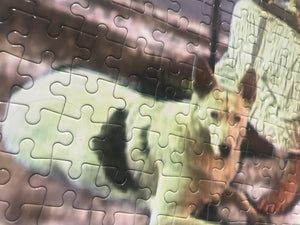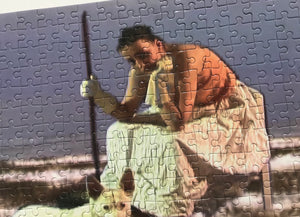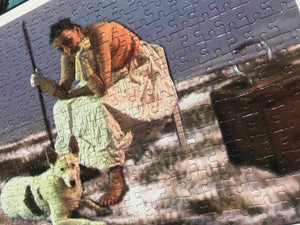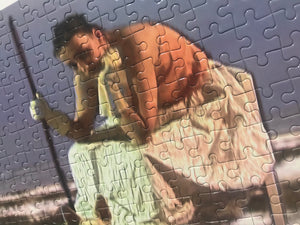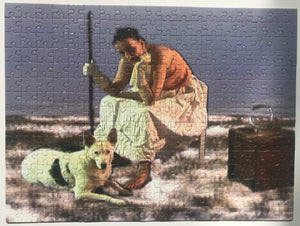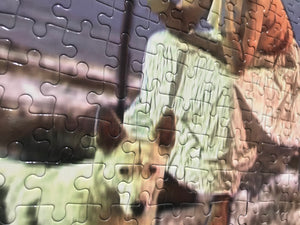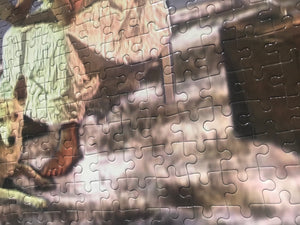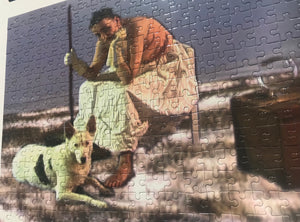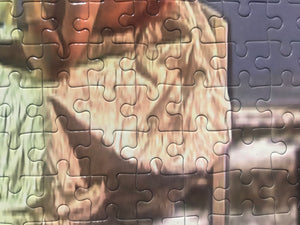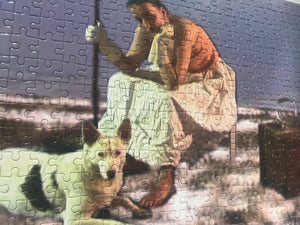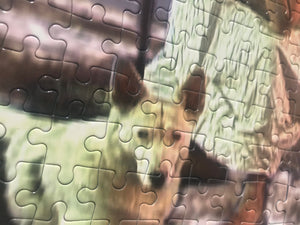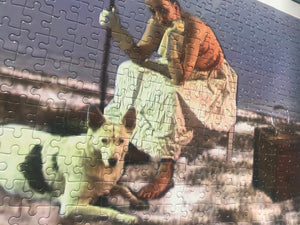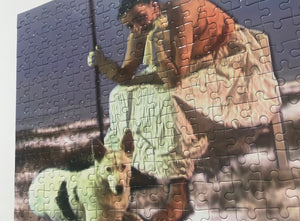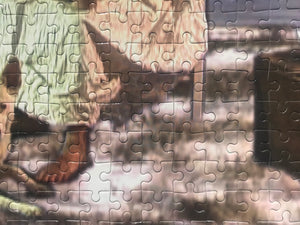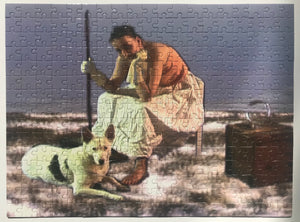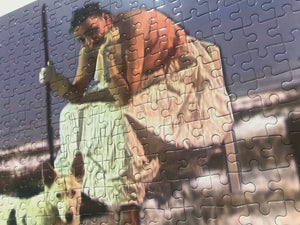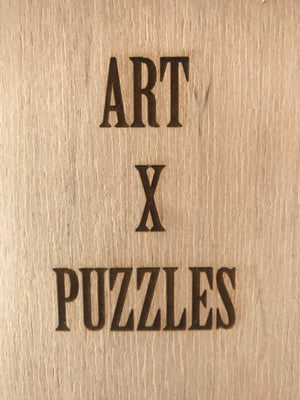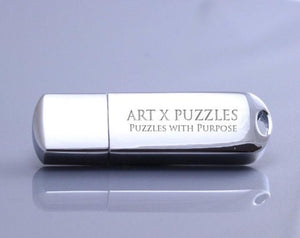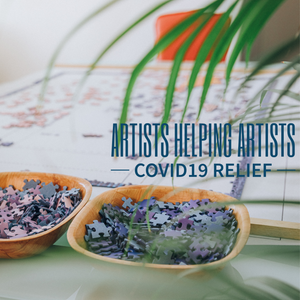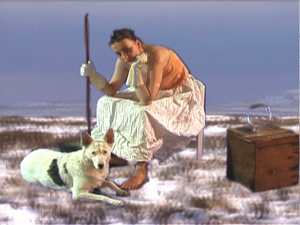 Artist Joan Jonas Collector Edition Jigsaw Puzzle
b. 1936 lives and works in New York City
Title: Melancholia (2004)
Live Video of Jigsaw Puzzle: Click Here 
Jigsaw Puzzle Size: 12" x 16.5" (310mm×418mm) 285 jigsaw puzzle pieces, traditional paper puzzle, ESKA premium board, FSC 100% Recycled Paper,Gloss Finish.
This Collector Edition arrives with a Pre-Assembled Option and separated onto 2 cardboard squares. The AXP Collector Editions comes ready to slide together for a complete instant puzzle and/or to be broken down for puzzling fun and/or framing! 
Collector Edition of 20 + 2AP
Level: Complex
Signature Details: Original Artwork: Melancholia (Part of the shape the scent the feel of things) 2004–2005, Medium: single-channel color video, 5 min 11 sec. 
The Shape, The Scent, The Feel: Melancholia. With an original piano score composed and performed by Jason Moran for the Dia: Beacon performance. 
This video was part of The Shape the Scent the Feel of Things performance at Dia Beacon which premiered in 2005.   It was utilized as a video backdrop projected on a large rolling screen and was inspired by Albert Durer's engraving Melancholia I (1514).  In Jonas' video, Melancholia (performer Ragani Haas) is in an elaborately wrinkled white skirt and white gloves and is positioned in the center of the image.  She is superimposed on a flat snow-covered landscape of low hills in a high plateau, high desert setting.  The camera shifts back and forth over an empty vista.  She is surrounded by various iconic objects.  She performs various actions and as she leans against her elbow on the wooden cane, a white dog (Jonas' dog Zina) moves in and out of the frame, shifting and repositioning continuously in relation to her. 
Credits: Gladstone Gallery
"Since the 1960s, Joan Jonas has pioneered the use of performance in film and video through a physical engagement with commonplace materials, bodily gestures and technologies. Having initially studied sculpture before 'stepping into the space of performance', Jonas intuitively manipulates rudimentary materials, from paper cones to mirrors, masks, folding fans and blackboards, thus amplifying their symbolic potential. It is a visual vocabulary born out of an almost 'surrealist proclivity for startling juxtapositions', which Jonas compares to transformative modes of literature, explaining, 'I think of the work in terms of imagist poetry; disparate elements juxtaposed… alchemy.'" Amy Budd
Curator Choice Capsule Collection by Christopher Eamon 
Artist Certificate: Each puzzle comes with an artist certificate.
Click Articles:

Joan Jonas's Mythopoetic Vision: The eighty-year-old pioneer of performance finally gets her due, with a show at Gavin Brown's new headquarters by Andrea K. Scott | New Yorker Magazine
Double Takes | The Art of Joan Jonas | ARTFORUM
Joan Jonas: 'You don't know what you're doing sometimes. You just begin' by Rachel Cooke  | The Guardian 
Joan Jonas by Karin Schneider BOMB MAGAZINE
Artist at Work by Amy Budd | AFTERALL
Joan Jonas " They Come to Us without A Word" at the U.S.A Pavilion, Venice Biennale | Mousse Magazine
Biography:
Joan Jonas is an American visual artist and a pioneer of video and performance art, who is one of the most important female artists to emerge in the late 1960s and early 1970s. Jonas' projects and experiments provided the foundation on which much video performance art would be based. Her influences also extended to conceptual art, theatre, performance art and other visual media. She is a pioneer of video and performance art, and an acclaimed multimedia artist whose work typically encompasses video, performance, installation, sound, text, and drawing. Trained in art history and sculpture, Jonas was a central figure in the performance art movement of the late 1960s, and her experiments and productions in the late 1960s and early 1970s continue to be crucial to the development of many contemporary art genres, from performance and video to conceptual art and theater. Since 1968, her practice has explored ways of seeing, the rhythms of ritual, and the authority of objects and gestures. More on Joan Jonas: Click Here