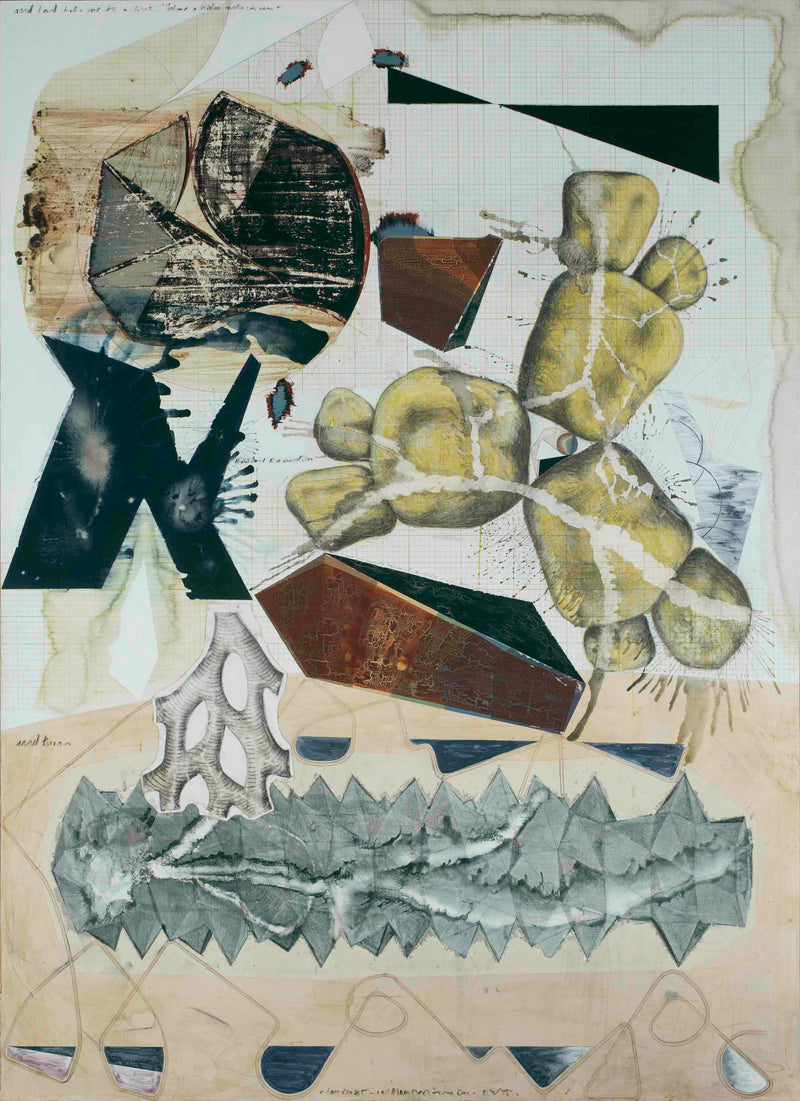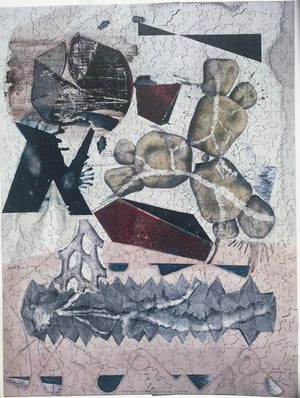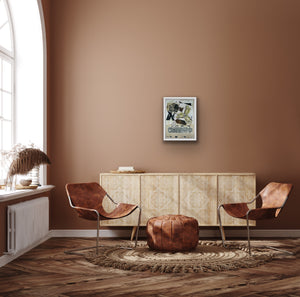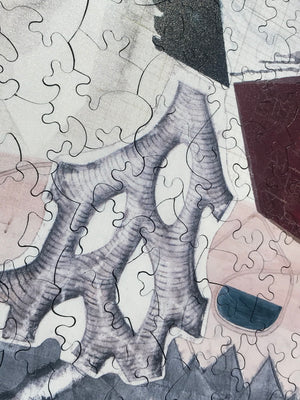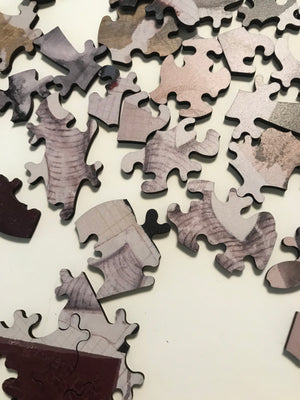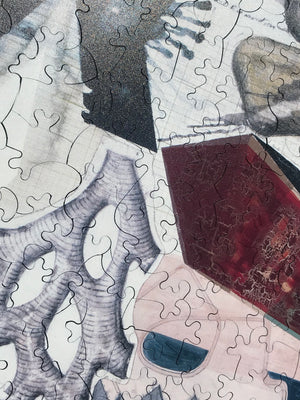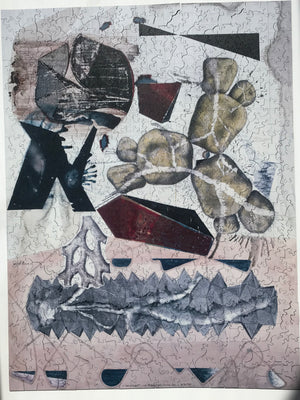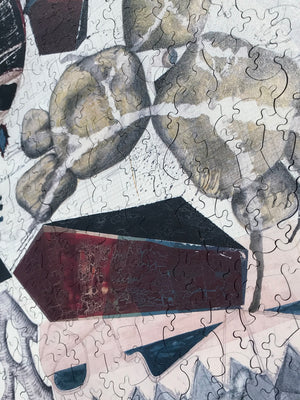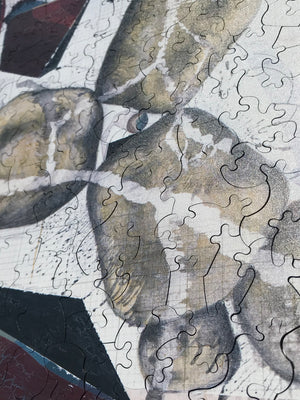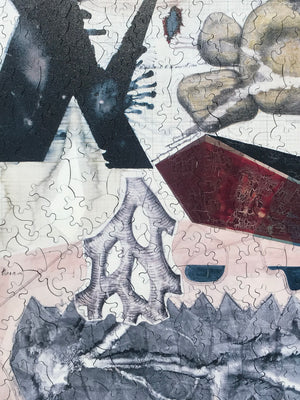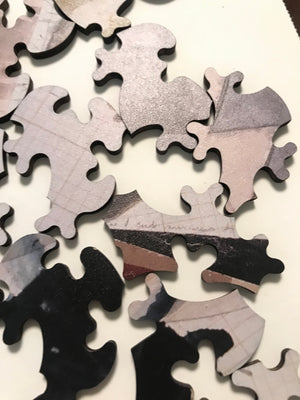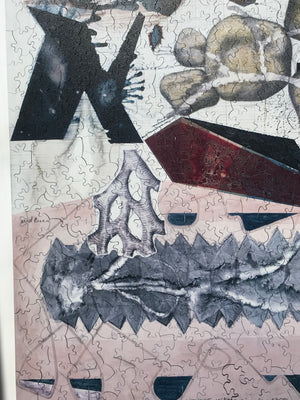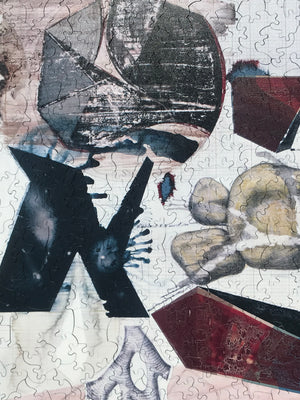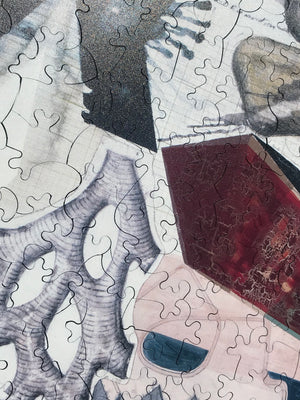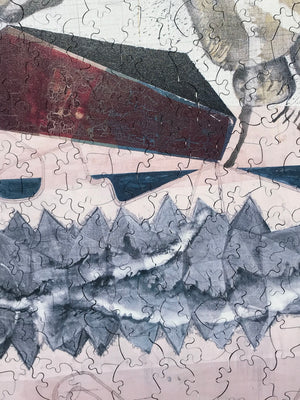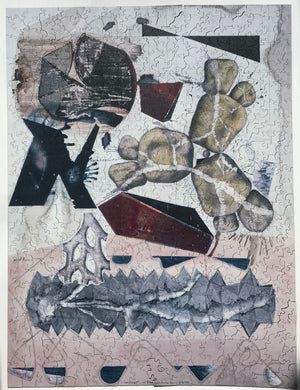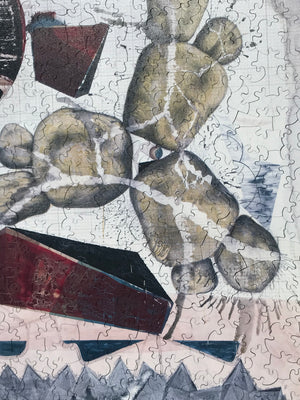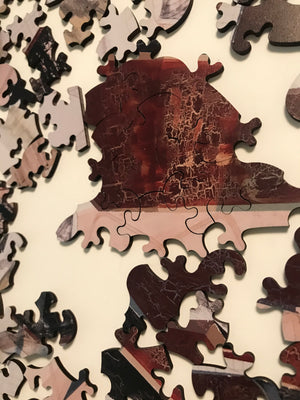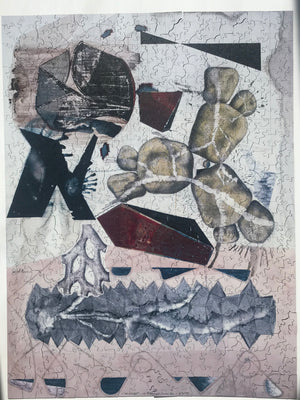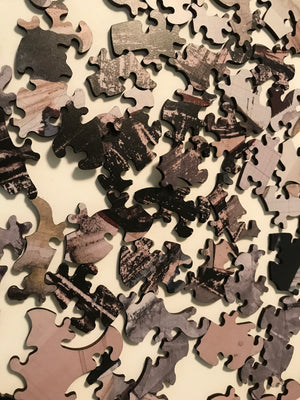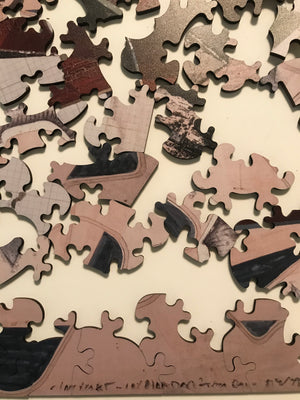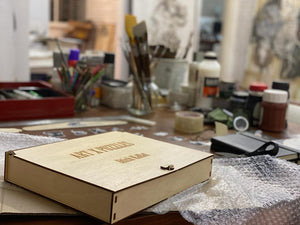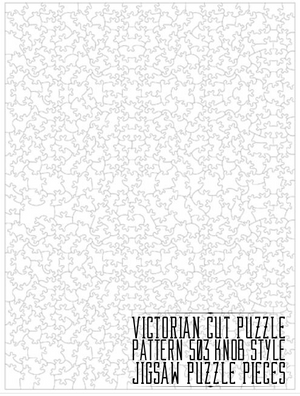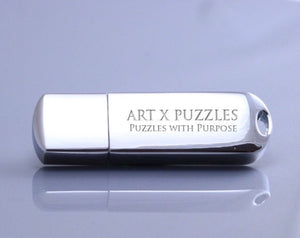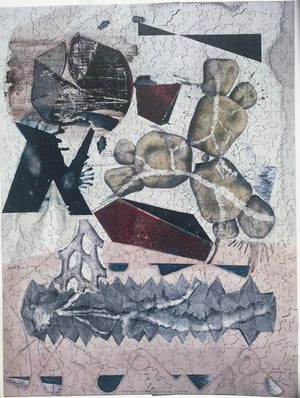 Artist Jitish Kallat Victorian-Cut Collector Edition Wooden Jigsaw Puzzle
Supporting COVID19 Relief in India: Emergency Call to Action
b. 1974 lives and works in Mumbai, India
Title: Palindrome/Anagram Painting
Live Video of Jigsaw Puzzle: Click Here 
~This Collector Edition can be found at Templon Gallery Store in Paris, France.  
Jigsaw Puzzle Size:  24" x 18" (609.6mm x 457.2mm) 503 Irregular Knob Style Pieces, Victorian Cut Wooden Puzzle. Premium direct UV technology printing onto the surface of the beautifully crafted wood. The wood contains a campfire scent among the pieces, and each piece produced by top laser-cut technology. 
This Collector Edition has an option of arriving Pre-Assembled and separated onto 2 to 5 cardboard squares according to size. The AXP Collector Editions comes ready to slide together for a complete instant puzzle and/or to be broken down for puzzling fun and/or framing! 
The Collector Edition arrives in a specially custom-made wood box engraved with Art X Puzzles.
Collector Edition of 20 + 2AP 
Level: Challenging

Signature Details:
Palindrome/Anagram Painting, 2017-18
Mixed media on linen
96 inches x 72 inches
Collection: Kiran Nadar Museum of Art, New Delhi
With Palindrome/ Anagram Painting, Jitish Kallat has returned to painting after a five-year hiatus from the medium. During this time his long-standing engagement with the ideas of time, transience, sustenance and the cosmological took the form of large elemental drawings such as Wind Studies and Rain Studies, and investigative animation videos, photo-works and sculptures. Kallat also worked on two exploratory drawing projects; a hexagonal vitrine of studies titled Flowchart (2015) and a suite of folded drawings titled Tetralemma (threefold postulates)(2016). In these works, indistinct impulses, private ruminations and discarded references were summoned and memorialized as provisional pictorial assemblies.
Half a decade after his widely-exhibited figurative paintings, Kallat's painterly processes draw upon insights from his varying artistic explorations, as well as his work from the mid-nineties, to produce a radical linguistic renewal. Taking the form of speculative abstractions, Palindrome/ Anagram Painting allows a wide array of his recurring preoccupations and probes to find a new format of expression. A meticulously hand-drawn graph undergirds the painting replete with signs that challenge the viewer with a compelling tension, ambiguity and irresolution. Like a 'palindrome', the painting can be read in multiple orientations, and are essentially 'anagrammatic' in that they reorder various components to create a sweeping web-work of associations. Abstract gestures seem to crystallize, acquire perceptible form and resonate with meaning as if celestial orbits, geographical coordinate systems, botanical and topographical evocations begin to reveal the signatures of generative growth, evolution and entropy. 
Click Articles: 
An Artist Who Leaves His Work Up to Nature — and Chance by M.H Miller | The New York Times Style Magazine
What drew the line? by Pooja Pillai | The Indian Express
Jitish Kallat's vocabulary for a divided world by Avantika Bhuyan \ Live Mint

Artist Certificate: Each puzzle comes with an artist certificate.
Biography: Jitish Kallat was born in 1974 in Mumbai, the city where he continues to live and work. Kallat's works over the last two decades reveal his continued engagement with the ideas of time, sustenance, recursion and historical recall, often interlacing the dense cosmopolis and the distant cosmos. His oeuvre traverses varying focal lengths and time-scales. From close details of the skin of a fruit or the brimming shirt-pocket of a passerby, it might expand to register dense peoplescapes, or voyage into intergalactic vistas. While some works meditate on the transient present, others invoke the past through citations of momentous historical utterances. Frequently shifting orders of magnitude, Kallat's works can be said to move interchangeably between meditations on the self, the city–street, the nation and the cosmic horizon, viewing the ephemeral within the context of the perpetual, the everyday in juxtaposition with the historical, the microscopic alongside the telescopic. Jitish Kallat's Exhibitions: Click Here
ARTIST CHARITY CHOICE: SUPPORTING COVID19 RELIEF IN INDIA