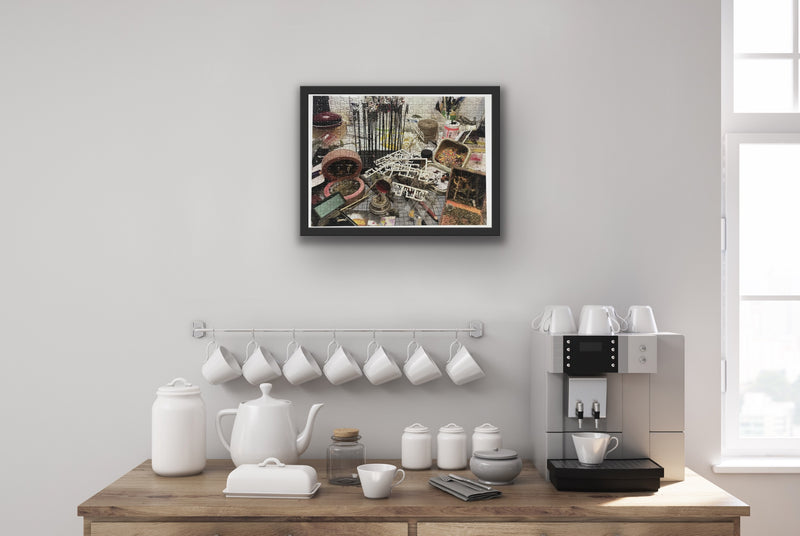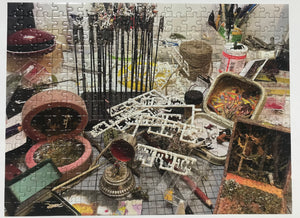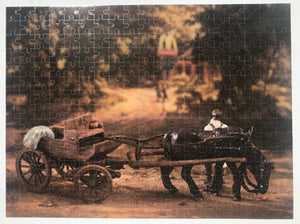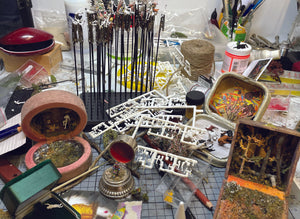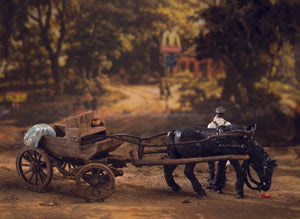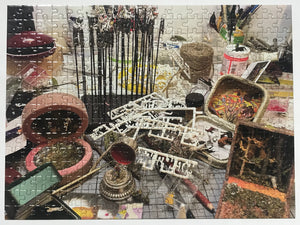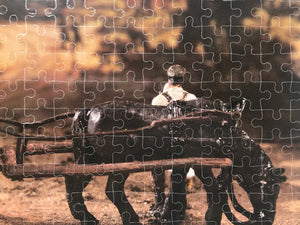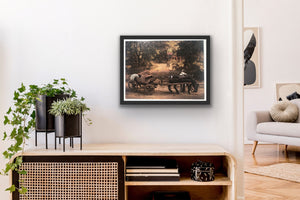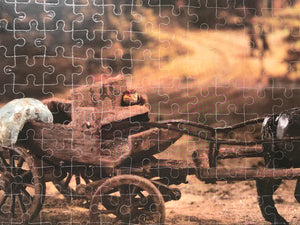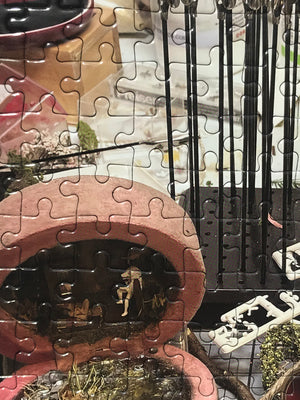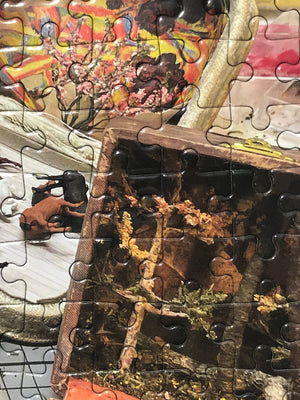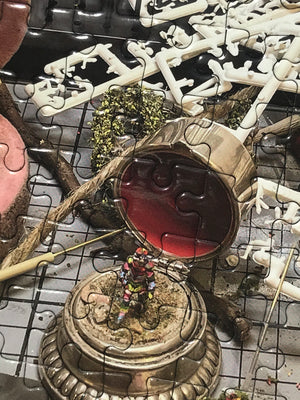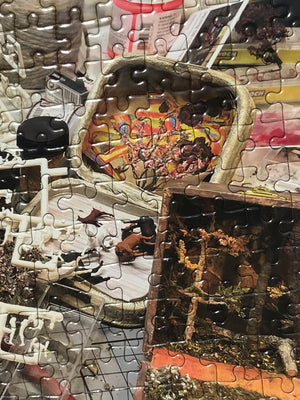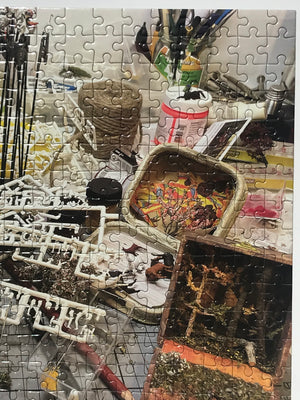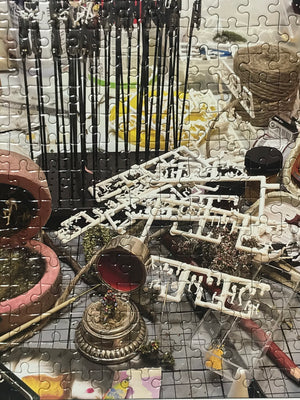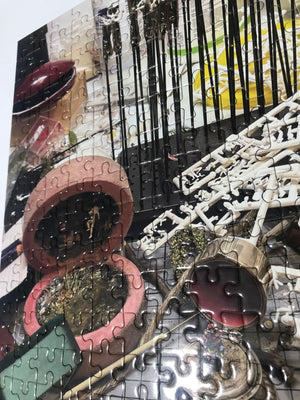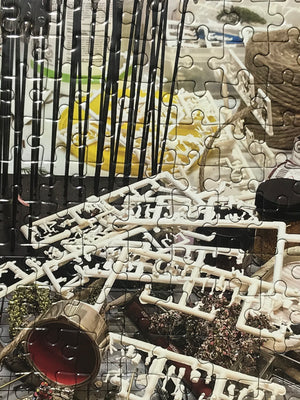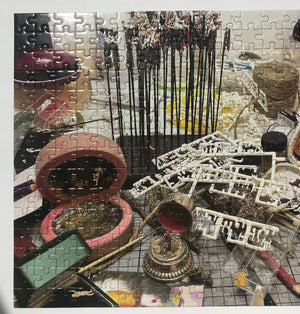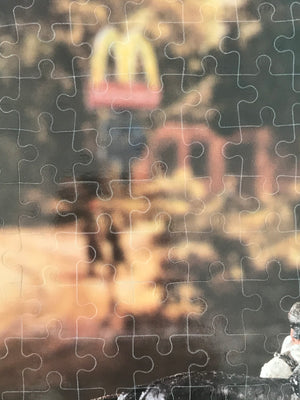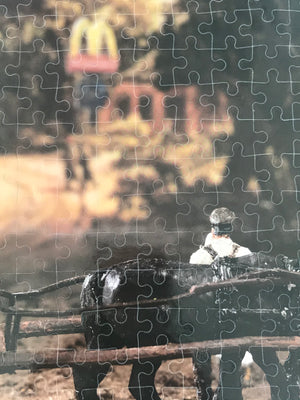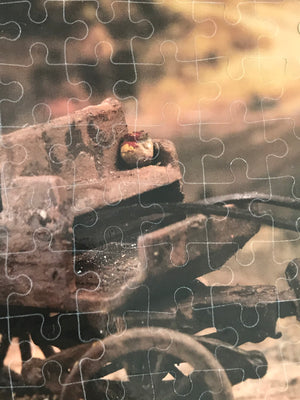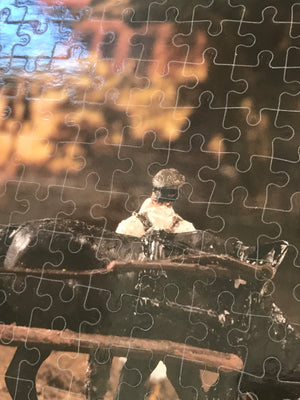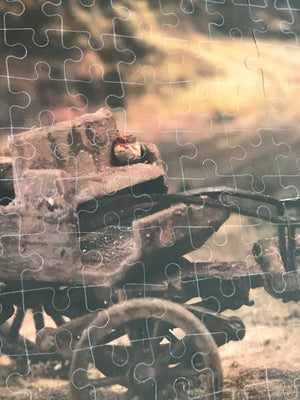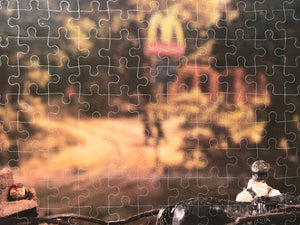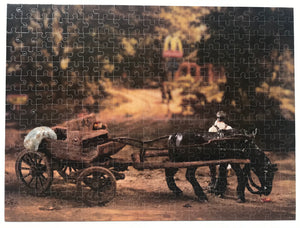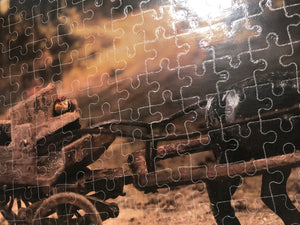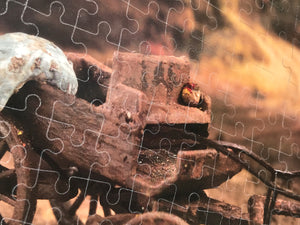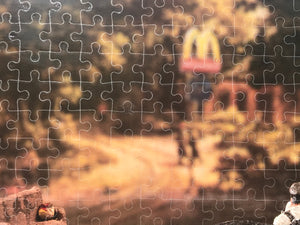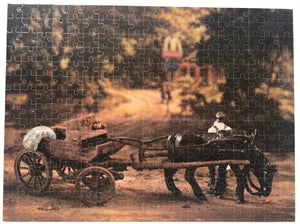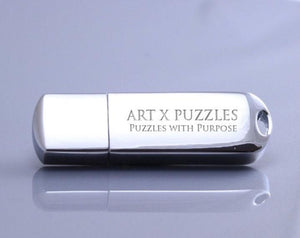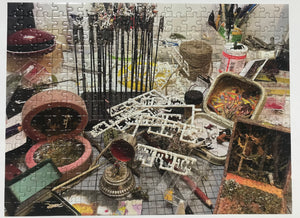 Artist Curtis Talwst Santiago Collector Edition Jigsaw Puzzle
Curtis Talwst Santiago Website
b.1979 Edmonton, Alberta, lives and works in Munich, Germany
Title: Disaster Distilled
Live Video of Jigsaw Puzzle: Click Here
Jigsaw Puzzle Size: 12" x 16.5" (310mm×418mm) 285 Piece Puzzle, cardboard thickness (1.9mm) Eska Premium Board. Traditional Paper Jigsaw Puzzle. FSC 100% Recycled Paper. Gloss Finish.
This Collector Edition arrives with a Pre-Assembled Option and separated onto 2 cardboard squares. The AXP Collector Editions comes ready to slide together for a complete instant puzzle and/or to be broken down for puzzling fun and/or framing! 
Double-sided Collector Edition Jigsaw Puzzle. 
Collector Edition of 20 + 2AP
Level: Challenging
Signature Details: Original Artwork: 'Disaster Distilled', 2020. Courtesy of Artist  
"Disaster Distilled captures the chaotic energy of my workspace and shows how all these materials then get reduced and boiled down into these intricate, delicate works. I often think of the painter Francis Baco in his studio and how there was a beauty of madness." Curtis Talwst Santiago
The work of Canadian-Trinidadian artist Curtis "Talwst" Santiago incorporates mixed-media and performance practices. He is currently engaged in an ongoing series of miniature dioramas in reclaimed ring boxes that highlight absent or misinterpreted narratives, revealing the non-linear complexities of history and exploring intercultural relationships. Pioneer Works
Megan Connolly Curator Choice Capsule Collection
Click Articles"
Curtis Talwst Santiago Introduces an Alter Ego to help Navigate the Past by Osman Can Yerebakan | OBSERVER
Curtis Talwst Santiago: Can't I Alter by Magdalyn Asimakis | Brooklyn Rail
Black Passages: Curtis Talwst Santiago Interviewed by Ayasha Guerin | BOMB Magazine
Drawing Papers 141: Curtis Talwst Santiago | The Drawing Center
Curtis Talwst Santiago: Exhibition of miniature dioramas turns up the Caribbean party  heat. by Fish Griwkowsky \ Galleries West
Biography: Curtis Talwst Santiago (b. 1979, Edmonton, Alberta) studied as an apprentice of Lawrence Paul Yuxweluptun. Santiago has exhibited internationally at venues such as The Drawing Center, New York, NY; The FLAG Art Foundation, New York, NY; The New Museum, New York, NY; The Eli and Edythe Broad Museum at Michigan State University, East Lansing, MI; the Institute of Contemporary Art at Virginia Commonwealth University, Richmond, VA; the University of Saskatchewan, Saskatchewan, Canada; The Pérez Art Museum Miami, Miami, FL; Art Gallery of Ontario, Toronto, Canada; Art Gallery of Alberta, Edmonton, Canada, The Rooms, St. John's, Newfoundland, Canada and the SCAD Museum of Art, Savannah, GA; among others. The artist was included in the inaugural 2019 Toronto Biennial of Art in Toronto, Canada, the SITE Santa Fe SITELines.2018 Biennial, Casa Tomada, in Santa Fe, NM, and was featured in the 2018 Biennale de Dakar in Dakar, Senegal. He is currently an active board member on the Board of Directors for the Drawing Center in New York. His work is in the permanent collection of the Studio Museum in Harlem, New York, NY. Santiago considers himself decentralized and is currently living and working in Munich, Germany.
Artist Charity Choice: Creative Capital