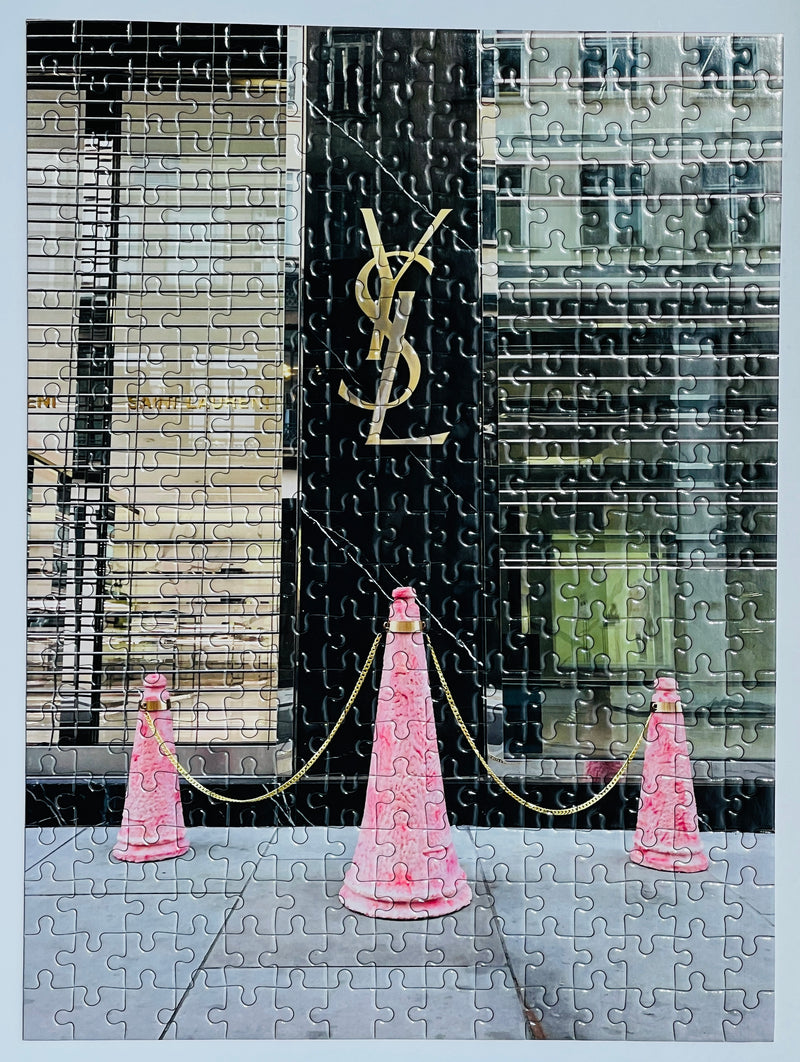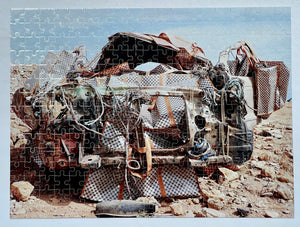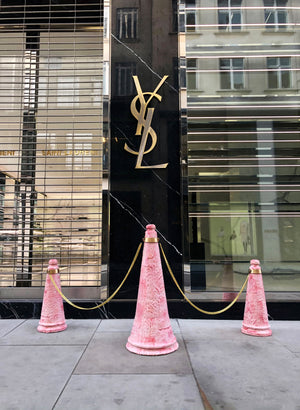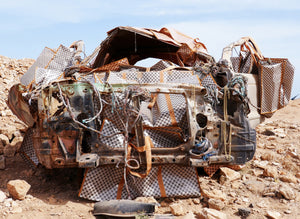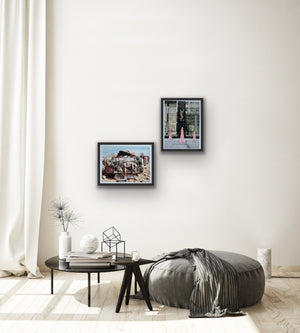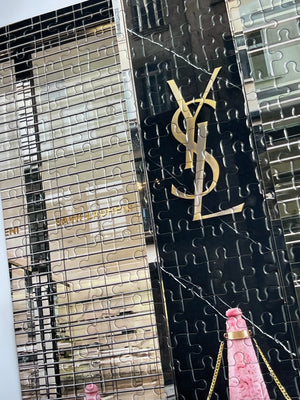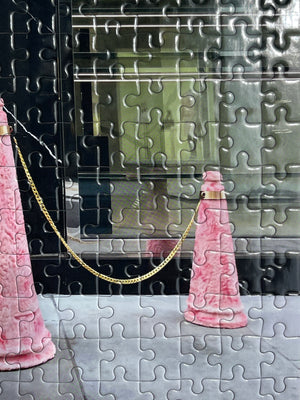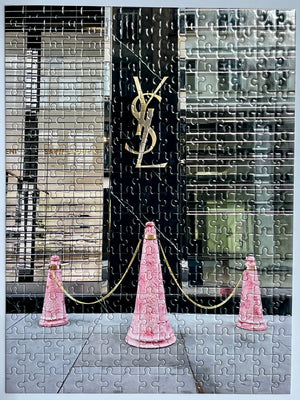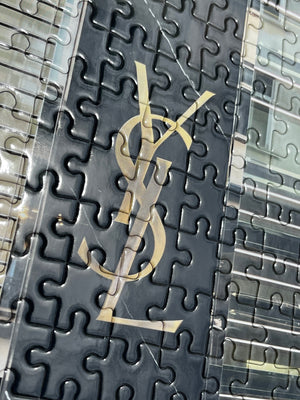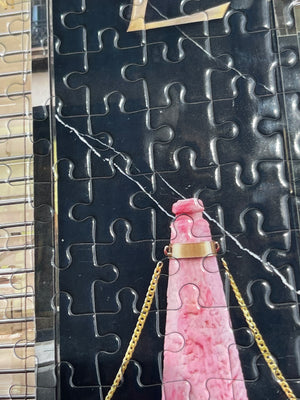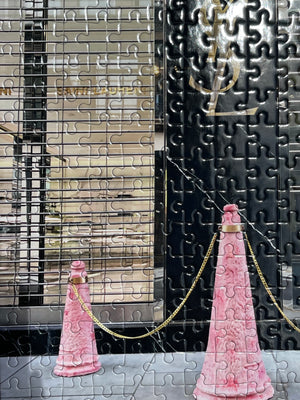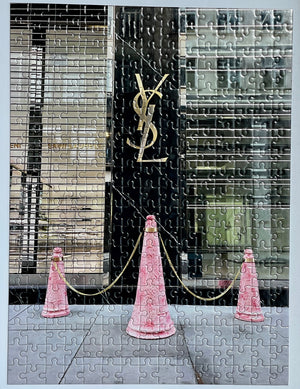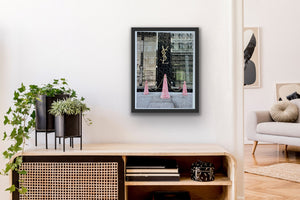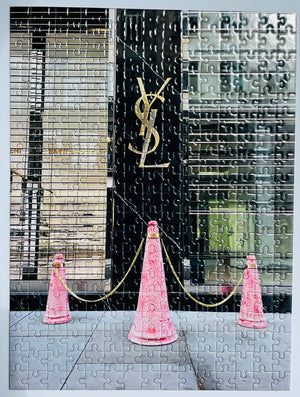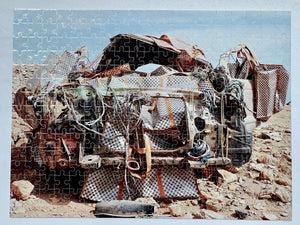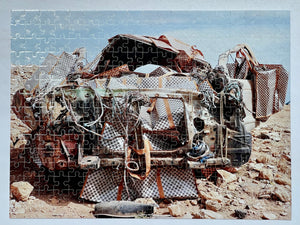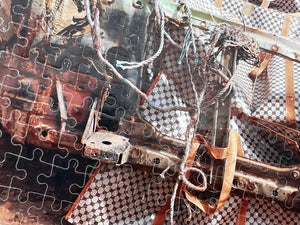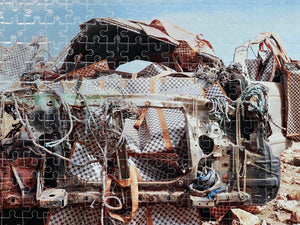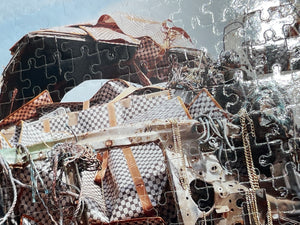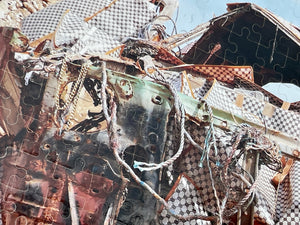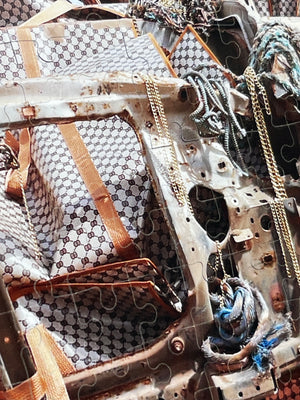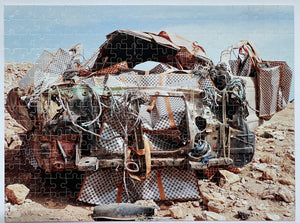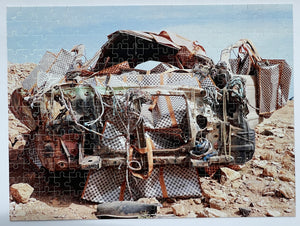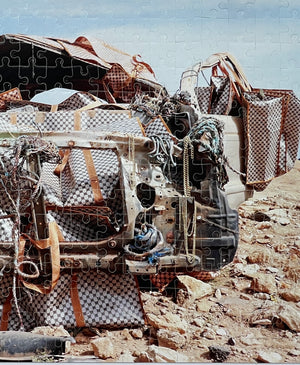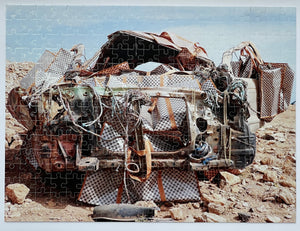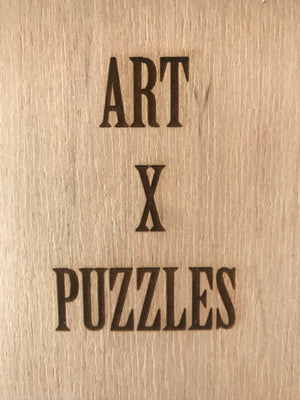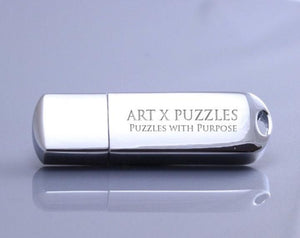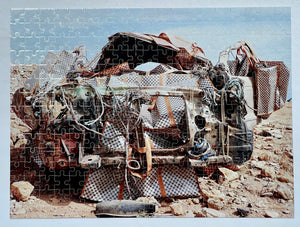 Artist Andrea Hasler Collector Edition Jigsaw Puzzle X Verbier 3-D Foundation
B.1975, Zürich, Switzerland, lives and work in London, UK.
Title: Front: "Haute Construct' Back: 'Pimp my Ride'
Live Video of Jigsaw Puzzle: Click Here 
Jigsaw Puzzle Size: 12" x 16.5" (310mm x 418mm) 285 Jigsaw Puzzle Pieces, ESKA Premium Board. FSC 100% Recycled Paper.
Double-Sided Jigsaw Puzzle
This Collector Edition arrives with a Pre-Assembled Option and separated onto 2 cardboard squares. The AXP Collector Editions comes ready to slide together for a complete instant puzzle and/or to be broken down for puzzling fun and/or framing! Framing Option is also available. Click left dropdown menu for more. 
Collector Edition of 10 + 2AP
Level: Challenging
Signature Details:  Front: Haute Construct, resin, wax, gold chains, size variable, London/UK, 2021  Back: 'Pimp my Ride', installation with found objects and plastic bags with well known luxury brand's logo, 210 x 140 x 120cm, Feijoal/Cape Verde, 2018
"How to depict the emotional body is the red thread in my work. I am fascinated with the psychological aspect of the body and its emotional link to 'Abject', the borderline of inside/outside, something that is aesthetically desirable, yet revolting and where viewer's attractions are replaced by repulsion, power, control and impotence. In my work, I have always been particularly drawn to the body, how to depict the emotional body and working with skin as the physical element that divides the Self from the other, as well as the potential container for both and what happens if you open up those boundaries." Andrea Hasler
Hasler's artwork depicts the emotional body, often working with skin as the physical element that divides the Self from the other, as well as the potential container for both and what happens if you open up those boundaries. Hasler's work dissects moral ideas generated by the media and deeply entrenched concepts in our society without reassembling the dissected, separated and ornamented pieces into a new or different whole - thus confronts the viewer with his or her own feelings of attraction and repulsion.
Click Articles:
Bloody 'Human' Sculptures Push The Limits of Grotesque Art | Huffington Post
Andrea Hassler | Juxtapoz
Andrea Hasler Installs Compressed Flesh Sculpture in the Moroccan Sahara Desert DESIGN BOOM
Amani Al-Thuwaini and Andrea Hasler | BOMB Magazine
Verbier 3-D Foundation Capsule Collection: Click Here
Artist Certificate: Each puzzle comes with an artist certificate.
Biography: Andrea Hasler was born in 1975 in Zürich, Switzerland, and currently lives and works in London, UK. Hasler's wax and mixed media sculptures are characterized by a tension between attraction and repulsion, and highly influenced by artists John Isaacs, Berlinde De Bruyckere and Louise Bourgeois.  Solo projects include Burdens of Excess (Gusford, Los Angeles/USA), Irreducible Complexity (Next Level-Projects, London/UK) and Full fat or semi-skinned? (Bon Gallery, Stockholm/Sweden). Hasler won the 2014 Arts Council England funded Greenham Common Commission and created a large site specific installation which gained much press interest. Hasler chairs artist talks at Next Level-Projects, lectures at various institutions including the Sotheby's Institute of Art and was a mentor on 'The Photographer's Gallery's' mentorship program 'FreshFaced+WildEyed'. In 2018, her work was included in the exhibition Ethics, Excess and Extinction at El Paso Museum, Texas/USA.
She was an Artist-in-Resident at the Verbier 3-D Foundation in 2014 (Verbier, Switzerland), where she created two sculptures for their Alpine Sculpture Park. Other notable residencies at Next Level Projects, Bahamas and at Chisenhale, London/UK. In 2019, Hasler created a new body of work during a residency at Time + Space in New York, which resulted in a solo show at the Verbier 3-D Foundation's sister project space in Soho/New York City/US. Current projects include the group show Raum der Lusten (Raum, Utrecht/NL) together with Atelier van Lieshaut and Maarten Baas. Future projects include a solo show at 'Zur Wand' during Art Basel in Basel/Switzerland, a site-specific installation in Marfa, Texas planned for Autumn 2022, and a group show in Belgium in 2023.